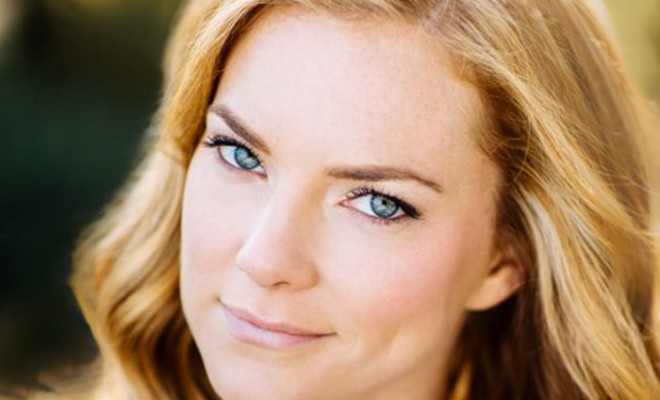 Interviews
Cindy Busby – Unleashing Mr. Darcy
By
|
By: Ruth Hill
Ever since the feisty assistant district attorney, Rebecca Jennings, entered the "Cedar Cove" landscape near the end of the show's second season, I was captivated by the actress who breathed life into her. While I often found myself rolling my eyes disdainfully at the audacious Ms. Jennings and once in while yelling out in frustration at her antics, the way in which the actress Cindy Busby depicted her added coveted drama and offbeat humor to the story. Furthermore, when she roomed with two other girls during season three, she was typically the prominent one due to her characteristic pessimism, her workaholic tendencies, and her pragmatic articulation.
Recently, I had the opportunity to catch up with Cindy and she granted me an especially pleasant interview in which we chatted about her views on real life, current achievements and of course, her upcoming film, Unleashing Mr. Darcy.
R Real life advice
Let's start with a simple question from a devoted fan. What would be your ideal handbag?
Because I like to be out and about so much, I am more about convenience than name brands. For me, the best kind of handbag is a black, medium-sized, cross body bag so I am free to do my shopping and even hold other bags as the need arises.  I am more about function than fashion.
E Entertainer
What inspired you to become an actress?
I am one who just loves to get up and perform. I realized early on that when I performed, people would laugh. So I would perform any chance I could get. I was the kid who always liked to sit at the adult table rather than the children's table.  For me, acting and performing was the way I would choose to play.  I believe in being as silly as possible because life is so serious anyway.  In high school, I took theater and loved it. And in my other classes, I was the one who always wanted to give the oral presentations. Most people would prefer doing written presentations, but I was the student who would jump at the chance to express myself verbally.  And from there, I discovered acting was what I wanted to do for a living.
If you had not become an actress, what would you have done?
As most actors tell you, this is something we think about during the down times. I truly love working with people. If I hadn't become an actress, I think I would have pursued something in public relations or perhaps public speaking. I might have considered becoming a nutritionist as I am always trying to improve my health and the way I eat. I could have even become an acting teacher or an agent. That part of the profession does fascinate me.
L Lucky Roles
What has been your favorite role so far?
Honestly, every role has been wonderful in its own way.  "Heartland" will always hold a special place in my heart because the cast and I kind of grew up together. I was with the cast for four years. But I have to admit that  it doesn't get much better than acting with your best friend [Sarah Smyth who played Justine Lockhart] on "Cedar Cove." And then the movie I did with Steve Martin called The Big Year–who wouldn't love to act with him? And definitely, Unleashing Mr. Darcy–what a great experience to finally be the lead and work with dogs. I am passionate about dogs. Hallmark is the best network to work with because they treat everyone so well.
So do you keep in touch with other members of the "Cedar Cove" cast?
Oh, yes. Sarah has been my best friend for 9 years–we met when we both worked in Montreal. And Elyse [Maryellen Sherman] and I are also good friends. And when I get to come to L.A.–which is becoming more often–I get to see Barbara Niven and have dinner with her. We don't always get to see each other because of our schedules, but when we do, it is like reconnecting with old friends, and we pick up right where we left off.
What has been your most challenging role?
Definitely my role for Unleashing Mr. Darcy. It is the first time I have ever had a lead role and I am in every single scene. It is physically and mentally draining, but only in the best way. And since I am a dog lover, it was a dream come true to get to work with these dogs. And their wranglers, Steve and Darcy Woodley, were true professionals who knew how to handle these dogs really well.
Another challenging role was when I was featured in a sci-fi film called Behemoth. It was November and we were battling the elements. But in spite of the cold and rain, it was still an incredible experience.
And then in 2005, I got to film in China. It was a mini-series called Dr. Bethune about Norman Bethune's life. It was a very different experience because of the language and cultural differences.  But it was still good.
In this life, we all must choose what our outlook will be. We can be positive or negative. The way I view things, there is no good or bad; it just is. And so I choose to view everything positively.  
"Cedar Cove" fans were so sad to hear of the cancellation. If you could write the rest of your character's storyline, how would you finish it?
The really great thing about television is that you have time to explore the character. In playing Rebecca Jennings, I got to develop a three-dimensional character, and without any judgment on my part, get inside her head so that I could explain why she behaved the way she did.
If there had been a fourth season, I would have liked for Rebecca to create a team with Paul (Colin Ferguson) and Olivia (Andie MacDowell) to take on the town. I can only hope that Rebecca would be have been more balanced and maybe eventually become the D.A.
If there had been another season, I also would have liked to have explored her softer side a little bit more. I really wanted her to fall in love. Colin and I got along really well last season and we had a standing joke about our characters. In the beginning, both Paul and Rebecca fight like crazy, but we both tended to stop and wonder–why are these characters not together? It seemed like they should fall for each other.
(And as I told her, Cedar Cove fans really wanted Paul and Rebecca together–at least some circles did. But most of the fans would agree that Rebecca in love would have been a perfect story line.)
A Additional Works
What attracted you most to your role as Elizabeth Scott in Unleashing Mr. Darcy?
Well, of course, the story of Pride and Prejudice is a timeless story that has been told again and again. This version is lots of fun and Elizabeth is one who tries to do her very best to be true to herself. She is awkward, but she acts tough. She is striving to do her best while protecting her heart from love.
Elizabeth is a character I can relate to and I think most women can. Not only does she not want to be like everyone else, but she fights to make her own way. She also is a bit of a goofball sometimes. And this is a romantic comedy, something I had been wanting to do for so long. Add the beautiful dress I got to wear, the wonderful dogs I got to work with and Ryan Peavy isn't so bad to look at either.
I overheard that you filmed a Christmas movie. What can you tell us about it?
I did finish filming a Christmas movie and it's called Puppy for Christmas. I know that it will be shown in Canada, but I'm not one hundred percent sure that it will be picked up by Hallmark. Of course, it won't be out till Christmastime, so I wouldn't be surprised to see Hallmark pick it up.
E Essentially Cindy
Are there any charities you support or feel strongly about?
I am passionate about nature, animals and finding more sustainable ways of living.  While I do not specifically donate to charities, I do believe in donating to people I know who can make a difference.
If you could have dinner with three people, living or dead, whom would you choose and why?
First of all, my grandmother because she is no longer with us.
Then Marilyn Monroe. I have always been fascinated with her impact on the world. I feel like we know some things about her, but we don't know the whole story. I would like to ask her questions and find out the real story.
And finally, Reese Witherspoon. I have always looked up to her, and I tried to emulate her in my career. I love the balance that she brings to her public and private life.
After conversing with this lovely woman, the one thing I found striking is that I believe all women can relate to her on some level. Those who know her from "Heartland" and "Cedar Cove" may tend to think that Cindy is more like those characters she portrays. I believe I can say in all sincerity, Cindy is a gracious, compelling, down-to-earth, independent woman who adores her fans and genuinely relishes every interaction with them. Be sure to catch her in Unleashing Mr. Darcy on the Hallmark Channel this Saturday, January 23. And follow her on twitter: @cindy_busby