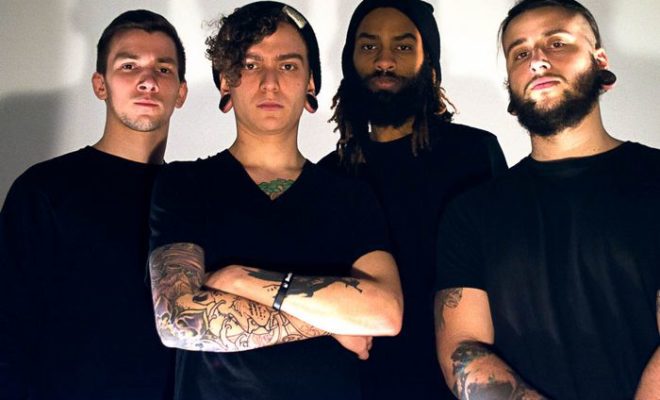 Interviews
A Wake In Providence – A Darkened Gospel
By
|
By: Jamie Steinberg
Q) How would you describe your sound?
A) We tend to make it simple by saying "Metal" to people who don't know much about metal culture and sub-genres, but when I'm talking to someone who knows metal well, I tend to say "Tech-Death" or "Technical-Deathcore."
Q) Who are some of your musical influences?
A) For me in particular, it's kind of all over the place. One day it'll be Behemoth and the next day it could be Lorde or Lady Gaga. I draw inspiration and influence from anything honestly.
Q) How did the band get their name?
A) Very uneventful story, honestly. [laughs] I was sitting in my room watching TV and got the idea from out of nowhere. I really liked the word "Providence," which at the time I had no clue what it meant other than a city in Rhode Island. After finding out the meaning and kind of putting it together with the full name, it's kind of cool "A Death in Gods land" or "A death in holy land" has a dark vibe to it.
Q) Talk about the story behind your new song "A Darkened Gospel."
A) We were slated to release a new single so I wrote a track that I wasn't to hyped about, but the band was super happy with it. I'm terrible at naming projects and sessions so I forgot the name of the song and accidentally opened the pre-pro session from what is now "A Darkened Gospel." Anthony [Adipietro] and I went to the studio I work from to work on the song we were blown away right away by it. So, I said to Anthony, "DUDE THIS IS HAS TO BE THE SINGLE!" We finished writing the music, sent it to the rest of the band and everyone was super stoked on it. We got together with Will [Ramos] and worked on the vocals until we were 100% happy with them. We hit Atrium to record it and it was natural from there.
Q) What do you think it is about the song that fans connect to?
A) The fact that it's us preforming it, no computers. We really went in and tracked every part. It really shows in the song that it's just three dudes hitting the mark in their respective areas.
Q) You recently signed to Outerloop Records. What was it about their pitch that drew you to move forward with them?
A) It was a no brainer going with Outerloop Records. We were already being managed by Mike Mowery of Outerloop Management, who is the best in the game for sure. Mike mentioned the label was really interested in the single and wanted to put it out, which sounded amazing. We were on board then right before we put the song out. They hit us with an amazing offer and we were right on board.
Q) What is your song writing process? Do you need music before you can create lyrics?
A) For the way we have always worked, even with previous members, I would write all the music then send it to the band so everyone was on the same page. Then, our vocalist would work on vocals. Previously we were all very separated from that process, but our new vocalist is super open to input and it really makes the music ten times better.
D'Andre Tyre
Q) How much of hand do you have in the production of your music?
A) As an engineer I'm very hands on with the production of our music, from the moment its written to when we play it live. I have a very specific vision for a song when it's done and written out and I work with everyone involved to ensure that vision really comes to life. We go above and beyond in preforming any part of that vision and so far it's been a great process with everyone were currently working with.
Q) What can fans expect from a live performance of the song "A Darkened Gospel?"
A) Literally the track they hear when they play it on YouTube or Spotify. We pride ourselves on our live performance and the ability to replicate everything and anything we do in the studio.
Q) Will there be an EP or full album coming in the near future?
A) As far as I can say, we have A LOT in the works! [laughs]
Q) You are a part of social media. Why is that such an important way for you to connect with your fans?
A) It's the only way to connect with fans these days, other than rigorous touring. The amount of people you reach with one three to five minute YouTube video would take years of touring to reach. Social media is an integral part to any bands success without a doubt.
Q) What would you like to say to everyone who is a fan and supporter of you and your work?
A) Continue to support and thank you for that continued support. It's so cliché to say, but we wouldn't be in this position if it wasn't for that support. So, thank you to everyone who supports!
All Questions Answered By Guitarist D'Andre Tyre