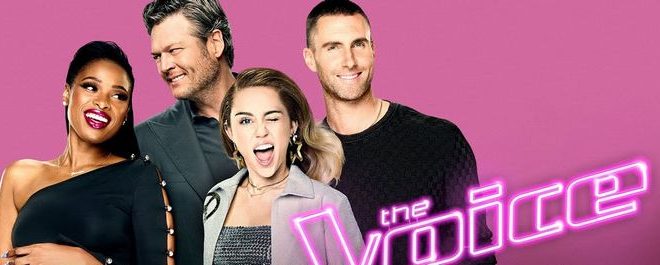 Interviews
Addison Agen, Brooke Simpson & Red Marlow – The Voice
By
|
By: Jamie Steinberg
Q) I was wondering about your cover song "Humble and Kind." You became very emotional while you were singing that song. Could you talk a little bit about that?
Addison Agen:      Absolutely. I mean, that's been such a touching song for so many people especially me. That song was introduced to me by my grandpa a long, long time ago and the lyrics that I'm singing on this song are literally saying, "When the dreams you're dreaming come to you. When the work you put in is realized" as I was singing that, I was standing on stage surrounded by people supporting and loving and cheering me on living out my dreams. So, it was a very emotional time knowing that that was the last time I was going to be singing on that stage with the cover song and that's pretty much where it came from. The song is just so beautiful and really it's so meaningful for me.
Q) My question is for all three of you. Each of you has enjoyed so much success on the show. I was wondering what you envisioned as your next musical project. 
Brooke Simpson:   But, yes, I'm just really excited about everything that's in store for all of us and even beyond just me, Red, and Addison and, of course, Chloe. I'm excited to see what all of the Top 12 does. We're still such a tight-knit group. But for me myself, honestly, I already have so many songs in the vault that I've written and I want to jump on recording, jump on doing shows specifically in North Carolina, Florida and Tennessee. They were all my biggest supporting states. But, yes, I just want to get the ball rolling because I'm so excited that this opportunity with The Voice made me fortunate enough to do this for the rest of my life. So, I'm ready to start doing it.
Q) And you talked about all the songs you have in the vault. What type of music can people expect from you? I know you come from a gospel Christian music background.
Brooke Simpson:   Yes. Absolutely. I come from a Christian background and, of course, worship, which is always going to be a part of my life and something that I'm always doing. But actually, it's funny because I always say, you know, I'm a happy girl writing sad songs. So, a lot of my songs are going to be coming from real life experiences whether it's from love, from heartbreak, from friendship because my biggest goal in any show that I do is whether it's 10 people or 10,000 people, I want someone to be able to relate to my lyrics, to be moved by it, and most importantly, know that they're not alone in what they're feeling and that we're in this together. So, yes, I think my music will just be from that it's from the heart and whether it's about God or relationships. That's what I aim to do.
Red Marlow:         Yes. You know, for me, man, it's just – first of all, thanks so much for doing these interviews. It means the world to us, I know we've worked years and years for people to want to interview us. So, thank you so much for that. You know, for me, it's just, you know, I've been fortunate to get this for a lot of years. So, I'm fortunate that I already have a pretty substantial amount of fame around this. So, I'm really, really blessed (to have this), so we're looking at getting back on Friday, just get with my producer, my management and everybody. I hopefully get back in and start some songs and, you know, with Blake last night. So, he's going to help us out and just looking forward to getting out there and do some – hitting the road and play some for all the great fans, man, that were out there supporting us all over the country. And I know I speak for us all when I say that it's so flattering that all of the people, you know, how they support us. So that's what we're planning on doing and hopefully, I'll get to come out with Blake some songs near to all these fans really soon.
Q) And you came out with an original song that you co-wrote the other night which was great. Do you have a backlog of songs ready to go?
Red Marlow:    Yes. You know, I'm very blessed that I've been able to write for the past, you know, five or six years professionally and then published. So, I've been in the room with some of the very best of the best songwriters. So, you know, I always give them credit, man. They're the best songwriters in town and I'm just lucky enough to get to sit in a room with them. But, yes, we do – you know, I've probably got, I don't know, I've got a pretty good (backlog), a couple hundred songs or more in my last publishing deal and then through years, there's many more than that. So, yes, we're pretty set. Hopefully, all songs — don't get me wrong, I'll still be looking for outside songs too because, you know, you just never know where that next jam is going to be. But, yes, we're pretty good on songs and then hopefully, we're ready to go.
Addison Agen:   My next step is kind of finding my team. I need to be finding booking agents and management and all that stuff to build my team up to support me and make this career possible to continue on for a very long, long time. It's definitely not a single-handed job at all. So, that's the next step. And I've been writing too for a while and it's just getting in that next step and making some good folk music and some meaningful lyrics. So, that's the next step.
Q) And your first album blew me away for how young you were when you made it. How do you think the next album compare to that sounds like?
Addison Agen:      So, for me, that album was a big experience. I learned so much recording that and I would not have been prepared at all for The Voice if I haven't made that album. So, yes, I wrote all the songs before the age of 13 and as a writer, I've grown so much in the past three years. But this – I'm really going to have a very acoustic feel to these next songs that I'll be making and releasing hopefully. But very acoustic and sit-down and organic sounding.
Q) So, I have a question for Brooke and Red then. Were you both surprised by the finale results? What was your prediction going in? And if you could go back to Monday night performance show and do it all over again, is there something you'd change or do differently? 
Brooke Simpson:   Honestly, I wasn't shocked at all just because I couldn't — well, first of all, thank you so much for talking to me. I'm so happy to talk to you. But, yes, I wasn't shocked at all just because it was so hard to come up with game plan of like my predictions because Red is the best of the best in such field, in country music. Red is the best. In folk music and in singer-songwriter music, Addison is the best of the best at such a young age. But she is literally a prodigy, she's amazing. And then Chloe, she is the strongest woman in our generation for rock music and she's honestly changing pop culture when it comes to rock music. So, I thought – and then me for myself in pop music. So, I just – I felt like it was anyone's game and I could have seen it go in a million different ways whether it was completely flipped around and it was, you know, Chloe getting fourth and then Red winning and then, you know, me and Addison in the middle like where we were or whatever way it could have been. I'm just so proud of how far we've come and we're really tight in the Top 12 but even closer at Top 4. You know, Red is like another dad to me and also like a brother and also like a best friend. And then Addison and Chloe, I've known since day one. So, you know, honestly, the only thing that's sad is we won't see each other every day anymore. But the exiting thing is we're all about to have amazing careers after this. So, I'm just really excited to see what the future holds for all of us.
Q) And how about you, Red?
Red Marlow:     For me, I certainly agree with Brooke. I mean, it's, you know, guys, what an honor and as far as Monday night, man, I wouldn't change a single thing. I think the outcome — anybody could have won, man. Everybody is so amazing. So, you know, for me, we're all winners and, golly, I'm just so happy and so flattered and so happy for Chloe and, gosh, everybody. I mean, I'm just tickled to death for everybody. So, you know, I wouldn't do anything different, man. If I had to do it all over again, I couldn't pick a better three teammates there or three people, you know, to just spend this time with. So, I'm just very blessed and very happy for everybody.
Q) Brooke, what did you take away from working with your coaches individually? Did they do or say something in particular that you really took to heart?
Brooke Simpson:   Yes, honestly, working with Miley was a dream and it still is a dream just because I know that it's still just the beginning for our friendship and our working relationship and I'm excited to see what the future holds. But, yes, honestly, with Miley, I learned so much. I learned how to be a collaborator. I learned how to be an even more creative person. Because, you know, my job before I even came to The Voice was I was a creative assistant at the church. So, working with her and getting a taste of the industry for the first time in my entire life, it kind of opened my eyes to a whole new level of creativity. I learned so much as a writer and I learned so much as an artist as a whole. She's honestly just one of the most genuine humans I've ever met and just getting that opportunity to get to know her and to learn from her when it comes to music and just life in general, it's such an honor.
Q) "Amazing Grace" seemed to be a real turning point for you. Could you talk a little bit about choosing that song and how you felt afterwards when the song climbed to number 1 on or it was two on iTunes?
Brooke Simpson:   Yes. You know, picking that song it was a risky choice just because, I mean, you know, it's not your conventional pop song especially me being a pop artist and I don't think it's what everyone might have expected from me other than those from my home that know me and grew up with me. So, I even felt like a risk from Miley but picking that song she was completely trusting me and she wanted me to follow my gut and my gut was telling me to do that song and kind of how well it did but also the fact that I was able to sing a song like that on a platform like that, it was just so special. I mean, that song is one of the first reasons I even started believing in the power of music. I grew up to that. And, yes, I'm so proud of how well it did on iTunes. It made it number 2 on the overall chart and number 1 on the Christian chart. So, I was very proud of that.
Q) At that point, did you feel like, you know, your journey on The Voice took a turn? Like did you feel any differently after that?
Brooke Simpson:   Honestly, I guess so in the sense if you want to say based off of the charts and people buying. But I felt like every single week was a brand new turning point just for me as an artist because every week, I felt like I discovered a new side of myself as an artist. I kind of unlocked a new level of creativity and I just grew so much as a person every single week. It wasn't even like taking steps on a lottery. It was literally like taking a leap. So, just this entire experience, I felt like it was a turning point for my life.
Q) Brooke, I saw an interview where you talked about all the no's you heard before The Voice about being beaten down by the hearing no over and over and over again. What were you doing musically right before you joined The Voice?
Brooke Simpson:   You know, I was working at a church. I was singing as much as possible there. But other than that, I was trying to gig around as much as possible. You know, I never had any type of in with the industry like the music industry. So, as far as like what turns to take, what doors to knock on, honestly, I was doing everything on my own and doing things by myself is all I ever knew until The Voice. So, I would try to gig at coffee shops and open mic night like casinos and any ways I perform possible just so someway, somehow my voice would be heard. So, yes, that was kind of what my life is like. It was working at a mega church and hustling any five seconds that I had free, just trying to do something, trying to record at home. Yes. So, honestly this opportunity at The Voice, it changed my life forever.
Q)  Right. And that was down in Fort Lauderdale, Florida area that you were doing that?
Brooke Simpson:   Yes, sir. Yes. I started with the gigging and stuff when I was still in Tennessee, you know, going to college and university. But I have at least started doing it more so once I moved to Florida and got married.
Q) And then did you go to an open call audition or were you invited to audition for The Voice that's around this summer?
Brooke Simpson:   Well, I auditioned for The Voice four years ago at an open call. And then I made it through that first one but then I didn't make it pass the next round. So, I didn't go to the blind audition. But four years later, honestly, it just felt like the perfect time that God just put it in my life because someone reached out through an email that I don't use anymore, it's a junk email, and then they tried to call a number I don't have anymore. Like, thank God, it's my dad's number now and it's not just a number that belongs to Johnny no one. You know what I mean? Yes. So, it was like three different times that this one person tried to contact me and it was just for a callback, not even the blind audition. So, I kind of went in thinking, yes, it's going to be the same game. You know, like I'll go and nothing is going to happen because I've got all what I'm used to, you know. And from that, back in February and then now to look at where my life is now, it's drastically changed forever.
Q) I'm just curious because I heard Blake talking about how he tries to kind of look at the iTunes in the past and how sometimes they're predictable as far as the winner and sometimes they're not. I'm curious like I know this is different for you because this is the first time you're competing on a show like this. But like I'm curious if you all were like kind of checking each other's iTunes and if you guys were trying to predict at all like from that because since you guys obviously don't know what America is voting or their votes are at. So, I was just curious about that.
Brooke Simpson:   It's like we try to guess who would go further based off of iTunes?
Q) Because it is a competition, but were you looking at it like that? Like, you know, trying to see where you guys were – like as far as trying to figure out who was going to be like in the Top 2, Top 3 just based on iTunes or did you look at that or take that as a consideration at all to try to predict?
Brooke Simpson:   I mean, like every week, we would definitely look at iTunes just because, I mean, how crazy is it that you went from just trying to get your music uploaded to Apple music. So, now, it's on the overall iTunes chart with these artists that you've admired for years. You know what I mean? And just to be in the Top 200 let alone the Top 10, that's crazy. So, of course, we would look at it every single week. But the thing is with iTunes is it tricks you to make predictions out of that. Like we never count on like, Okay, so and so would not go on. So, we know what that means because if you think about it, yes, iTunes purchases are a big deal but it does just one vote. And then on every other platform, you have the opportunity to vote up to 10 times. And that's why sometimes it reflect – it may have looked similar to how iTunes look and then sometimes it may have looked completely different than how iTunes look as far as like when our names are called or not, stuff like that.  So, we tried not to kind of put our eggs in that basket but we would definitely look at it just kind of for celebrating reasons because nothing made me more happy than to one, see my name there. But then it's also like congratulate my friends like, I mean, Chloe she made it to number 1 I think like three or four times. Like, I mean, like (everyone's star) she's crazy.
Q)  Brooke, there was not enough time for you to do on The Voice because the show seemed to move very fast. So, yes, do you have anything?
Brooke Simpson:  I mean, like especially now that everything is over, of course, like I could definitely look back and try to think of the million different things that I might have done differently. (I don't know). But (for me the) I'm the strongest believer in everything happens for a reason. And I'm so proud of every song that I did on the show. I mean, like even down to "Faithfully" I never ever thought that I would sing a Journey song on national television. I have nothing against Journey but just because that's out of my element. I'm a pop artist and that's a classic rock like iconic song. So, I never thought that that would be in my line to sing. But that's actually my favorite moment that I'll always remember. It was the most powerful moment I ever felt on that stage. So, yes, there's nothing that I would change. Yes.
Q) Brooke, on that note with Journey, how did this competition change the way you guys both will go forward into your musical careers?
Brooke Simpson:   It's definitely – one thing that Miley has taught me, I mean, I'll say just the competition itself that taught me is to always think outside of the box. And honestly, it just taught me so much about the music industry and not just the competition itself but even just rubbing shoulders with all my fellow contestants. Like for example Red. Red has been doing this for his entire life like actually working in the industry, you know. So, like even in our side conversations where I get to learn from him and his wisdom, I mean, it's stuff that changed my life forever.
Red Marlow:    For me I guess moving forward – thank you, Brooke, by the way. I'm very flattered that you think that of me. But for me, moving forward, you know, I'm…
Brooke Simpson:   Love you.
Red Marlow:         I love you, too, Brooke. It's always — I know I've said this before. I mean, I'm just – I'm setting my ways. I mean, I'd be the traditional country music. You know, I plan on just playing on that road. It's all I've ever done. It's all I know how to do. So, I want to get back home and just keep pursuing what we've been doing in the past. Hopefully, now, since we have been on this platform with all these people, I think that will definitely help to get more viewers, more fans, more everything. So, you know, I just want to get back up there and start being on the road and play some more traditional country music and see where it leads me.
Q) Chloe and Addison were both members of Miley's team at the start of the show but were stolen. You know, if Miley held on to them, the first, second and third place finishers could have been on her team, which obviously would have been unbelievable. Brooke, what are your thoughts on that? And did Miley ever talk to you about how she felt about whether she thought those were big mistakes? You know, viewers obviously are assuming she's kicking herself.
Brooke Simpson:   Yes. No. One, Miley is so proud of them and I'm so proud of them because, I mean, come one, OG Team Miley. We are forever sisters. But that's something that she's super proud of and I think that she takes pride in that because, one, it just shows that she had a great instinct on whom to press her button for. And then also we actually did talk about that. I was like, man, you have three OG members in the Top 4, like how does that feel? And she said, you know, with Addison, she wouldn't have it any other way because, yes, selfishly, she wished she could have that extra person on her team to make it that far. But she's still proud of how far she came and also she knew from the get go, even when she pressed her button, she knew that Adam was a better fit for her. She could tell that chemistry was there. And actually, when she let go (of her) in the battle, she said she did it knowing that Addison wasn't going anywhere. And then also with Chloe, she said that she felt like – because as you know especially when Chloe was on Team Miley, Chloe had a lot of comparisons to Miley, you know, because they're both so similar even in the way that they look. But Miley's still happy that Chloe is getting the recognition for her creativity that she deserves because being on Team Blake and she's a rock artist, obviously, you know that all of that is all Chloe. But I think if she was still on Team Miley, a lot of that creativity would have been given the credit to Miley and not so much Chloe herself who Chloe single handedly is the creative genius behind every moment she's on stage that she does. So, yes, because she could have had three people on the Top 4 but I think it's just so beautiful how it turned out and I think everything happens for a reason.
Q) Red, what was it like being not only the only guy in the finale but a country singer against these powerhouse female vocalists? I mean, you obviously held your own but did you ever feel a little intimidated or a little self-conscious at times?
Red Marlow:    No, not really. You know, it just wasn't like that with us. I mean, we were such a tight-knit group and everybody loves each other.
Brooke Simpson:   Yes.
Red Marlow:         So, there was definitely no self-consciousness, no anything like that. You know, in what we do, I felt like I was standing with three of the best most talented people in their lane that you could possibly be and I know they felt the same way about me in the country lane. So, we didn't really look at it as a competition if you want to know the truth. It was just, you know, everybody loves each other and try to put each other up on a pedestal every time we could. And so, now they made me feel right at home and I hopefully made them feel the same way.
Brooke Simpson:   You did. I love you, Red.
Red Marlow:         Thank you, sweetheart.
Q) Red, I'm just wondering, you were the only finalist that co-wrote an original song and I was wondering why you chose that particular one and why?
Red Marlow:   That song has always had a special place for me. I mean, I've been forcing to write hundreds of songs. But that particular song, one of my very best friends in the world, his dad had passed away the night before when I was going in to write that following morning. And, you know, I went in, my co-writer, he was going to write something upbeat and, you know, it was just one of those days that I was like, man, I'm sorry, I just can't write that today. So he went on and started to play the piano and I just started to spit words and that song just fell out of the sky for us.  And, you know, it's just always been really special for me and, of course, I got to go sing it for the funeral the next day and I know that's a sad story but it was really an uplifting thing.  And my goal in doing music is to try to help people, try to touch people and anything I can do and sing that does that, that's always going to be my goal and it's going to be my go to. So, that's the main reason behind it. I'm just trying to touch people's lives (with music).
Q) Red, while you were off the phone, Brooke had to answer what she picked up from the show. I know you've been in the music business for a long time but what did you learn from the show or from Blake that's going to help you moving forward?
Red Marlow:    Well, honestly, I mean, with me and Blake, man, and even he's made the statement, man, I can't teach you enough, Red. But the thing is me and him are both so much alike. Just knowing from being (left-handed), it's Okay to be like this. It's Okay to sing country music and not dress country and do all the things that, you know, he and I do.   So, that's the main thing for me because I always felt kind of like a little bit of, well, you know, I'm a little different. I mean, I'm no other traditional country. I don't dress flashy. I'm just a normal guy. But Blake, he's the king of normal guys. You know what I'm saying? I think that's just (excess), honestly. He's just the same as your buddy (from another side of the camp). For me, I think the main thing I learned from Blake is, you know, man, it's Okay, just to be a normal guy and do what you love to do, get that lane and don't ever stray from it. So, that's what I'm planning on doing.
Q) Brooke, this is about your original song and it seems very personal to you. And I was wondering how you and Miley collaborated on that song?
Brooke Simpson:   Yes. So the story behind that song is very special. Miley found these two, incredible strong female writers because from day one, Miley has been a big advocate for making "Herstory."  But she found these writers and she told them my story and she showed them every (video) there is of me on YouTube and after that, they wrote a song and custom-made it for me, which is so special. And what's even more special, in the studio, Miley made sure that the writer and – the writers and the demo singer were all there, which was such a special moment. And the song is such a special song to me because the message behind it is so strong. I feel like a lot of times these days, there's a lot of meaningless music that's on the radio, you know what I mean, but to sing something that uplifts not just women but uplifts people of all ages, races, genders, all sexualities just to know that you need to be so happy with who you are in your skin, that's just so special and I'm just so happy I get to play a role in spreading that message.
*CONFERENCE CALL*