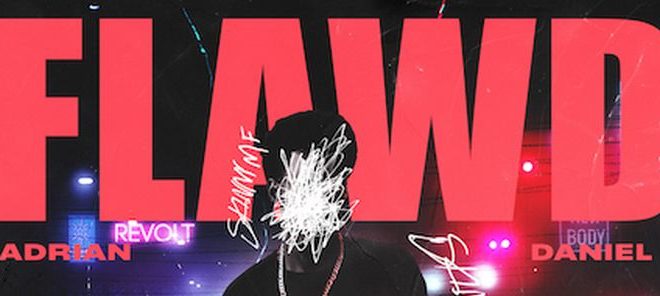 Features
Adrian Daniel – FLAWD
By
|
By: Robert Warren
Dropping his new album FLAWD into the music marketplace March 2, 2018, Brooklyn native Adrian Daniel is tapping into humanity by cultivating lyrics reaching for the soul with honest R&B sounds. The album delivers authentic lyrics that captivate a listener with an artist so personal he`s delivering honest emotion so telling that he is here to tell you what's up in life. With real meaning behind his lyrics and echoing sonic sounds, Daniel is making R&B soulful again.
In a new 14-track album, Adrian Daniel is popping beats in R&B that are both soulful yet stylish in a story driven style that give this album taste. In his catchy simple tunes like "Deadly Attraction" he really paints the picture with lyrics like, "My baby got eyes that make your Chrysler able to see," to create a visualized picture for audiences. He uses words and phrases like "Do you rejoice in grievance?" to get the audience thinking in "The Face of Eve" featuring Rudy Catwell and he has an album truly worth a listen.
Gracing stages like The Apollo Theatre at 125th street in New York and The Brooklyn Academy Theatre with his dancing at a young age, Adrian Daniel dropped his first music project in 2012 later going on to 2016 where he released his first music album called Disillusions. Daniel released a few singles like "Havoc," a sad heartbreaking song called "This City and "Open Up" in 2017.
Daniel is embarking on a tour soon that will have him heading to the East Coast, Paris, London and even the SXSW music scene with his live show. In a Brooklyn R&B style, his music is nothing less than captivating. "Adrian…Adrian…turn that music down," the lyrics go to "Rare Prelude," but he does nothing but turn the music up by just releasing more and more of it. Daniel is a mastermind of R&B music flavor, sprinkling popping beats and catchy swirls of tunes that create a fulfilling album audiences can only get an appetite for.
Taking listeners on a journey starts by the "Start Movie" intro to the album that ends with final track "Dreaming." Daniel works on a genre-blending style in this album and has gotten featured in several places such as Billboard, TIDAL Rising, Complex, Vibe, Fader and more. Daniel is a true artist of R&B using gentle hums to guide some of his music and beautiful falsetto to entrance the listener.
Each song on this album shows us a look into Daniel at the most honest of times. The artist's emotions really open up in songs like "Rare" where he has a firm belief that he has found the person he will never find again. It is a rarity, this person that that the artist finds in this song. The song is gently welcomed in similar to a leaf falling from a tree with its background music and the music pickup blows in when the artist jumps in with the heavy feel of lyrics. It is a song of hope for falling in love with a person convinced they found the love of their life. Listeners won't be able to help but to become engaged in the feelings behind this. This song is memorable in its hopes and moving forward. The "Rare" song is indeed that, rare in itself.
In his new album, Daniel can hold and carry notes well. He is good with clap sounds and gentle hums. He is a master of soul and is a creative genius of honest emotion. Daniel is an artist definitely breaking into R&B with quality sounds. He is very catchy and the music he delivers in this album is definitely worth a listen.
Describing this album could be done by using the lyrics from Daniel`s song "Open Up," which says, "Open up your eyes, there is beauty deep inside." And, in fact, there is, especially with that song as the message behind it is a precious one. Sometimes in a world that ranges from beauty to havoc it can be easy to overlook one's own. This song serves as a reminder that everyone is beautiful and you can find that beauty if you take the time to.
Daniel takes his style and pushes it into new territory with his high working falsetto and trippy beats that guide the listener through a tunnel of storytelling music. Each song is a passage through one of Daniel`s stories that in turn make this album a beautiful collection of songs. This does not feel like just an album with songs on it. It feels like a collection of hit singles that have been gathered to bring you a true collection of a listen. "I tear up my heart for you," is the lyrics to "Deadly Attraction," as the narrator deals with a struggle falling for a girl that he is giving up everything up for to try to stay together as he deals with heartache. It seems like it can`t work, but he gives it up to try in this deadly attraction.
The "SMH Interlude" really tells a lot on this album as well as the listeners hear as the narrator keeps falling for women with issues. Of course, he is told that he too has issues and it becomes a difficult decision of what to do next. The narrator tries to stop going for women in general; however, the next song titled "Face of Eve" featuring Rudy Catwell shows the narrator starting to fall in love again.
Looking for a woman who is reliable, trustworthy and going to be the person to be there for him in love leads into the next hit "Havoc." In this song, the narrator is dealing with someone who is savage in their spending and attitude. Yet here in this song the singer still likes this person of "havoc" as he keeps spending money out of habit on her.
Using vibrato to guide the listener into a song titled "Midnight Tears," with real spacy and trippy beats of flickering stars the artist echoes words that show a struggling artist in the face of love. Reaching to be heard Daniel searches for a listener, but the song ends before we know whether or not his goal was achieved.
Setting standards after having dealt with deadly attraction and havoc the artist uses the song "Real," showing the new standard of what he is looking for in a person. He goes into his deep heartbreak "This City," as he searches to find his place in the world. In "This City," where the artist is lost, the musician seeks to hear the voice that he can love. It`s confusing where he stands in this song, but he tries to figure it out. In such a vast universe, such a large world and such a big planet it is easy to get lost. Being in Brooklyn, a large area of New York there, there are many people and the artist seeks to find his place in this environment.
"Dreaming" is a song echoed into with moving melodies and a visualized style. The song taps into humanity with the honest emotion that Daniel seems to deliver very well throughout this album. The humanity in this album is very unique and is definitely touching in its delivery. The vibrato and falsetto that Daniel can do is part of what makes him special.
Adrian Daniel's album FLAWD is 14-tracks that listeners can look forward to upon its March 2, 2018 release. Soulful in his style, this album is something making R&B humanized again and is an honest answer to how are you with his music of honest emotion. This isn`t just an album, this is a story.