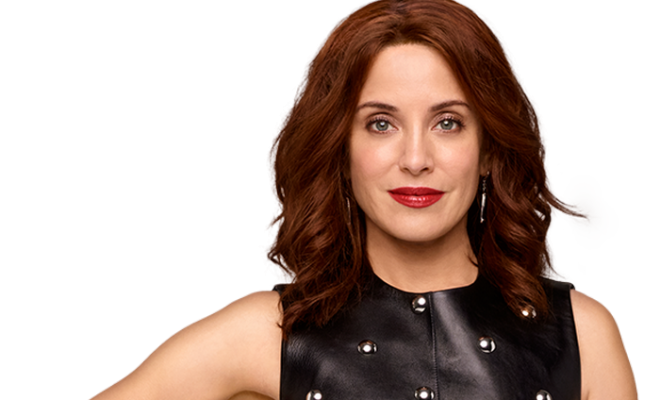 Interviews
Alanna Ubach – Girlfriends' Guide to Divorce
By
|
By: Jamie Steinberg
Q) How was Jo originally described to you and did it change at all since your audition?
A) The character was described as a sassy New Yorker/college buddy of Abby.
Q) Where do you and Jo connect, if at all?
A) Like Jo, I'm a very loyal friend and usually smell BS a mile away. Jo will call people out on their BS while I tend to just steer clear of confrontation. Confrontation exhausts me while it seems to empower Jo!
Q) Was there something you added to your role that wasn't originally scripted for you?
A) The character's ethnicity wasn't established when I was hired. As soon as Marti Noxon learned that I'm from Mexican Puerto Rican parents, she sprinkled the character with Latina dust!
Q) There is such great chemistry to the friendship in the show. Did you spend much time together to connect or did it just come naturally?
A) Our chemistry came together the minute we began playing the scene. It also helps that the girls lead with their hearts and are all exceptionally down to earth.
Q) Jo is a tough cookie. What did she see in Scott that made her want to give it a shot with him?
A) I think Jo saw what every person sees in him—a beautiful man with a perfect ass.
Q) What makes the series such a perfect fit for Bravo?
A) Bravo is the perfect home for a show like this one. The smart and savvy audience that appreciates juicy cat fights, a woman's strength, steamy sex scenes and the conflicts of marriage was ready for a show like "Girlfriends' Guide to Divorce."
Q) You are a part of social media. Do you enjoy the instant fan feedback you receive to episodes?
A) I love to hear what fans have to instantly say about the show. If I can be in their living rooms for an hour, they can certainly be in mine. It's a blast! Even the (ever so few) negative comments crack me up! Everyone is entitled to their opinion!
Q) Is there anything else you want to be sure fans know about "Girlfriends' Guide" and your character?
A) Yes! Jo and I have absolutely no idea what our real hair color is! If I had to guess it would have to be blue.
Q) Legally Blonde just celebrated its 15th Anniversary. What did you take away from being a part of what was to become such an iconic film?
A) Legally Blonde is so special to me. I never thought I would ever be a part of American pop culture! It's an amazing feeling! I feel like Didi Conn!
Q) What would you like to say to everyone who is a fan and supporter of you and your work?
A) Fans and supporters? You have given me a platform to make you laugh and lift your spirits! I'm forever grateful.
Girlfriends' Guide to Divorce airs on Wednesdays at 10/9c on Bravo