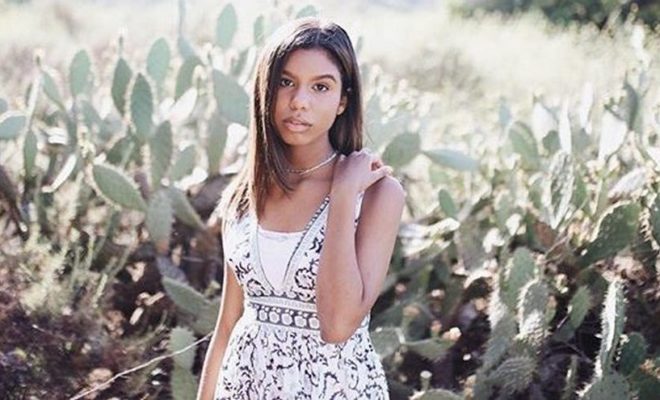 Anthony Topman
Interviews
Aliyah Moulden – Anastasia: Once Upon A Time
By
|
By: Lisa Steinberg
Q) What are the recent projects that you are working on?
A) Right now, I am working on a new cover with my friend Mackinzie Sol. I also will be getting ready to work on a single and an EP. Acting wise, I'm doing a web series called "Chicken Girls" and some other projects.
Q) What have you found challenging about your role in Anastasia: Once Upon A Time?  
A) The most challenging part of filming Anastasia was the recording of the songs. I'm a perfectionist so I wanted them to be perfect. Recording ended up taking way longer than it should've, but I'm extremely happy with the end result.
Q) What were some of your most memorable moments from filming?  
A) The most memorable moment from filming probably are the friendships I made. I got to work with Emily Carey and Amiah Miller. They're like sisters to me now.
Q) What made you decide to get into acting?  
A) I love performing in front of people and making them feel. So, acting is just a way of reaching people.
Q) As a singer, how would you decide your sound?
A) As a singer, I am still developing my sound.  I feel like I have so many different options in music and I want to experience different styles before making a decision.
Q) Fans remember you from your time on "The Voice." Have you kept in touch with former coach Blake Shelton?
A) I have the means to reach him, but I'm just too nervous! I don't know what to say!
Q) What piece of advice did you take to heart from your time working on the reality show?  
A) The advice I took to heart from my time working on "The Voice" was to be confident in who you are. Throughout the show, I became much more comfortable in my own skin.
Q) You are a part of social media. Why is that such an important way for you to connect with your fans?  
A) It is so important to me to stay connected to my fans. They are who got me where I am today. I love to livestream and to DM back and forth with fans because it's always nice to see how they're doing or what they're feeling.
Q) What would you like to say to everyone who is a fan and supporter of you and your work/music?  
A) I would like just like to say thank you, thank you, THANK YOU! You mean the absolute world to me.