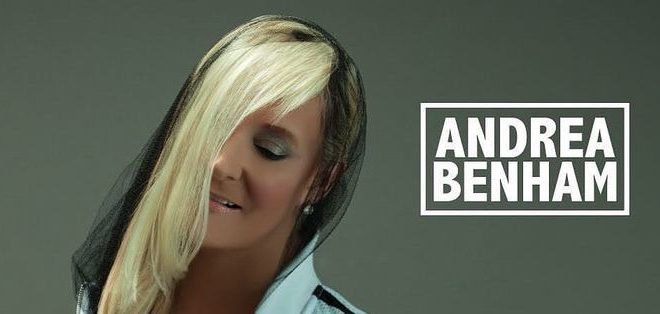 Interviews
Andrea Benham – Fences
By
|
By: Lisa Steinberg
Q) Who are some of your influences and how did you get your start in music?
A) I was born in Princeton, NJ and I was raised in a town called Hillsborough. Music was always around me as a child. I saw Wham and Neil Diamond. I've seen him about twenty-five times! Music has just been such an influence in my life. Artists like Debbie Gibson, Bette Midler and Fleetwood Mac and Sarah McLachlan. I just love all types of music. I started songwriting when I was seven years old and writing was a really good outlet for me and kept me moving. When I was in college at Montclair State University in New Jersey, I got an internship at Billboard Magazine. From there, I met everyone I needed to meet and started cultivating my craft. I wrote a song called "Reincarnation," which was released in 2006. I wrote that song about my late godfather. He was just such a good influence on me. Even to this day, I still miss him a lot. So, I went out one night in the city and was at a party where one of the DJs worked for Sony. I sat down next to this guy and I was chatting with him about my music and this and that and it turned out he worked for Clive Davis and had worked for Colombia Records. Within a month of knowing him, I got my first deal and that's how it all started!
Q) We're now getting to hear your single "Fences." How have you evolved as an artist since your start?
A) Obviously, after I got my first deal I got a deal with Colt Records with a song called "Overcome." Then, I released a song called "Free." After that I released a song called "Flight." I just kept going to all the events of DJ Times put out and Promo Only put out. I just kept being very noticeable. With the song "Fences," that song is about my best friend who passed away.
Q) Talk about crafting the song. Did you start with the music or the lyrics first?
A) I always start with the lyrics first. It's always easier for me to write the lyrics and then for me to work with the melody. Or, if someone wants to send me a track I'll always write the lyrics first and then I'll work with the melody and cultivate the record.
Q) With this being such a personal song for you, talk about constructing it and how the emotions and lyrics pieced together.
A) It's basically a story of the relationship I had with him. He literally would bring me flowers any day and I would always chat with him about my ex-boyfriend. He was such a good friend to me and it was a big loss. I just thought if he had jumped fences to be with me he might still be here.
Q) What kind of fan feedback have you received to your song "Fences?"
A) I've gotten a lot of good feedback. Bimbo Jones, who is the remixer on the record, has had nineteen Billboard hits and he opened his podcast with it not long ago. I've gotten a lot of good feedback from it. Usually, it takes anywhere from three to six months for a record to really cultivate.
Q) Do you have any upcoming projects you have been working on?
A) Right now I just really want to focus on pushing "Fences." Obviously, I was in a really awful accident almost two years ago and from that accident my producer Giuseppe D asked me to come back into the studio to see if the art was still there in me. I went to the studio and we wrote the song called "I Got This." We wrote the record and recorded it within an hour and a half. It was like the fastest session that I've ever had. I just wanted to prove to myself that I never lost the music in me. Prior to my accident I had written "Fences." With that record still on the table, it hadn't been put out yet so I wanted to go back and put that record out. With time, I'll write some new songs. I've been thinking about it.
Q) Where are we able to check out your music?
A) They can hear it on iTunes. They can go to Spotify. I have my own station on Spotify and I have my own station on iHeartRadio. Then, I have my website andreabenham.com. I also have the new video on YouTube.
Q) Will there be a full album or EP coming up?
A) I think right now I'm just going to stick to putting the singles out until I have everything squared away.
Q) "Fences" is very personal for you, but what do you hope listeners take away from listening to your music?
A) Obviously, my writing is very personal. Every song I have put out has been pretty personal. The lyrics are deep. The most important thing, for me when I started going out Sarah McLachlan was really big with her remixes and her lyrics were something I could relate to and yet go out and dance and have a good time. That's what I really want for people to do. I want them to be able to go out and have a good time, but still relate to what I've been through or am going through.
Q) You are a part of social media. Are you looking to use your platform to engage your listeners about something political or personal?
A) I would definitely say not to give up. To see someone in my situation really giving up on it – it's a lot of work. Thankfully, MusiCares really came into play and really helped me out. So, I'm really appreciative to that. But I think when people listen to my music they'll understand that I have probably been through breakups, heartbreak and overcome a lot. I hope that is the message that is coming out. I would really love for people to look at me and say, "Wow! She did it."
Q) Is there anything else you want to be sure we share with your fans?
A) I definitely want to thank everybody for helping me out and for the support for the past two years. I know a lot of people were wondering if another record was coming out and when it was coming out. I definitely want to thank everybody for their support and supporting me as an artist. I did put in "Fences" and "I Got This" for the Grammy nominations for this year. Like every other artist, you put your heart and soul into a record and you just hope for the best.