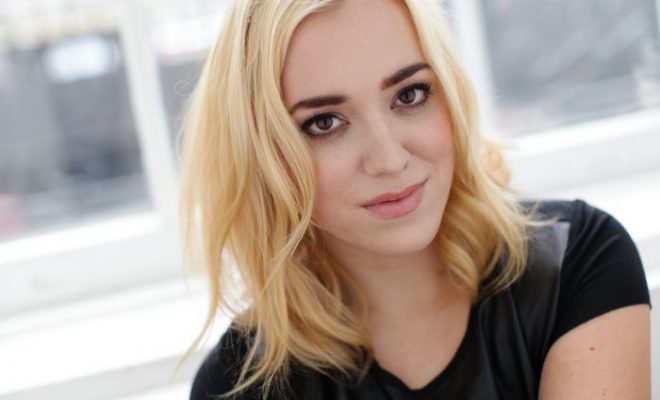 Interviews
Andrea Bowen – Pretty Little Addict
By
|
By: Lisa Steinberg
Q) What are the recent projects that you have been working on?
A) I grew up in New York in Manhattan doing Broadway as a child. After "Desperate Housewives" ended, I was trying to figure things out. Now that I wasn't committed to a series, I just knew I had always wanted to move back east. So, I moved back to the city a little more than a year ago and wanted to get back into the theater world. It's really wonderful thing to get to be on TV for such an interesting basis for so many seasons. It was a fun job for so many years and I was very, very grateful for that opportunity. Afterwards, I was unsure if I wanted to stay in the TV world so I came back to New York. I am loving back here and I have a film coming out. It's very, very different than the one that I'll be in for Lifetime. There I'm playing a woman who loses her husband who was a cop. She is left to raise her stepdaughter and she is trying to figure that out. I shot them a few months apart and it was interesting because in one I'm playing a 20-something year old who is dealing with the death of her father while still be young and mature. The other is a much older woman dealing with the death of her husband. So, I'm sort of exploring all of the sides of roles available to me now that I'm no longer someone's daughter on a regular basis.
Q) There is this new side to you we are seeing as it seems we watched you grow up on television.
A) Something I enjoyed after having been on that show for so many years is that people really do feel like they got to see me grow up. It's one thing when you are on a show that people love and you are in their households every week. That's already a personal connection you share with viewers. But then when you span the ages of thirteen to almost twenty-three when we wrapped the show – the people who loved the show felt very, very connected to me. Now, it's just like that added element that whether they knew it or not every week I was going through these very crucial times in my life. So, it's kind of fun that connection got to develop on the show in a way that the other cast members on the show didn't have with everyone. So, I felt it was my special little part of it.
Q) What drew you to the film Pretty Little Addict and the role?
A) I have always sort of gravitated towards people who are experiencing some sort of trauma. I was doing theater a lot as a child so when I got the opportunity to do television I was living at New York at that time. So, the only shows that shot in New York were cop dramas. One of my very first TV experiences where I had a huge role was on "Law & Order: SVU." I played a little girl who had been raped and I remember someone asking me afterwards, "Why would you want to play such a role when you're a little girl?" I don't know what it was at the time, but it certainly continued through my adult life. I like examining how humans react to these big tragic life events. I think it is a really interesting side to humanity and everyone deals with things differently. So, with this movie it's very much that. She was very connected to her father. He was sort of her best friend and her mentor. He was a musician and she is a pianist with a very bright future. She sort of puts everything on hold to take care of him as he gets sicker and sicker. After he passes away, she just feels like her life has completely come apart at the seams. She doesn't really relate to her friends anymore and she is very detached from everything. So, she uses drinking as a form of escape and spirals out of control with it. That was something I hadn't gotten to play before as an actor. That was intriguing to me. It seemed challenging and interesting. There is a fun, high stakes undercurrent woven into the story where she goes out one night to a party and drinks too much. Then, she makes the terrible decision to get behind the wheel. There are some serious ramifications to that decision and she sort of thinks after that she is going to get her life back on track. It serves as a big wakeup call. She goes to rehab and she thinks she is putting that evening behind her, but it comes back to haunt her in a very unexpected "Lifetime twist." It's a pretty action packed film in terms of the emotional rollercoaster it takes you on.
Q) How were you able to shake off the emotional toll it takes on you filming such intense scenes?
A) It's really hard to leave your work at work when you are doing something all day that requires a certain level of emotion because it is just not something you can shut off. At least not for me! I think most actors get invested in their work and you dive in pretty deep. Then, I'd go back to my hotel room where you can't just go, "Okay! I'm all done now!" It definitely stays with you and when you go to dark places it is harder to snap out of them. I think it helps that I enjoyed everyone I was working with. Our director, Monica Mitchell, was wonderful. The schedule helped because we would have it so it wasn't all of those types of scenes back to back. There were very few days when it was only that type of thing. So, that helped, but it was definitely a grueling experience. Actually, during filming I ended up breaking my ankle on set. Thankfully, that didn't happen until we were almost done filming. So, we were able to use movie magic to make it look like it didn't happen. We had to rearrange shots where I had to be standing up to now being sitting down scenes. It was an experience! Production were all concerned and very sweet. I'm all recovered now!
Q) What was a most memorable moment you had from filming?
A) There is a character who gets injured in the movie and has to be in a wheelchair. He, obviously, was totally fine so he'd get up and I'd sit in his chair.
Q) You mentioned working with director Monica Mitchell. What kind of guidance did she give you while filming?
A) She and I sort of hit it off from the get-go. I've really been fortunate with the people I've worked with. I've really hit the jackpot over and over again throughout my career and this was no exception. These types of productions can sometimes work really, really quickly. I found out I was doing the movie and a few days later I was on a plane to Vancouver and a few days later I was shooting it. So, there isn't always as much time as you would like to have to get to know the director, rehearse with them and breakdown the script. As actors we love that and always want to have that time, but it's very rare to get that time. So, it's very nice when you are thrown into a project where everyone works well together and everyone clicks in and it works. We had a great time filming together and we did get a few moments to hang out together where we would get dinner or drinks after filming. We both got manicures and pedicures together and talked about the script while getting our nails done which was lovely. She was great and a very hands-on director. She is really efficient, very productive and made the most out of her shoot days. She gets the most out of her actors and crew. I just think that she is really, really great and I think we had a great working relationship while we were filming. That certainly helps when you are doing an intense role in a intense project to have a safety net with your director where you know they are on your side. It was just really great.
Q) You are a part of social media. Are you going to be sharing any photos from filming or live tweeting along with the movie?
A) I've got to get better at it! I'm like the worst twenty-six year old on the planet. [laughs] I've been an actor for almost twenty one years so you have to think about the majority of my career social media never really played a part because it isn't that old. I'm kind of used to the old school way where it isn't connected hand-in-hand with what you do, but it's not that way anymore. So, I'm constantly trying to get better at it. I've got to go back and find some pictures. I took so many pictures while filming so I'll find some and share with people. It makes it a fun interactive experience and I'll definitely try and find something.
Q) Is there a moment you are most excited for fans to see from the movie?
A) Without giving too much away, there is a pretty long extended scene towards the end of the movie where things get really, really intense. Those were the days that I would say were the hardest to film on the movie. They involve me and a couple other actors, but primarily me and Scott [Lyster] who is my costar. They were really intense days and they were long days filming in the same location. Tensions were incredibly high and emotions were incredibly high. There were some physical elements and some stunts action. I am really looking forward to seeing how they are cut together and those were emotionally exhausting days. I felt like I wanted to sleep for a week after filming those emotional scenes. I'm very excited to see how those turned out and I'm sure Scott is, too.
Q) Is there anything else you want to be sure fans know about the film?
A) Everybody I worked with on the film were all so very, very great and invested in their roles. I was super grateful to be able to work with a team of people who cared as much as they did about the project that they were working on. Everyone was really prepared and came to set wanting to create the best project they could. I had a great time and I just wanted to mention that everyone who was a part of it was very hardworking and very talented.