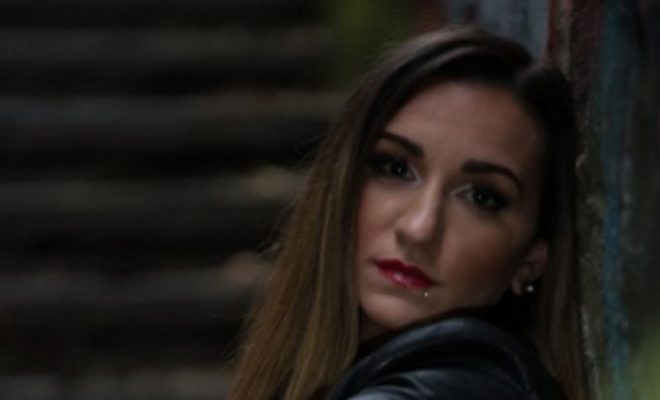 Interviews
Angelica Joni – Exhale
By
|
By: Lisa Steinberg
Q) For someone not for familiar with your music how would you describe your sound.
A) I would say that my sound is current, very upbeat and fun with the feel good dance floor vibe that has a hint of pop and plenty of soulfulness.
Q) What messages do you hope that fans take away from listening to your music? What do you hope resonates with them?
A) I write with the hope that my fans can appreciate and relate to my lyrics. A lot of what I write comes from personal experience or feelings and I try to write about what other people have gone through as well. So, they feel more of a connection to my songs. In my opinion, when a person makes a connection to the lyrics of a song they can either bring you right back to a special event or moments in your life time or on the other hand music can also help you forget anything that you wish to forget. For me, music is what feelings sound like. Therefore, my lyrics are the most important element within a song. If I'm trying to reach an audience and have them experience these feelings, the words bring it to life! I work very hard on my lyrics. My choice of words is how I convey the sentiment I wish to express.
Q) How are you working to make music be more inclusive when it comes to subject matter and material?
A) I really enjoy the explosion of self-help self-love movement in music and lyrics currently. I find them as an inspiration. From Christina Perry's "Human" to Colbie Caillat's "Try" and most recently Logic's "Everybody" collaboration with Alessia Cara and Khalid. I actually wrote a song about myself. It's titled "Fly." It's currently unreleased, but if you seek you can find it. I wrote it at a time when I was at a crossroads in my career. It's very personal and it's helped me through a really tough time. I hope it can be a tool for others to believe in themselves and to "jump and take the risk, say a prayer from deep within, push fear out of the way and Fly."
Q) How did you compose the music for "Exhale" what is your writing process like? Do you start with the lyrics or with the melody?
A) For this particular song my producer Valentin had a track that he was really feeling. So, when he sent it to me I started working on the melodies before focusing on the words.
I wanted to be on the same page with him with the whole vibe and flow of the song before locking in the lyrics. I co-wrote the song with Valentin and Vinny Vero. Our song writing process was easy and I really enjoyed collaborating with them. We were all able to bounce ideas and thoughts and words off each other until we were satisfied with the end result! My writing style is different for each song. Sometimes I already have lyrics that I know I'm going to use and fit it to the right record and other times I build the song around the track that I was given. I'm currently writing two new songs with two amazing producers in exactly that manner they gave me the track and I'm laying down lyrics.
Q) What can fans be doing to help promote your music?
A) What would be super helpful would be to have fans stream my music on Spotify! Also, watching my videos on YouTube and my new soon to be released VEVO edit by Kaiulani Newhouse featuring Dark Intensity's Remix! They can view on these and many other social media platforms to help me go viral! Share my music and my posts as much as possible on Instagram/Facebook/Twitter. That way exponentially other people can check out my stuff and hopefully become fans of mine too! Of course, downloading streaming and purchasing via any of hundreds of platforms that "Exhale" is currently on including iTunes, BEATPORT and Amazon.
Q) Will we be seeing more music or a full EP in the near future?
A) Yes 100%!!! As I mentioned above, I am thrilled that I am currently working on two new tracks with two really special producers Dark Intensity a.k.a. Manny Martinez and Zach Martino. I feel really blessed to have this opportunity and I look forward to releasing them in the near future with the help of my label 418 Music and the CEO Gino Caporale. Actually, I do currently have enough material that is unreleased that could be used for an EP if we decide to go that route. Either way, you will be hearing new music from me in early 2018.
Q) What has the feedback on "Exhale" been like through social media?
A) We initially released "Exhale" through Beatport and immediately we had a great response charting on five of their top charts including Top 10 in House, Future and Big Room. The industry seemed to really be loving "Exhale" and everything about it from the beat and the feel good vibe to the many stellar remixes. I have been getting a lot of love and kudos from DJs here and around the world including dance clubs in Brazil to airplay and Mix-shows in Spain and Amsterdam and beyond. We are blessed to have STONEBRIDGE and his sons Damien and Axel Hall on the project and STONEBRIDGE debuted these three "Exhale" versions on his show on Sirius BPM.
Just this past week we released the new remix album and, once again, it has been warmly received "Exhale" The Remix album is featured on Spotify's "Release Radar" where Ranny's version made Top 8 on the chart!
I'm also thrilled to be added to the Billboard Dance Club Songs top 50 playlist! Over all, "Exhale" has been added to a number of great Mixshows and has had the support of billboard recording DJs, which drove it to number #15 on the Billboard Dance Club Chart and they have been supporting it there for the last 12 weeks.
Q) What has music in general meant to you and where does your inspiration come from?
A) Music for me is the best stress reliever, wound healer and escape! When I first hear a song that peaks my interest, I will play it over and over and over on repeat dissecting each and every part of the song until I fully digest it! Then, I find another song to love. [laughs]
I believe music is an international language and it's something that brings people together in one aspect or another. Music is the one thing that I can turn to no matter what emotion I'm feeling. As I said before, for me music is what feelings sound like. My inspiration comes from other artists I'm a huge fan of the many Lauryn Hill being one that I always refer to when seeking inspiration. Jessie J, Celine Dion, Alicia Keys, Christina Aguilera, Beyoncé, Borgeous, LP and David Guetta just to name a few who are on the top of my list! Of course, I get inspiration from how I feel in the moment both good and bad feelings open up a world of resources for me to pull from.
Q) How does the vibe and focus of the video for "Exhale" connect with the message and lyrics of the song?
A) I'm very excited about the positive responses my video for "Exhale" has received. During the writing process I was so inspired by the Love is Love campaign that was current at the time and I wanted to express that sentiment in my lyrics and throughout the video. To have people just be open and excepting of other people choices, to embrace the differences and just exhale. Ergo, the sensuality of different couples and myself embracing and the flowers coming to life joyfully exhaling. If love is oxygen we can all then breathe love into the world.
Q) Is there anything that you would like to say to your fans about their support and what next they will see it from you?
A) I want to thank my fans my "ANGELS" for their constant support. This is a difficult journey for an indie artist and my fans are a huge reason why I continue to fight the good fight!
I would really enjoy a more interactive intimate experience with my fans. I want them to feel free to write me on any of my socials and to let me know their thoughts about my music and if they have any suggestions for future productions or covers they might enjoy hearing from me. I'm very pro-active on responding!
I would love to say thanks to every single remixer on this project and to let them know I count them as some of my biggest supporters and to let them know that I am a huge fan of theirs!!! All of the successes I have achieved for "Exhale" could not have happened without them!