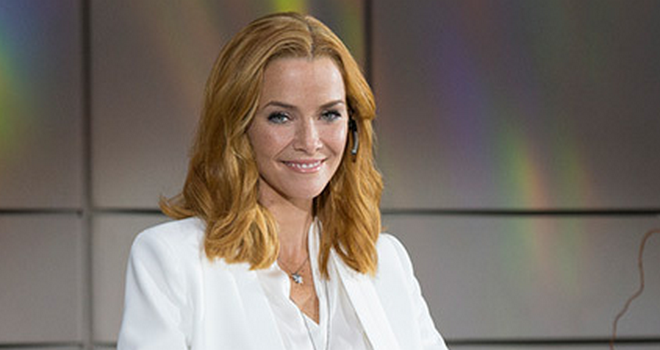 Interviews
Annie Wersching – Marvel's Runaways
By
|
By: Jamie Steinberg
Q) What are the recent projects that you have been working on?
A) We just finished shooting Season One of "Runaways" about a month ago and I've had about three weeks off. Now, I just started Season Two of "Timeless." They have both been a blessing and super awesome. "Timeless" shoots in LA this time, which is awesome.
Q) Talk about premise for "Marvel's Runaways" and how your character, Leslie Dean, was described.
A) "Runaways" is based on Marvel's comics and the overall broad strokes are every teenager thinks their parents are evil, but what if they really are? I see it as a coming of age story that happens to have a Marvel superheroes twist to it. [laughs] It's definitely about relationships, families, good versus evil, who can you trust and who is the villain now. It has all those different twists and turns. When I was presented with the character Leslie Dean, I was told that she was a preacher who was very powerful and manipulative. That's all I really knew in the very beginning.
Q) What was it about the character that made you want to be a part of the series?
A) [laughs] I think when you hear the world "Marvel" you are pretty much sold at that, right? Also, to be completely honest, anything that shoots in LA versus having to travel out of town gets loosely put in the books. I have young kids now so that's super important. She just sounded like she was going to be an interesting character. Obviously, I've never played anyone like a preacher before. I had a talk with Josh [Schwartz] and Stephanie [Savage] before I tested for the show. They just convinced me and told me what a great, fun, powerful, interesting and unique character Leslie Dean is and I was sold.
Q) What have you found challenging about portraying her?
A) I think with any character that is initially seen as a villain the most challenging thing is to make her likeable and find the humanity in her and find the gray areas in her – not just black and white or good versus evil. I want to make the audience feel for her, even though sometimes she is doing things that are awful. [laughs] That's probably the biggest challenge.
Q) With such a large cast, is there anyone you haven't worked with yet that you would like to share a scene with?
A) Oh yeah! For sure. Obviously, we have had a lot of adult and kid crossover stuff. A lot of the parents have scenes with their own particular kid. But that group of kids are so incredibly talented. It's really amazing. Patrick Rush, our casting director, found them and they are just so good! With such a big cast, it wouldn't be unexpected to have someone who is a little green. I would love to have some Leslie/Nico (Lyrica Okano) scenes or some Leslie/Gert (Ariela Barer) scenes. I'd love some scenes with Leslie and some of the other kids. I think that would be really fun.
Q) The show is action/adventure. Was there anything you had to do to prep for the role or for stunt work?
A) Not really. There are some stunts, but a lot of the powers actually lie with the kids. We did have some "battle" scenes, but at least for Leslie she wasn't going "Renee Walker" (from "24") on this show…Yet! I hope that will come in future seasons.
Q) What are the most memorable moments you have had from filming the show?
A) Well, Leslie has obviously a very interesting relationship with this character that we know right now as "The Mysterious Man." I think those have been some of the most fun to do, just because there have been so much mystery behind him. In episode five or six we learn a little bit more about him. But a lot of those interactions with that character and how that character turns out to be have been really fun. Then, like I said, some of the big scenes with all of the pride and all of the kids were just super fun. It's fun for us all to be together in these crazy night shoots that we all had together. It's such a good cast and like I said everyone is so awesome and gets along so great. Those were some of the highlights for me, for sure.
Q) We have also recently been seeing you on the series "Timeless." What was it like for you finding out that the show was uncancelled?
A) [laughs] We knew that it was a bubble show and it was 50/50 about it being renewed. But I felt like it was going to go into a Season Two so I was a more shocked when it was cancelled! You hear about shows where fans throw such a fit that a different network picks them up or they change their mind. But I've never experienced that before. For it to happen only like three days later, it really is a testament to…Well, I know the executives at NBC really liked the show and when they saw the fans' reaction they really wanted to try and figure out a way to do the show cheaper and make it work because obviously the fans loved it so much.
Q) You mentioned with "Marvel's Runaways" the challenge was balancing the light with the dark for the character. Is that also what you found challenging about this role since she's an original time traveler, but has now sided with the bad guys?
A) I think the initial challenge with Emma on "Timeless" was just to capture her essence and make her a full character with having not that many words to say. She had some integral, important things, but it wasn't that she was super dialogue heavy. That was kind of my initial challenge with Emma. And now in Season Two, she has a little bit bigger of a role and I'm getting to do a little bit more with her, which is nice. Obviously, you want to find her motivation. She thinks she is in the right. Just finding that delicate balance of making that believable and flushing out her story.
Q) A lot of your scenes are with the character Garcia Flynn. Talk about working alongside costar Goran Visnjic.
A) My experience with Goran has been amazing. We did the series "Extant" together. I did a few episodes of that and we had a bunch of scenes together. So, I already knew Goran, which was amazing. I was a huge fan of his work, going back to "ER." He's the greatest and we just had so much fun. You never know with people who have been in the business a long time exactly what kind of characteristics they are going to have as a working actor and how they are going to be on set. He just could not be lovelier.
Q) What do you think it is about the show "Timeless" that has made it a fast fan favorite?
A) I think one of the great things about "Timeless" is that it really feels like a family show. People of all ages can watch it and get invested in it. I have so many friends who have teenagers or older (yet young) kids that say, "Finally we have a show that we can watch all together as a family and we're also learning something about history." Maybe it's familiar to them from school. There is a procedural aspect of the show that obviously is something that viewers like, but is different every episode – figuring out what amazing and fun time period they are going to go to. "Quantum Leap" was one of my favorite shows growing up. So, I just think there is something really great about time travel when it is done really well, which this is.
Q) We got to see you in the final season of "The Vampire Diaries." What did you take away from working on show?
A) It was so great coming into "The Vampire Diaries" later into the show. Again, you never know what you are going find when you come onto a show where people have already been doing it for years and years and years. But "The Vampire Diaries" was really fun coming in and playing such an iconic role that fans had been wanting to learn about. They wanted to know so badly about Damon (Ian Somerhalder) and Stefan's (Paul Wesley) mother. So, it was really fun to come in and flush that role out and put a face and a story and scenes to this iconic woman that they had all wondered about. I just loved it. She was just a great character to play. She had a great fierceness to her, but yet she could be a crumbling emotional mess two seconds later. [laughs] So, I just loved her because she had so many elements to her.
Q) You are a part of social media. Do you enjoy the instant fan feedback you receive to your projects?
A) Yeah, definitely. I know some people can find some negative things on Twitter and all that. I keep out of all of that. So, I've really only had a positive experience with social media. I love pictures. I was definitely a photographer in another life, for sure. [laughs] So, I love when an episode has aired getting to share these little behind the scenes photos and give fans a little taste of what went on behind the scenes. That's probably my favorite part. And hearing how fans react to different characters. It's super fun!