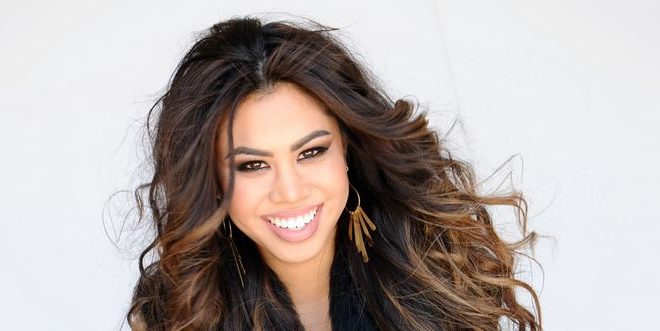 Interviews
Ashley Argota – Pan and Tinker Bell – A Pirates Christmas
By
|
By: Taylor Gates
Q) Can you tell us a little bit about the show and your character?
A) We're doing a panto of Peter Pan down in San Diego and I'm playing Tinker Bell. So, basically, if you don't know what a panto is we take a classic fairytale and put modern music to it. I did Aladdin three or four years ago and that was kind of my introduction to the panto world. We used to just do it here in Pasadena and now they're expanding it. I think there's four pantos going on at the same time this year. I'm excited! It's gonna be fun.
Q) What drew you to this project?
A) My experience with the panto when I did it Aladdin was so incredible. I worked with Ben Vereen (who's like a Broadway legend), Bruce Vilanch, Jordan Fisher and all these incredible people. And it was such a fun show to work on. I always said that the Lythgoes were some of the best bosses I ever had and some of my favorite people to work for ever. And the shows are just a lot of fun. They're such family shows. And I know the Lythgoes want the pantos to become the family holiday event of the year. They want families to look forward to going to a panto every year. And that's kind of what drew me to Aladdin in the first place. And then I had so much fun with my cast members and I got to ride around on a magic carpet for a month of my life—I just had the best time doing that show. I go to every opening night every time that I can. Or if I can't make it to opening night I at least go see it. Nine times out of ten I have a friend in the show and so when they asked me to Peter Pan this year it was a pretty immediate yes.
Q) Did you have to audition or did they just ask you?
A) They just asked me! And it's funny because two of the people I worked with in the Aladdin panto are also working on other pantos this year…one of them is doing Aladdin and another one is doing Sleeping Beauty down in Houston. So, all of us are kind of spread out, but we've all been texting each other like, "Have you guys started rehearsal yet? How's it going? What are you guys doing?" The pantos have definitely given me a sort of pseudo family and I keep in touch with so many of my Aladdin cast members and I love them very much. They've gave me a pretty awesome family.
Q) This show also has a pretty phenomenal cast. Did you know any of them prior to this?
A) I know Audrey [Whitby]. We see each other at events so I don't know her really well, but I know her. And Riley [Costello], who's going to play Peter Pan, we have a ton of mutual friends and then he came to my Bridesmaids show towards the end of the run. And everybody was freaking out because they were like, "We love Riley!" I didn't realize we had so many mutual friends. But it was really exciting for us because we kind of got into contact on Instagram and we finally got to meet each other and it was really exciting.
Q) What's the rehearsal process for the show like?
A) We don't have very long. I want to say we rehearse for about a week and a half in Pasadena and then we go straight down to San Diego and then a week of tech maybe. And then we start the show!
Q) Are there a lot of stunts involved for Tinker Bell?
A) When I saw Peter Pan in Pasadena a few years ago she did fly. I have not heard anything about me flying. I have heard about me doing the Heelys. Chrissie Fit was Tinker Bell in Pasadena. When I watched it, she literally skated around in Heelys the whole show. I was like, "They're not gonna make me do that," but they totally are. I have already gotten the email that's like, "What's your shoe size so we can buy you your Heelys?" And I'm like, "Oh, I'm gonna fall so much." As of right now, the Heelys are the only stunts that I know of, although it is called Peter Pan and Tinker Bell so I can't imagine they won't make us fly. I've been on harnesses for "Lab Rats" and stuff like that and it's super fun so I'm excited.
Q) Do you think you know what your favorite song is going to be to sing?
A) I get to sing a ton in this show. I think my favorite is going to be "Fight Song." It's something we did in Bridesmaids, but I'm excited to actually get to sing it. I already told the girl in Bridesmaids that I'm stealing all of her riffs. It's one of my favorite songs. So, we're doing that and we're doing a Taylor Swift song, too. It'll be good! They picked some great ones for this show.
Q) What message do you hope people take away from this show?
A) The message that I've really loved from all the pantos has just been family. Just to go out and have fun with your family and be with them for the holidays and that's something that I really, really love. My entire family came to see my very first panto and my entire family is currently making plans to come and see this in San Diego, which is so crazy to me because it's a trek down there. That's something I already loved about the pantos is they bring families together not only crowd wise but for the cast members, too.
Q) I know you were in Lion King when you were younger and now you're in Peter Pan. You've also done If you could give one other Disney character their own staged musical, who would you pick?
A) Moana! I'm actually performing at the Looking Ahead Awards next week and singing "How Far I'll Go." I love Moana. It's one of my favorite Disney movies.
Q) Excluding your own, what's the best musical you've seen or listened to recently?
A) Something Rotten! It's basically an homage to every musical ever. I've seen it three times already. My and Peter's [Vogt] friend Brian Kennedy is a music director for the show. We went and saw it earlier this year in Las Vegas. When I watch shows, I usually watch them with no reaction. And it's not because I don't like the show, it's just because I'm thinking most of the time. I watched Something Rotten! and I don't think I've ever laughed so hard at a show. I bought the soundtrack, I learned all the word and then they opened in Orange County and I went to see it there. and then they opened in LA and I went to see it in LA. I officially have a problem. It's so good and it's so funny. I've never seen it on Broadway, but I've seen the touring company now three times and they're so incredible. It's definitely one of those shows that I highly, highly, highly recommend. It's so smart and it's so well-done.
Q) You have a ton of experience acting and dancing and singing throughout a ton of different mediums. Would you ever want to branch out and try writing or directing as well?
A) Yeah! I used to say I wanted to write and the problem is I am so detailed when I write that my things end up being millions upon millions of pages long. I definitely have a ton of ideas of scripts and shows that I want to do. I'd love to start directing and producing—doing a lot of work behind the camera and stuff like that. Hopefully, those opportunities will arise very soon.
Q) This play is full of the Christmas spirit. What are some of your own favorite holiday traditions?
A) Peter and I have a tradition of going to Candy Cane Lane here in Los Angeles. It's basically a bunch of houses in these neighborhoods who have agreed to put Christmas lights up. It is the most extra thing you have ever seen. But they're beautiful decorations and they all have some kind of theme to them. Half of them play music in their yard. Sometimes there are people giving out hot cocoa. So, we just pick a day and got to this neighborhood and there's miles upon miles of Christmas lights. There's also Christmas tree lane, which is just exactly what it sounds like with beautifully decorated Christmas trees. We kind of got into doing that a few years ago and it's just a tradition that I really love. We also do the LA Zoo Christmas Lights and Descanso Gardens does this really beautiful Enchanted Forest of Light thing for the holidays. There's going to be a ton of Christmassy things in San Diego, too, so I'm excited to see what's there. I haven't been there for Christmas yet.
Q) You're obviously pretty active on social media. Do you feel like that easy access to fans makes your job as a performer more challenging or more rewarding?
I think it makes it more rewarding. I love getting to talk to everyone. That's how I became friends with all of you guys! The whole reason I did social media in the first place was to thank everybody for their support and to get to talk to people. I'm very appreciative of all the fans and the love that they give me and the support that they give me. I love getting to go on every once in a while, and hang out and talk to them and see what's up. And getting to meet them in real life! My favorite tweets are the ones that are like, "Oh my gosh, just saw you at this place!" And I'm like, "You know I don't bite! You can actually speak to me." [laughs] They're the reason I have a job in the first place and I'm very grateful. It's been great. I was very against getting a Twitter for a long time and now I have it and I love it.
Q) What can fans expect to see you in after your panto is all wrapped up?
A) I can't tell you exactly what it is, but there's something I did last year that has gotten another season so I know we're shooting that right at the top of the year. And the show I did earlier this year with Caleb Worthy, "Liberty Crossing," I want to say comes out sometime in January. So, lots of work at the beginning of the year—I can't complain.
Q) Is there anything you want to say or communicate to your fans?
A) Thank you. Just thank you. I've been doing this for so long. I've been acting since I was five and "True Jackson" happened when I was fifteen years old so it's been a really long time that people have stuck around and sent their love. It definitely doesn't go unnoticed. Thank you and you are all amazing.