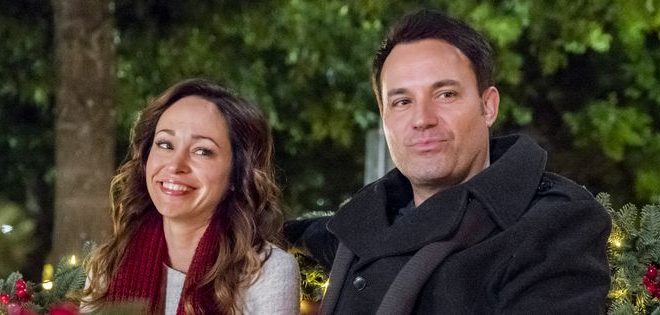 Interviews
Autumn Reeser – A Bramble House Christmas
By
|
By: Lisa Steinberg
Q) Are there any other upcoming projects you are working on?
A) Season two of "The Arrangement" on E! starts March 11th. They just came out with the teaser trailer for that and I got excited.
Q) Please tell us the premise for the movie A Bramble House Christmas.
A) I play a nurse who is a single mom to a boy who has been ill for the past few years. So, her whole life is caring for other people. She is taking care of an older man who is in hospice as he's passing and he leaves her enough money to pay all of her medical bills for her young son and also gifts her a Christmas stay at a place he grew up at as a child called Bramble House. It's in a little quintessential Christmas town called Bramble. The conflict comes from his estranged children who when they find out their father has left $100,000 to someone they have never heard of who is his nurse. They figure she probably swindled him. They go to investigate, but the son ends up falling in love with the nurse.
Q) How does the setting of the film play a role in the movie?
A) I've never seen so many Christmas decorations in my life! It was like Christmas like just exploded in this house in Vancouver in July. We shot on this horse farm and it was really quaint. We had a lot of fake snow to make it look as Christmas as possible. I liked it because I didn't have to be as cold as I usually am. It was really sweet and my character loves decorating. She loves to decorate and make people's lives better. I love to do that.
Q) How did you connect with your character?
A) No, I don't actually decorate with the holidays. I'm more of a minimalist when decorating. This year I'm doing a "living Christmas tree." They deliver it in a pot and it's still alive and then they come and pick it up. So, there is no waste from it. That's all I do for decorating. I don't like having to store a lot of things that only get used once a year. But I love visual beauty so it's easy for me to connect with my character on that level. And on the desire to make people happy and on the desire to provide the best life possible for her son because I have two sons of my own.
Q) How did you construct Willa for your portrayal?
A) to me, Willa is a soft heart. That's the best way to describe her. We dressed her in a lot of warm colors and skirts. I think she's very feminine at her essence and because she is such a sensitive heart I think she's had to learn how to protect herself. She spends a lot of her time taking care of other people and putting others before her. There are a lot of women who can relate to that. She's now at a place where she has the ability to take a breath because of the gift this man has given to her. She has a moment to take a breath and reconnect with herself. She's going, "I don't know how well I know myself and I don't even know what I want because I haven't thought about myself in so long." I think that's what a lot of women are dealing with in their 30's, 40's and 50's.
Q) What helped you get into the holiday spirit since the movie was not filmed in Winter?
A) Our art department and our set dressing team did an amazing job with the snow. These movies are always interesting because it is seventy-five degree weather, but it needs to look like it is below freezing. Every movie I've done they've used something different. The movie I did last year used CGI snow. This one was foam and ice from a fish house. It's the type of ice you display fish on so it's almost like a shaved ice so it holds its shape longer. It doesn't immediately melt in warm weather. It sounds a lot less romantic when you put it like that doesn't it?
Q) Hallmark movies do a great job of balancing heart and humor along with love and lessons. How does A Bramble House Christmas fit in with that formula?
A) Oh, that's sweet! For me, this movie is about learning to trust. You have a lot of characters who have experienced pain in their past. My character has a child who has been sick and David's [Haydn-Jones] character has a thriving career, but no relationship with his father. Now that his father has passed he has to deal with the fact he can never repair that relationship. Maybe the things he thought about his father weren't true and now it is too late. That's a really painful realization to be dealing with. These two characters are meeting in that place of past suffering and learning how to open their hearts to the potential of love again. That's a very precarious journey that they take.
Q) Willa can give him a greater idea of who her dad was instead of who he thought he was.
A) Right! Only the majority of the movie she doesn't know he's the man's son. He can't reveal it because he's still trying to figure out if he's stolen the money. Here they are trying to trust each other and open their hearts to one another so there is still deception happening.
Q) What do you hope viewers take away from watching the movie?
A) We all get hurt in life. That's just the inevitable part of life on this planet. I hope people take away of not closing yourself off, even when you've been through a lot of pain and hurt. Every day is a chance to start again, try again, risk loving again and risk being open again. Life is a lot more exciting when you can do that.
Q) What holiday traditions are you looking forward to this year?
A) My kids are three and six years old so we're just getting to the age where they are just getting able to enjoy the Christmas season. So, I'm figuring out what my traditions are. I'm not particularly a traditional person. I'm not attached to doing things every year. I'm trying some new things this year. Last year, I tried taking them to The Nutcracker. That was a disaster. My little ones spent the whole time going, "Where are the bad guys?!" I'm going to take them to a Santa's Village in San Bernardino. I am going to see if I can manage that with them. We tried baking Christmas cookies last year and that was a disaster. It was just filthy! Glitter sprinkles all over the floor. The second I looked away from one the other would upturn the thing of frosting or something else would be spilled. So, it was chaos. I don't know if my heart can handle that again. But I may try ice skating, which I may be telling you next year was a terrible idea. We'll see! I think it's all trial and error. I'm going to keep trying and see where we end up.
Q) You often play fierce, flawed, vulnerable and richly layered female characters. What have you taken with you from these roles?
A) That's such a great question! I've learned something different from every character. I think they've taught me how to stand up for myself. I think I'm someone who tends and doesn't have a lot of experience standing up for herself. I've learned that through the characters that I've played. Even Willa, this character, she has a strong sense of right and wrong and she is able to advocate in a way that is still respectful, but in way to fully honor her own feelings. I learn something different from every character that I play.
Q) Is there anything else you want to be sure fans know about the movie?
A) I'm going to live tweet!