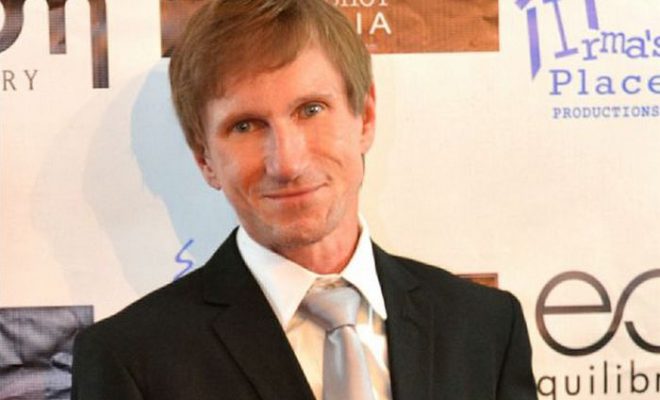 Interviews
Bill Oberst, Jr. – Betrothed
By
|
By: Jamie Steinberg
Q: What are the recent projects that you are working on?
A: First, let me say thank you very much for this opportunity to speak with you and with Starry Constellation Magazine's readers! As for my recent projects, I'd invite folks to visit my IMDB page to see what's new. My next theatrical and DVD release will be a thriller called Stressed To Kill with Armand Assante. That one is scheduled for summer release and I'm quite excited about it. Director Mark Savage gave me a great role – a guy whose high blood pressure is killing him so the doc says to eliminate stress from his life, but it turns out that people are what puts stress in his life. A terrific premise.
Q: Please tell us the premise for the film Betrothed and about your character Lester Cooper.
A: Betrothed is the striking tale of a smart, beautiful girl who gets stranded (and engaged against her will) in the middle of the desert. I play a lovely pig farmer named Lester and my dear friend Suze Lanier-Bramlett of the original The Hills Have Eyes plays my wife. It was a bloody lot of fun!
Q: What made you want to be a part of the film?
A: I am a fan of the whole subgenre that Betrothed is now a proud part of and I thought Jeff Rosenberg's script was a fresh take on it. Jim Lane wanted to do a movie that was fun and scary at the same time and, speaking as a fan of classic horror, that sounded like a good mix to me.
Q: Was there anything you added to your role that wasn't originally scripted for you?
A: Yes, he got a little creepier (which is not an unusual occurrence for me – I never mind upping the creep.)
Q: What did you find challenging about the role?
A: Running with a knife. Do not try it at home! It's hard enough on a movie set.
Q: What was it like working with director Jim Lane?
A: Jim is an actor's director. He knew what he wanted and how to communicate that to his cast. A real pro.
Q: What were some of your most memorable moments from filming?
A: It would be kissing Suze Lanier-Bramlett. I'm not sure if that made it into the final cut, but it sure was fun.
Q: What do you think it is about Betrothed that will make people fast fans of it?
A: I hope fans will appreciate the mix: there's dark humor, but also real tension from the plight of Audra. She's in a heap of trouble!
Q: You often play such dark, intense roles. What continues to draw you to these characters?
A: I will be honest with you: I have no interest in adding to the darkness in the world. This globe can be a frightening, lonely place, but I believe with all my heart that God is in His heaven and that, as the old hymn says, the wrong shall fail; the right prevail. So, I approach the bastards I play as cautionary tales, not as examples. I want the audience to have a cathartic experience and I love it as much as they do when the bastards get their due. Why do I keep playing them? Because I keep getting hired to play them. Perhaps one day someone will hire me to play a priest. A flawed priest. That would be nice.
Q: Where were you and what was going through your mind when you found out about the Emmy nomination?
A: I was at the Arclight Theatre in Hollywood. I called my manager Matt Chassin to tell him. His reply? "Well, that's not entirely unhelpful to us." Matt is a wonderfully understated guy. It turns out he was right!
Q: You are a part of social media. Why is that such an important way for you to interact with fans?
A: I like to hear from real people, you know? I think hell is being in a green room full of actors for eternity. The business gets claustrophobic. We need perspective. We need to hear from people whose lives don't revolve around entertainment. We need real life. At least I do. There's contact info on my website. I read. I respond. I appreciate.
Q: What would you like to say to everyone who is a fan and supporter of your work?
A: The good people who are kind enough to encourage actors who aren't big stars will never know how much it means to us. It's a tough business and any little boost is always a big emotional help. Actors are pretty needy, you know. Acting is a personality disorder disguised as a profession.