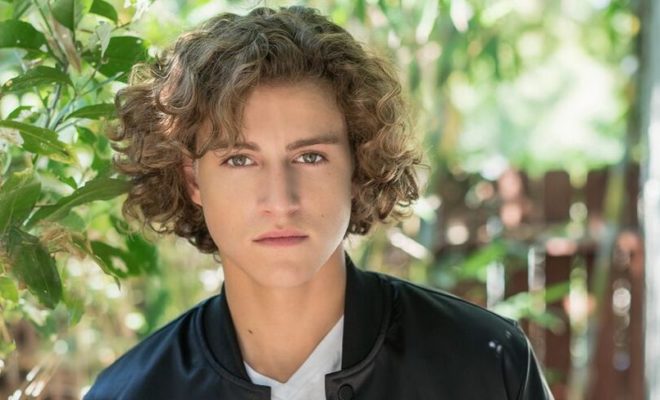 Bobby Quillard
Interviews
Brandon Spink – Berlin Station
By
|
By: Jamie Steinberg
Q) What are the recent projects that you are working on?
A) Recent projects I've worked on are EPIX's Berlin Station, playing Noah Kirsch and Baelfire on ABC's Once Upon a Time.
Q) Please tell us how your character Noah Kirsch on "Berlin Station" was originally described to you. 
A) It was described that I would play the son of Robert Kirsch (Leland Orser) and that I have recently moved back to Berlin to live with my dad.
Q) What made you want to be a part of the series? 
A) That is a was a spy thriller, I love dramatic roles!
Q) Was there anything you added to the role that wasn't scripted for you?  
A) Yes, I felt I had more emotions in the end because of the connection with Leland.

Q) What have you found challenging about playing Noah?
A) His life is so different from my real life. So, I had to create feelings in order to get into the role of Noah.
Q) Was there instant chemistry when you and Leland Orser began working together or did you spend some time to bond? 
A) I had instant chemistry with Leland. He really took me under his wing, which helped me to connect to my character.
Q) What can you tease is in store for Season Two and with Noah? 
A) The storyline for Season Two is very action-packed. It relates to current events. And as far as Noah, the personal changes he makes regarding the relationship with his dad.
Q) What have been some of your most memorable moments from filming "Berlin Station?" 
A) Getting to work with such amazing actors and actually filming on location in the city of Berlin was so incredible.
Q) Is there anyone on the show you haven't gotten to work with yet that you'd like to share a scene with?
A) I got to meet Rhys Ifans and Keke Palmer while filming my scenes. It would have been great to also work with them.
Q) What have you taken away, personally, from your time working on the show?
A) Leland Orser taught me so many things about preparing for my role, which I will use in the future for other characters that I may have the opportunity to play.
Q) You are a part of social media. Do you enjoy the instant fan feedback you receive to your projects?
A) I do enjoy the instant feedback. It is always nice to hear that people are enjoying the characters that I play.
Q) What would you like to say to everyone who is a fan and supporter of you and your work?
A) Thank you for always supporting me in each project I work on and it's always great to hear the positive messages that you send.