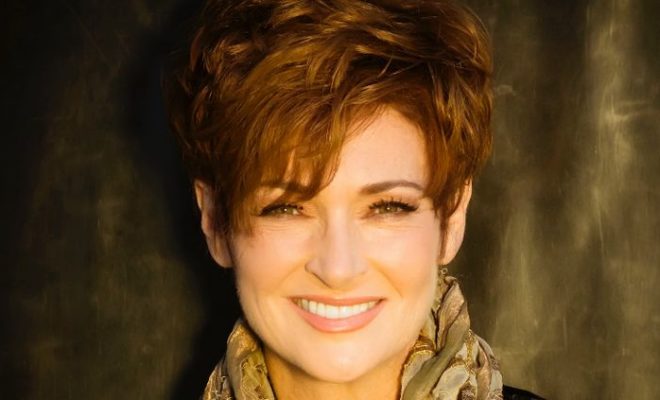 Suzette Troche-Stapp
Interviews
Carolyn Hennesy – General Hospital
By
|
By Stacy Miller
Q) You've been playing "General Hospital's" Diane Miller since 2006. What would you say makes the character of Diane click so well with audiences?
A) The humor, no doubt about it. As I like to say, Diane Miller is the clown between the trapeze act and the man getting shot out of the cannon. She's the humor in between the drama. Audiences need to breathe. They need to have their moment where they're diverted slightly from the major drama that's going on because they'll become overwhelmed. No one wants that. You don't want them to implode. You want them to continue to stay tuned in. Diane gives them a little breathing room. She's the Greek chorus. She's able to say to characters what nobody else is able to say to them or will say to them. I think that's another reason audiences love her so much. She can get in there and really tell it like it is. She's the only one who can get away with telling Sonny how things are going to be. She's the only one that Sonny won't allegedly kill. [laughs]
Q) Your scenes are primarily with Sonny, Jason, Carly and Alexis. Are there any other characters that you don't interact with that you would love to have scenes with?
A) To be honest with you, I would have killed to have had more time with Tony Geary and Jane Elliot. Jane is a walking masterclass. Having said that, now on the canvas, I would love Diane to get more involved with the hospital. I'd like to see her in scenes with Elizabeth. I like to see her in scenes with the doctors and the nurses. I don't know what the reason would be that she would be there, but those are some wonderful, wonderful actors. All of the actors on the show are just terrific I'm so lucky that I get to work with the stars that I do. I would kill with more scenes with Ryan Paevey. Also Michelle Stafford. Maybe Crimson could do a layout, attorneys at home and they have to photograph Diane Miller.
Q) Besides for Diane dating Max, we really don't know a lot about her backstory, about her family. If you could see a backstory for her, what would you like that to be?
A) There's kind of a funny backstory. I've always said that Diane comes from circus folk. That she actually ran away from the circus. I also have another theory that Diane came from America's heartland, the Bible belt, and her parents were blue collar, hard-working, salt of the Earth people and she got her hands on a Vogue or a Cosmopolitan one day and her life changed. She got a full ride to Yale, Brown or to Smith and she ran off to the big city. She had stars in her eyes. I think that Diane was raised with not a lot of money. I think came from very humble beginnings, which is why money is important to her. She knows the value of it and she also knows what it can do, that it can be used for evil and for good.
Q) You recently appeared on Gilmore Girls: A Year in the Life. Can you tell us about your experiences working on that series?
A) I was lucky enough to work on that. There are the three main women. Lorelai, Rory and Emily are the three main leading ladies. I was lucky enough to work with a woman who I consider to be one of the great broads of all time (and I use that in the best sense of the word): Kelly Bishop. Kelly Bishop. A Tony winner. I saw her on Broadway in A Chorus Line in the role that she won the Tony for so many years ago. To sit, to work in such close proximity with her, was a wonderful gift. If you're open to it, you become that sponge just by being around her. She was wonderful and the scenes that we had together were extraordinary for me. I loved every moment of it. I'm glad it spread out over seasons. Although, I don't think that we'll see my character again I relish playing opposite Kelly Bishop. And Julie Berman (ex-Lulu, "General Hospital") played the trophy wife in some of my scenes.
Q) You have extensive film and television credits. You're also an accomplished writer. How did you get interested in writing? Also, can you tell us a little about your Pandora book series?
A) Many years ago…I think it was in 2004, I was in a writing workshop. I did a series of short stories based on misunderstood women in fiction. I was sort of following in the footsteps of Gregory Maguire and his book A visiting author to the workshop heard me read a story based on Pandora and he gave a lot of praise for it. He gave me the idea that instead of this being a short story, it could be a novel for young adults. I took it upon myself to say that there were seven big evils that she releases upon the world when she takes the box to school and all hell breaks loose so why not write a book for every evil? I never realized what I was getting myself into, but I did. That was sort of the catalyst. This other wonderful man had this idea and I leapt upon it. He didn't elaborate, but I just ran with it. Pandora is about a teen girl whose father is Prometheus (the Titan who stole fire from Zeus and gave it to mankind and was severely punished) and her mother is a mortal. So she is a demi-God. She lives back in ancient Greece, but there are universal overtones throughout the whole book. She's got homework and a little brother who she has to babysit. There are friends and guys and mean girls at school. There's the market place like the mall. She's basically just your average girl. I think that even 2,000 years ago young boys and girls were going through exactly the same kinds of things we're going through today. We carry those triumphs and scars with us into adulthood. This was very cathartic for me. Pandora has this project that she runs for school and she has nothing to show for it on the eve of the project. She finds the box with all the evil in it and thinks that would be great to take to school. Of course, all hell breaks loose and she's given a choice by Zeus: Either eternal torment for her and her family or (and she can't have any help from her family) she has to gather everything that got out of the box. Her two best friends meet her along the road and offer to help her because if she doesn't fix things, there pretty much won't be anything else to come back to. She takes it upon herself to go out with her two best friends to save the world.
Q) You've had roles in two web series (The Bay and These People). How does web series acting differ from the other mediums?
A) Not at all. It's all honesty. Improv, comedy, drama, horror series that cost a million dollars an episode…none of it is any different in your acting. It all has to come from a place of honesty and reacting in the moment no matter what role you're given. I'm so honored that Gregori Martin, who is the creator of The Bay offered me the role of Karen Blackwell which ultimately won me an Emmy. I will forever be grateful because that series itself is getting a tremendous amount of attention as well it should.
Q) I've read you're also a trapeze artist, how did you become interested in trapeze?
A) Many, many years ago (more years than I will tell) I did a production of Shakespeare's A Comedy of It was set under The Big Top so everybody had circus acts to do. The two lead females were placed on what that call static or hanging trapeze. It smooths around the bar. It never leaves the bar. From there I progressed to the flying trapeze, which is a completely different animal. I've been doing trapeze for many years now. In fact, I just got back from trapeze class. To be perfectly honest with you, trapeze becomes…if you're inclined to it, your primary passion. The feeling of throwing your body up into the air and leaving the Earth for a moment and for truly flying for what is a split second and then getting caught by someone who you trust, that feeling is indescribable. You can sort of nail the facts of it, but you can't describe it unless you actually do it. I know there are people in their seventies still doing it and I would love to be like that.
Q) You're passionate about animal rights. How did you get involved in the advocacy for animals?
A) That's a terrific question. It's not so much animal rights as it is animal welfare because advocacy is an entirely different animal so to speak. I've always loved animals. I was the child who brought home the dogs and the cats. I always took in the strays, but then life gets very busy and complicated and you've got to worry about your career so I got away a little bit from that. I was on my Twitter feed one day and someone posted a video about baby elephant abuse by Ringling Brothers. I watched the video. I was very fortunate that my mentor, a man named Dr. Grey Stafford (who is a fan of General Hospital) contacted me and said, "Ms. Hennesy, thank you so much for the care that you're taking with animals and for your interest." Then, he said to me that the facts are that particular video is over twenty years old and they haven't treated their animals like that in over twenty years and you've fed into a line of rhetoric. I sort of had a "come to Jesus" moment. I said that I will never do that again. I will never speak on something until I have the facts. With his guidance I have now traveled the world on behalf of a certain documentary I was doing called Elephant Trainer in Room. I have become an Ambassador for The American Humane Society. I have become an Ambassador for The Los Angeles Zoo. I have spoken to The California Coastal Commission on behalf of Sea World. I have really done my homework and I understand the difference between radical activism and problem solving advocacy. That's how I came to it because I said that never again will I speak first without knowing the facts.
Q) Your father, Dale Hennesy, was an Academy Award winning art director (Fantastic Voyage) and worked on Logan's Run. How was it growing up being around the entertainment world?
A) I have some great memories of helping to work on some of the miniatures and spending time on those sets.
Q) Are there any other projects that you can share with us?
A) Not any that are coming to fruition immediately, but there is talk of my book series being made into a live action series. I also have a couple of pilots that I have written that I am pitching around.