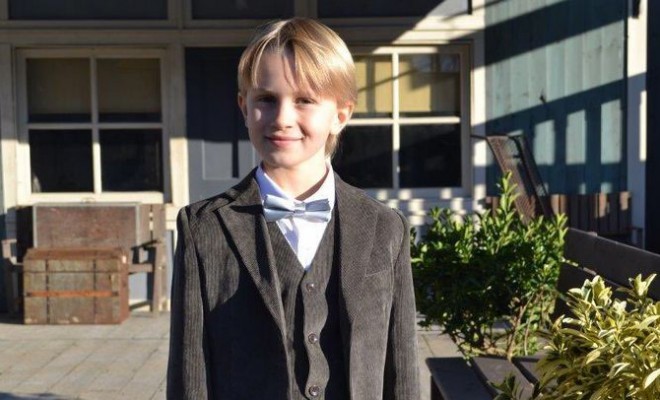 Interviews
Carter Ryan Evancic – When Calls The Heart
By
|
By: Ruth Hill
As a writer and as a promoter of outstanding talent, there is almost nothing more fulfilling than alerting fans to up and coming gifted young people and presenting them in the most positive light. Recently, I got to chat with one of the youngest and newest members of the "When Calls the Heart" cast. And since it was his first official interview, I was absolutely thrilled and honored to be the one to chat with nine year old Carter Ryan Evancic who plays Cody on season three of this record-breaking Hallmark original series.
What inspired you at your young age to become an actor?
My sister already was an actress and she was taking some acting classes. I asked if I could join in and she and my mom let me. So, for two years I took these acting classes right along with my sister. My sister stopped, but I kept going. And here I am now, acting professionally.
How did you get the job?
I went to the audition for "When Calls The Heart" and I thought it went well. They called me back and Neil Fearnley (the director) told me I did really well. Before I knew it, I was officially called back again and told I had the part. It all happened very fast.
What is it like joining a series that has already been going for two seasons and you're the "new guy?"
The first day, I was really scared. I get really shy when I have to meet new people. But when I got there and met everyone, I warmed up to them and they warmed up to me. And Erin [Krakow] and Lori [Loughlin] are really good with kids. We became good friends.  Also, I had worked with Loretta Walsh before on Her Infidelity so I did know her.
Tell us about how schooling works for you.
I do go to a regular school when I'm not on the set. I think I like the school on the set better because it's shorter. It doesn't take as long to get through our classes. But when I'm not working, I go to a regular school and take normal subjects. Math is one of my favorites. My friends are always happy to see me when I come back to school because they miss me when I am gone and I miss them. And I'm always happy to see them. They don't treat me differently just because I act on TV. They are supportive and so is my family.
How do you prepare for your role? Learning your lines, etc?
I am pretty good at memorizing, but my mom helps me a lot. Some of the longer scenes are harder to learn and my mom has a system where she goes through and highlights my lines and writes down every scene number I'm in. It's hard to explain how she does it, but she is very supportive. Thankfully, I am in all ten episodes!
Do you have any favorite filming stories? Who is your favorite person to act with on the show?
I love filming with Dan [Lissing], Lori and Erin. But on the set, Dan is a jokester. I mean Erin is too, but Dan is the biggest jokester. It is always fun to watch him. You never know what he's going to do next.
In one of my scenes, Peter DeLuise (the director) helped me a lot. I had to go into a room and cry a lot. It was a really heartfelt scene. Because Peter helped me so much that I did the best crying scene I'd ever done. He worked really hard and tried lots of different things to make the scene something I am really proud of.
If you could have one of the adult roles on the show, which one would you want?
That's kind of a toss up. I would choose Jack because he has all the fun action scenes, but I also would choose Elizabeth because she teaches the kids.  Both are really fun parts played by really wonderful people.
Do you plan to always be an actor?
I couldn't imagine doing anything else. Yes, you have to go to millions of auditions sometimes, but I'm having a blast as an actor. I know it's harder to get jobs as a teenager, but I don't really want to give it up.
I do like sports so in my free time I think I might like to play soccer, Lacrosse or do archery. But I hope I can always be an actor.
Do you have any other upcoming works you can tell us about?
I am returning to "The Man in High Castle" sometime in March I think, so look out for me there. But for right now, be sure to watch me on "When Calls the Heart," in the role of Cody.
I have to say that young Carter impressed me immensely during this interview. He definitely has a maturity beyond his years.  His mother has kept him grounded and she makes sure he lives as normal a life as possible while still pursuing the dream and desire of his heart. In my humble opinion, this is the kind of young actor I want to see grow, mature and eventually star in everything wonderful as he continues to hone his craft. I would say he certainly has his career off to a good start, and I invite everyone to check him out on "When Calls the Heart," beginning this Sunday, February 21, on the Hallmark Channel.
Be sure to follow him on Twitter:
Oh, and his mom is pretty cool too: