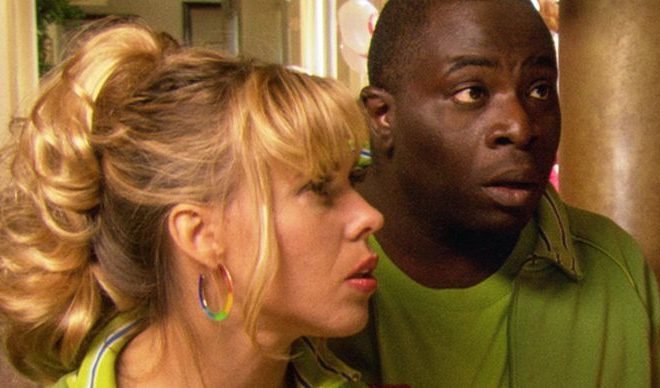 Interviews
Cathryn Michon – Cook Off!
By
|
By: Jamie Steinberg
Q) What are the recent projects that you are working on? 
A) Sony is currently shooting our screenplay for the movie A Dog's Way Home, starring Edward James Olmos and Jonah Hauer King, which was adapted from my husband's New York Times bestselling novel of the same name.
Q) Please tell us the premise for Cook Off! and about your character.
A) Cook Off! has been described as Best In Show meets "The Great British Baking Show."  It's a bunch of people trying to win one million dollars with food made out of refrigerator biscuits and spray cheese.
Q) How did the idea for the film come to you?
A) It's adapted from my memoir The Grrl Genius Guide to Life where, among other things, I tell about how I personally became obsessed with amateur cooking contests.  For me, it was the live salad making competition at the Santa Barbara County Fair.
Q) You are co-director, writer and star. What was it like balancing all those hats? 
A) Like other filmmakers before me who wear multiple hats (Lena Dunham, Albert Brooks, Ben Stiller) I find being involved in multiple aspects of filmmaking to be the greatest creative joy I could ever experience.  The other film I directed, Muffin Top: A Love Story with David Arquette was even more of a challenge because I was literally in every scene in the film.
Q) In addition to yourself, the film stars Wendi McLendon-Covey and Melissa McCarthy. How involved were you in the casting?
A) Casting involved asking our friends to make the movie. So, yes, I was involved.  It mostly involved begging, as it was a very low budget movie.  What an honor it is to everyone who worked on the film have assembled such an all-star cast.
Q) What have been some of your most memorable moments from filming?
A) My kisses with comedy genius Gary Anthony Williams will never be forgotten.  We agreed that our characters Lars and Sharon would have some kind of very awkward way of kissing, but it wasn't until the cameras were rolling that I realized his take on that would be to make my character "do all the work," as his lips essentially went comatose.  It's truly hilarious and truly awkward.
Q) What do you hope viewers take away from watching Cook Off?
A) The thing I love about Cook Off! is that all of the characters have an essential, very American sort of can-do optimism that I feel we have lost touch with, as a nation.  This film is a funny reminder of the fact that in America, anyone has a shot at becoming a millionaire.  I love that.
Q) The film comes out this week. Are you looking forward to the feedback you'll be receiving?
A) There's nothing more fun than putting a movie out into the world.  I just want to entertain and so it's always great to have the opportunity to do that.
Q) What would you like to say to everyone who is a fan and supporter of you and your work?
A) Thank you for helping me to reach my life's dream of entertaining others.