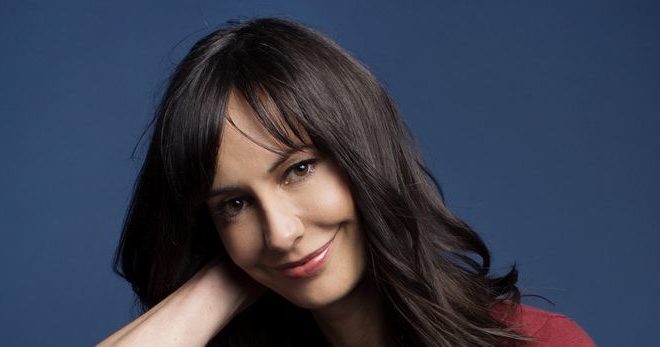 Interviews
Charlene Amoia – Live-Evil
By
|
By: Jamie Steinberg
Q) What are the recent projects that you are working on?
A) I just shot a really fun guest star on "NCIS" this week as well as recently appearing in the finale of "American Horror Story" this season.
Q) Please tell us the premise for Live-Evil and about your character Deputy Hancock.
A) Live-Evil is about tackling one's greatest fear except the fear shape-shifts and tricks each person into thinking it's really on your side. My character, Deputy Hancock, is the only one who can see the reality and craftiness of the fears each one of us is being influenced by. I try to convince my co-workers not to fall into the seduction of the fear and see it for what it is while battling my own darkest demon.
Q) What made you want to be a part of the film?
A) I thought it was a really well written script that deals with things we all can relate to and had a charming comedic tone to the supernatural element of it.
Q) Was there anything you added to the role that wasn't originally scripted for you?
A) Hmm. It's hard to say. I was cast the night before and flew out within hours of hearing the news. So, I had to read the full script on the plane and just work as fast as I could.
Q) What did you find challenging about filming?
A) Probably the nocturnal aspect of it. We started filming each night as the sun when down and completed as the sun rose. Over the three weeks of filming I started to feel the effects of not having much daylight.
Q) What were some of your most memorable moments from filming?
A) Getting to know some of the local people. There were some really unique people on the crew who had the most interesting walks of life.
Q) What did you take away from working on the movie?
A) You know, the whole idea of one being tricked by one's own weaknesses and having them run our life was such a deep and universal idea. It really made me look at where I may have some of my own blind spots in my own personal behaviors.
Q) What do you think it is about the movie that will make it a cult classic horror movie?
A) Probably the silliness and nuances in the details.
Q) You are a part of social media. Do you enjoy the feedback you receive to your work?
A) Of course! It's always nice to connect to the viewers and hear instant feedback. Social media has allowed the kind of feedback an actor can get in a live performance over the filming medium.
Q) What would you like to say to everyone who is a fan and supporter of you?
A) Thank you from the bottom of my heart. I feel so grateful that I am able to do this as a profession and I wouldn't be able to do that without your support.