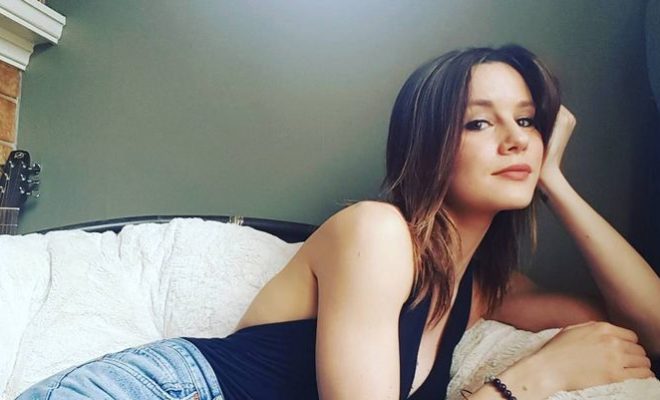 Interviews
Chelsea Hobbs – The Pscyho She Met Online
By
|
By: Jamie Steinberg
Q) Please tell us the premise for your film The Psycho She Met Online and about your character.
A) The premise is essentially our version of Airbnb gone bad. It was kind of funny because I was actually Airbnb'ing my home while we were filming this. It's sort of your worst nightmare come true. In the film my husband has to stop working so we are a little short on cash. I decide the best solution is to rent out one of our rooms. The girl we rent it out to isn't everything we think she is. Karen is a paramedic. She's super sweet. She's super tough, but I think a little bit reluctant about it all – for good reasons.
Q) Was there anything you added to your role that wasn't originally scripted for you?
A) Lifetime is pretty great about giving the artists and their film a little bit of creative freedom. We were lucky enough to work with two talented actors. The three of us were the leads, Charity [Shea] and Matthew [Lawrence]. We were all able to contribute little things here and there. Mainly it was dialogue stuff. If something felt more natural or if a scene needed to be reworked a bit we were definitely able to play around with that a little bit.
Q) What did you find challenging about the role?
A) It was a little bit of a challenge to play a paramedic. Whenever I play something where the character has a new profession you definitely want to make sure you are doing the right thing. You don't want to look like you don't know what you are doing. So, that was a really new challenge just to sort of wrap my brain around the life of a paramedic and how they would handle certain situations that they are faced with every day and how it would affect them as well. It takes a special person to be a first responder or paramedic. I would say that was a really challenging aspect of the role. Also, there are a couple scenes where charity and I fight. There was some challenge with that, in a good way. It was a lot of fun.
Q) Was there instant chemistry when you and Matthew began working together?
A) Matt and I instantly clicked. He is such a cool guy. I was a fan of his when I was younger. I loved Mrs. Doubtfire and "Boy Meets World." I thought it was pretty cool to get to work with him. We became really, really good friends while filming. We have the same taste in music and movies. So, we were able to hang out and get to know each other, which was super helpful for the character.
Q) What were some of your most memorable moments from filming the movie?
A) I would say off set we went to Nordik Spa, which was really cool. It's this really beautiful spa in Quebec. We were able to go after our hard fight scene so we could relax and unwind. It's one of the most unbelievable spas in North America. That was pretty awesome! On set, I think just having fun with the role and the last fight scenes with charity was one of the craziest I've ever had in my life! I was scared for my life! [laugh] It was really intense and something I'll definitely remember.
Q) You got to work with director Curtis Crawford. What advice or suggestion did he give you during filming that you really took to heart?
A) I think Curtis is such a talent and his approach on set. He was nice in the fact that he trusted us as actors and I really respected the fact that he trusted the actors. He did give us a little bit more of that creative freedom, which is a great thing. It was really, really nice.
Q) What makes The Psycho She Met Online such a great fit for the Lifetime Network?
A) I think it has that same draw that all of Lifetime films do, but it is really relevant. It's really current. It's something that everyone is doing right now and I feel like someone had to make a movie about it.
Q) You are a part of social media. Are you looking forward to the instant fan feedback you'll receive to the movie?
A) I love seeing what people have to say. We put a month putting our heart and soul into it. So, I'm super excited to get on Twitter and see what everyone thinks. I've done quite a few Lifetime films and Lifetime has such a great audience who watches their films and loves them. So, the feedback is super fun to see.
Q) Is there anything else you want to be sure we share with fans about the film?
A) I think I just want everyone to have fun watching it. It's a really neat unique story and I hope everyone loves it and has fun watching it.
Q) What would you like to say to everyone who is a fan and supporter of you and your work?
A) I'm so grateful. There has been I feel a group of people over the years that have supported my work. I'm so grateful for everyone who follows me and supports me in everything that I do.