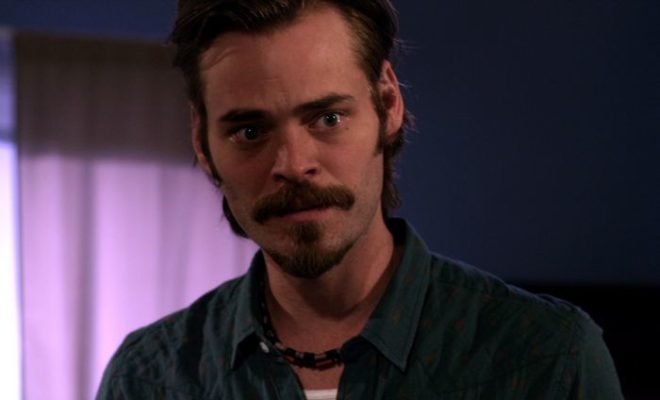 Interviews
Christopher Backus – Displacement
By
|
By: Lisa Steinberg
Q) What can you tell us about the premise of the film Displacement and what made you want to be a part of it?
A) I think the idea of undoing or reversing death on any level is infinitely interesting and relatable as anyone who has ever lost someone close to them would do anything to get them back. The way (writer/director) Ken Mader used science or a math algorithm, not sure how to quantify as it's way over my head, to reverse death is something that I'd like to think I'd buy into if it could go back in time and save a loved one from dying or prevent the death from ever happening. I think to some extent we are all chasing the fountain of youth or immortality and Displacement uses science to chase those concepts.
Q) How was your character originally broken down and did that change or evolve at all before or during actual filming?
A) When I signed on to play Brian, I think the heart of the character was all in the script. Ken allowed me to play with the words and the intentions of who Brian was. Then once it came to filming, Ken allowed Courtney [Hope] and I to play around with the blue print he laid out. It was a very collaborative experience.
Q) Is there anything that you added to the role that was not originally scripted?
A) Nothing that jumps out that I specifically added to the role. I think I brought my sentimentality and personality to Brian. But, ultimately, I think when the process is so collaborative during pre-production and through the course of shooting it all comes together organically, but maybe you should ask Ken that question.
Q) What was the most challenging aspect of filming and why?
A) Fortunately, for me, I didn't have to understand the mathematics or scientific formulas that were presented. No, honestly I enjoy the craft and process of creating a character and bringing him to life while filming. I can't remember anything overwhelmingly challenging.
Q) Where did you and your character connect?
A) Brian isn't like anyone I'd played before which is something I'm always hunting for in my next roles, but one of the things I really liked about Brian or related to was his love for Cassie. Despite the fact he is supposed be a "bad boy" who rides a motorcycle and is a blue collar mechanic with a bit of edge, Brian genuinely loves her and is comfortable enough in his skin to be himself and let her be herself.
Q) What kind of guidance did writer/director Kenneth Mader provide during filming?
A) I think one of the great attributes of Ken Mader is the trust in the actors he cast and the world he created while writing. He let Courtney and I play in his world and was there to guide and rein us in when needed but let us try to reach the edge in each scene and take.
Q) The film deals with second chances, what are your thoughts, is everything meant and fated to be or are second chances possible? Is there an instance where you would have done something different?
A) I believe that every day is new and we have an opportunity to improve or change our course. So, I guess I don't believe things are fated. Nobody is perfect and I'm certainly not, but I wouldn't go back and change anything that has led me to where I am. I'm pretty lucky that I have a wife I adore and love. Kids that light up my life. I get to do what excites me and I have fun doing it. I'm very fortunate and I wouldn't change a thing.
Q) You're currently seen on the series "Bosch," how does this season and storylines level up as opposed to previous?
A) "Bosch" is amazing. Every season is smart, cutting edge and different. Season Three is no different. Michael Connelly and Eric Overmeyer oversee a talented group of writers and they once again do a masterful job of creating drama and telling a story. The world that we live in is dark, in that film noir sort of way, the writing and directing is smart and the cast is remarkable.
Titus Welliver is one of the great actor of our time. He is so wide ranging and delivers every time. His take on Bosch is so compelling and intricate that even when he is caught in the grey area you can't help but root for him.
I'm just honored to share the screen with someone of his ilk and the rest of the cast: Jamie Hector, among countless others and of course my fellow new comers to "Bosch" Jeffrey Pierce and Max Arciniega. Can't wait to share the season on April 21st.
Q) What's been your favorite moment to film and why?
A) They are all great and writing is so top notch it's fun to get each script, but I really enjoyed the first scene with Jeffrey and Alex Zakrzewski is directing and he's brilliant! I love Alex! Anyway, we've got to pull off some complicating shooting with the help of our amazing advisers and pull off the fact the three of us are best of friends. We just all hit it off, which is rare to have three people just hit the ground running like we've known each other for years. Those guys are top notch, can't say enough about how good Max and Jeffrey are and what a pleasure they are to work with!
Q) What do you hope fans take away from watching this season of Bosch? 
A) I truly hope the fans of "Bosch," new and old, realize how well-crafted and cared for the show is. It's truly a brilliant show that stems honestly from Michael Connelly's brilliant books and it deserves many more seasons and turns from Titus and the rest of the brilliant cast.
Q) Are there any other projects that you are working on that will be coming up?
A) I've got a few things in the works and I just wrapped a lovely film from Melora Walters called Waterlily Jaguar alongside James Legros and Dominic Monaghan and my lovely and talented wife Mira Sorvino. I can't wait for it to be finished so we can share Melora's vision and artistic force!
Q) In this current political climate, what can actors and all artists of entertainment be doing to push boundaries and share in the support of resistance?
A) I don't think it's something exclusive to actors or entertainment field. I think we as citizen of the United States need to hold our President accountable for the things he says and does. Not just now, but what he said in the past and I don't think [Donald] Trump lives up to the things he says. The president needs to be a beacon of integrity not just for the US but for the world and Trump is not that. He only cares about himself, his brand and his constituents not the people of our great country. We need to let our voices be heard, thru social media, calling representatives and getting out in protest.