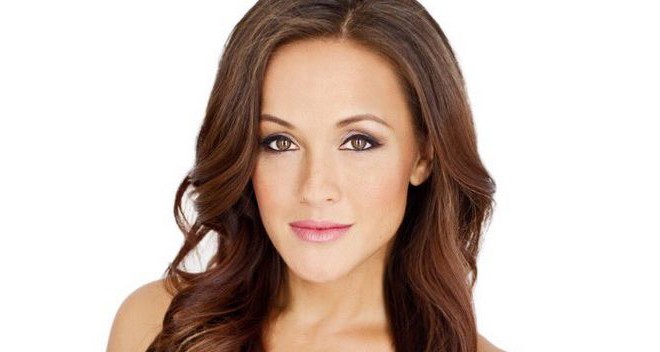 Interviews
Crystal Lowe – Signed, Sealed, Delivered: From The Heart
By
|
By: Ruth Hill
From the pilot of the original Signed, Sealed, Delivered television series through the spin off movie series on the Hallmark Mysteries & Movie Network, I have been a devout POstable (what fans of this series are called). In the quartet of characters, each has brought something special to the mix, but as a woman who has never fit into any mold (no matter how hard people have attempted to coerce me to adapt), I have always had an undeniable admiration for Rita Haywith, as played by the breathtakingly beautiful  and immeasurably kind Crystal Lowe. Recently, Crystal took a few moments from her hectic schedule to discuss the upcoming Signed, Sealed, Delivered: From the Heart film as well as impart genuine insight into herself as an actress and a person.
What inspired you to become an actress?
When I was five years old, my mother was the one in charge of the pageants at our church. I always loved being in them, and as a result, I fell in love with acting. I wanted to do it full-time, but I had smart parents. My mom didn't want me to be affected negatively by the industry and the people involved in it. So, she said that I couldn't audition until I was old enough to drive myself to the auditions. And you'd better believe that the moment I got my driver's license, I pursued my passion for acting. But I'm so glad that my parents insisted that I wait. Honestly, I have the most supportive parents in the world, and my mom is my role model. I aspire to be like her one day.
You seem to enjoy being a part of the Signed, Sealed, Delivered family. What parts of your experience are most rewarding?
For me, it's the fan letters. I have never had the opportunity to play a character that actually helps people change for the better. Only recently, I received a fan letter from a mother whose daughter had an entire Rita-themed birthday party.  Rita has been an influence in the lives of so many young girls.  Unfortunately, there really are not any great role models for today's girls.  I can't even tell you how many letters I get from mothers telling me how their girls want to be just like Rita. She is not afraid to be herself and she has shown girls that there is nothing wrong with being different from the crowd. In fact, it's the best way to be. And she is a good reminder (along with Norman and the rest of the cast) not to discriminate. See people as people. Everyone has a special purpose in this world. I count it a personal honor to be that positive influence in the lives of so many impressionable young girls.
Are you an owl lover like your character Rita?
You know, I actually am. I am an animal lover anyway, but now my character Rita has just made me love animals and specifically owls even more. I've incorporated a lot of Rita's character qualities into my own character.
What do you think it would be like to have a photographic memory like your character Rita?
It would be awesome and horrible. On the plus side, with my husband, I would never lose an argument because I would never forget anything. But, of course, there would be downsides, too. I think all of us have things we would rather forget.
How much input did you have into the development of your character Rita–looks, mannerisms, etc.?
A lot actually. With Martha Williamson (the creator), she has an open door policy. We discussed the role of Rita in great detail. And with this character, she has given me a great deal of freedom. For example, we collaborated a lot on the episode where Rita has the transformation for the Miss Special Delivery Pageant.  The way Rita looked, acted–Martha was very open to my ideas. When it comes to the filming of this series, Martha is definitely hands-on.  She is another wonderful role model for women and mothers alike–certainly one to emulate.
The dynamics between the four stars in the show is almost unprecedented- it doesn't normally happen that four people just "gel" like that. How do you account for that? Did you know any of them before joining the cast?
When the four of us got together, everyone knew there was a special chemistry between us right away. Kristin [Booth] and I are kind of joined at the hip anyway and I went to high school with Geoff [Gustafson]. (In fact, whenever we have a fan event, someone always comes up to us and asks how long we have been married and we have to inform them that we aren't married. We are just old friends.) And Eric [Mabius] is such an amazing actor who always brings such depth to his roles. There was just something about our cast that clicked from the beginning, and again, Martha is so involved in the filming of the series that she capitalized on that. If ever we feel that something doesn't work or doesn't seem right for our characters, Martha is always open to our ideas. And I think that's why our show is so successful. She's really in tune with the cast and our characters.
In Signed, Sealed Delivered: From the Heart, what can you tell us about what we will see from Rita Haywith?
Well, I can promise it will pull your heartstrings. Martha ensures that this series tells stories that resonate at a deep level with the viewers. But with Norman and Rita, fans will see their growing relationship. They are finally starting to become a couple and in every relationship we know there are hardships. Don't expect everything to be smooth sailing for them. That's what I like about Martha's writing. She makes it real life. It's not just a happy ending with no problems along the way. Oh, there will be that heartwarming conclusion with smiles and tears all around. Even so, while her writing represents the good stuff, she never shies away from real life issues.
What has the "POstables" fan experience been like for you?  Were you surprised at the overwhelming support you received?
Let me first say the sci-fi community is wonderful and they are a very dedicated bunch. I am blessed to have been a part of  such a thriving fan base. However, with the POstables, it's different. Our films bring people together in order to do good things. This is the first time I've been involved in art that affects people. Our series actually inspires, motivates and changes people for the better.
You appeared in the second Gourmet Detective film? What was that experience like and would you ever like to guest star on another mystery film series?
Appearing in Gourmet Detective was such fun and I got to show a completely different side of me. The Hallmark executives were quite shocked to see me in that role. And Dylan [Neal] and Brooke [Burns] were such a joy to work with. What you see with Brooke is what you get–a beautiful, down-to-earth Texas girl. I had to tell myself to stop complimenting her and telling her how beautiful she was (I think I kind of overdid it without meaning to).  And Dylan is sure easy on the eyes.  Would I guest star in another one? Absolutely!  The Hallmark brand has been so good to me. It is just like being part of a big, wonderful family.
If you had to pick a favorite episode/film from the series, what would it be and why?
That's a hard one. I probably would pick To Paris With Love because it's when Rita and Norman finally declared their love for each other. Of course, I also loved The Impossible Dream. Such a great story for Rita and the story itself was so inspiring.
In addition to Signed, Sealed, Delivered, are there any other upcoming projects you can mention?
Signed, Sealed, Delivered films keep me very busy so in the in-between times, I focus on my directing and writing. My husband and I wrote a short film about a Sumo wrestler who wants to become a ballroom dancer so that is our current focus. I seem to lean towards writing and directing children's films. The first short film I directed was Becoming Sophie back in 2014.
I cannot even tell you how personable and down-to-earth Crystal was during this interview, and at its conclusion, we were chatting as if we were old friends. Crystal is as radiant, benevolent and gracious as you would imagine, while also being a flawless beauty. What you see on the screen is exactly who this wonderful human being is that if you have never had the opportunity to watch any of the Signed, Sealed, Delivered films, be sure that you make a special effort to tune in Sunday night, February 21 to the Hallmark Movies & Mysteries channel for the ultimate in wholesome family entertainment with a purpose – Signed, Sealed, Delivered: From the Heart.