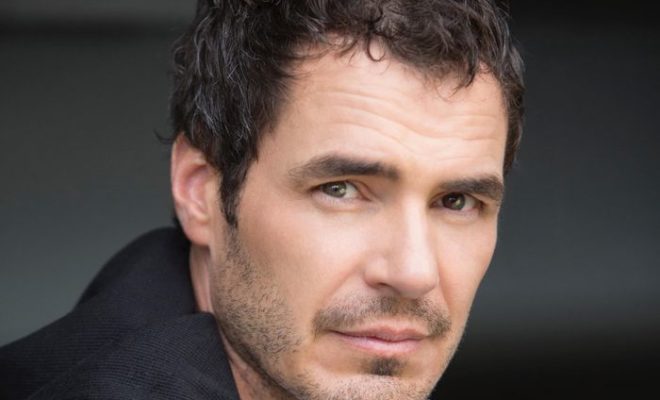 Dennys Ilic
Interviews
Dan Payne – Residue
By
|
By: Jamie Steinberg
Q) Please tell us the premise for Residue.
A) Well the premise released says it's about a private investigator who obtains a book of sinister origins, unaware that it is a highly sought-after supernatural artifact. Criminals pursue him in search of the book, hoping to use its dark power for their own agendas–but it's so much more! It's a wild and weird world that puts a few new twists and turns in the thriller/horror genre. I don't want to give away anything except to say you should definitely go on this ride!
Q) Tell us about your character Anthony and did he change at all from your audition?
A) Anthony is a motor bike riding, hard drinking, tough talking bad ass! Well, that's how I like to think of him! Anthony is the "muscle" that the boss sends out to keep things moving along with "the book." And I was very fortunate to know Rusty [Nixon], Blaine [Anderson] and James [Clayton] who were putting this movie together and they offered me the role of Anthony. So, there wasn't an audition and I'm honored the guys had the confidence in me to pull off the character. It was an absolute blast to shoot and play around with.
Q) What is a scene you can tease that viewers will look forward to in particular?
A) I may be biased, but I think the opening scene is great because it sets the tone. You learn pretty quickly that something bizarre is going on and that there are strange and powerful forces at play. You get pulled in pretty quickly to the weird and wild of it all!
Q) What was it like working with director Rusty Nixon?
A) Rusty is awesome! He is an energetic and hands on guy who is always very positive and supportive. I have to say, my favorite part of working with Rusty is how collaborative he made it all feel. He really let you bring your prepared work to the scenes and let you explore things together. When Rusty did have any notes or thoughts, he would share them in such an inclusive way. It inspires confidence in cast and crew alike. I had a phenomenal time!
Q) What were some of your most memorable moments from filming?
A) Riding a motorbike around town at night while following a picture car!!! I hadn't been on a bike in a while and it was a rush to be able to have that feeling again! It's tough to tell in the opener who's on the bike but – its ME! [laughs]
Q) What did you, personally, take away from working on "Residue?"
A) I took away that I love working on a creative outlet with friends who share the same passion I do. It was a pleasure and honor to be a part of Rusty, Blaine and James' vision. They worked their butts off to bring it all together and they made a film they can be very proud of. It's anything but easy to do and they persevered.
Q) You frequently take on dramatic roles. Is there something that draws you to this particular genre?
A) …because not many people look at a 6'4″, 230lb guy and think, "I bet he's funny?" Actually, I love any and every role that challenges me. I want to do things with integrity, whether that come in the shape of making people laugh or cry, as long as they feel!
Q) We'll be seeing you in Descendants 2 as The Beast. How did you get into character?
A) The Beast in Descendants/Descendants 2 is first and foremost a Dad. I have the great fortune of being a dad to two awesome young men, Elijah and Grayson. So, I sort of took what I know so far with my young guys and fast forwarded to the teen years …then held on for dear life! I'm joking, but I'm admittedly a little nervous about having two teenage boys in the house soon enough.
Q) Was there anything you found challenging about taking on this iconic role?
A) Disney and Kenny Ortega took away almost all the fear and nerves about playing an iconic character because they helped make our own version of Beast – a Dad. And a Dad Beast for the world of Descendants. We never touched on past incarnations and didn't need to for our films. So, it was an amazing and collaborative experience!
Q) If you had the opportunity to star in any TV series you wanted, which series would it be and why?
A) Wow! Well, I have had a lot of people email and post that I should do a reboot of "The Rockford Files" because they say that I sort of look like James Garner. I have to say that that is one of the best compliments I received! Mr. Garner was a legend. The other series reboot I've had mentioned for me is "Magnum PI." Maybe because we are similar in height and both had professional volleyball in our past. Either way, also an honor to be thought of for that. I would jump at either of those! For me, I would absolutely love to star as Archer in a real life version of comedy animated series "Archer!" If you're talking more drama then I would have to say "Game Of Thrones."