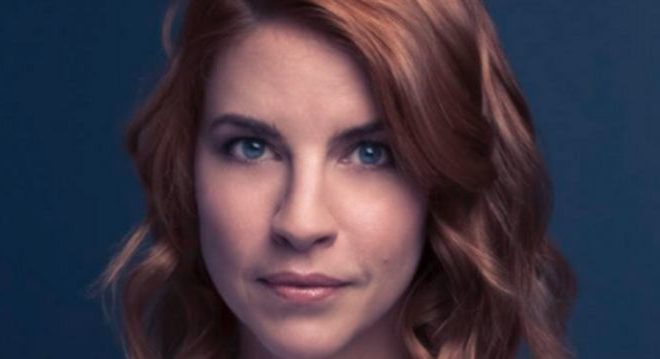 Angelo Dodaro
Interviews
Dani Kind – Wynonna Earp
By
|
By: Lisa Steinberg
Q) We know the Widow is not making a social call to Nicole. What can we tease about this meeting and the repercussions?
A) It' a really exciting episode. There is so much that happens in every "Wynonna Earp) episode, but this one…The Widow shows up and is causing some serious s**t. But Widow Beth (Meghan Heffern) is also causing her own s**t in this episode. There may or may not be a new character that appears in this episode. Honestly, when I watch the show and got the scripts I felt like I'm watching a movie that is an hour long because so much happens in them that I can't even keep track of all of them. Someone was tweeting a couple weeks as the episode ended and asked, "Can anyone follow what's happening? Where are we? What's going on?" So, I don't know how much more I can give away than that. S**t is going down this week. It's crazy!
Q) The writing on "Wynonna Earp" is almost unparalleled with how clever and twisted each episode ends up. What was it like for you reading each script and seeing the storyline of the past and present colliding?
A) I binged the first season and I was like, "Whoa!" As each script came along (because we were all finding out as each script came out) we would be in the middle of shooting one episode and get the script for the next episode. So, we didn't have a lot of time with the scripts. It was so much to wrap my head around, to be honest. I would just try to take everything one scene at a time because if I was to try to track all of the things it would be way too much for me. And I kept waiting for Emily to kill me off. Each time I got a script I kept thinking, "I'm really going to die this week." Then, I was like, "What?! What's happening?" It just kept getting crazier. It was very exciting.
Q) Quite often on Wynonna Earp you love the villains as much as the other characters. You don't root for them, but they make bad always look so good. What do you attribute that to?
A) I think when you get parts like that, because they are not every day people and you don't walk down the street and see those people, your imagination as an actor can go forever and ever. There are so many things and I can bring all of that to set and just have them reign me in – just like Emily, the director and whoever has the ideas on set be like, "Okay, this and this we'll use, but maybe not that and that." I think those are the juiciest parts. I think that's one of the reasons why everybody likes Bobo so much because he can just do whatever he wants. Someone in an interview the other day asked who else I would want to play and I said, "Bobo, for sure." They said that every other actor on the show almost has said the same thing. I think that there is so much freedom there and he does – he does whatever comes to him in the moment and they'll use it or not use it. Melanie gets moments like that. I think that's why everyone uses that gif of her drunk and dancing in the bar from Season One because those are beautiful opportunities as an actor and just do whatever the f**k you want creatively. And they are so fulfilling. I think that's why it's so fun for me to play the Widow. You'll see in the next two episodes especially that I got that opportunity more and more with each episode to go buck wild with her. Emily [Andras] gave me a gift this season of playing Mercedes and then the Widow. It just went on and on. It was not anything that I had been expecting and I'm just so grateful for it.
Q) How did you sink yourself into this incredible dark and drastic character development? What was the biggest challenge?
A) I think because I didn't have a whole lot of information I really found things out throughout the season. The wardrobe helped me with Mercedes a lot. That's so far from me as a person and so far from how I dress. So, wardrobe, hair and makeup is a great way for me to also see where Emily and the writers are going with it because I go in and I'll try on all of these things and then they okay certain outfits. So, when I get there with all my homework and all my prep, then I see they have settled on this one…It gives me clues. Then, a lot of it is just going for it when they say "action." Just trying some stuff out. There is a lot of collaborating with the other actors. I think because this was their second season that everybody who was already on this show had such a good grasp of their characters that it made it easy to play off them. They are so good! Usually, I feel like you get cast in a series and so many series you get cast and you are the same character from the start of the season to the end of however many seasons you get – just certain situations change. On this show, your characters get to really rise and fall and rise and fall and change. Emily is killin' it, man.
Q) What did you originally know about the character and kind of arc you would be having?
A) I knew nothing. Usually when you get an audition you'll get at least two scenes that could be from the first episode or a couple different episodes. So, you don't get an overall idea of the character, but you get an insight into the character or their relationship to other people. But the sides I got for "Wynonna Earp" wasn't even for Mercedes. It was for a made up character. That's who I thought I was playing. When I got the call that I got the job I was like, "Amazing!" Then, they were like, "Oh, by the way, you'll be playing the character Mercedes." I was like, "What are you talking about?! That's not who I auditioned for." They said, "I know. Everything is super top secret. They made up the sides." I didn't know that Melanie [Scrofano] was pregnant. I know Melanie from the real world so when I flew out to Calgary and walked into the trailer on the first day she was sitting in the makeup chair getting something done. We were just chatting and chatting and she had a sweatshirt on. Then, she said, "Oh, by the way…" and pointed to her stomach. I was like, "What?!" And I just started crying. I was so shocked and I just thought it was the coolest thing. It's so badass on so many levels!
Q) You get to work with Kat Barrell both on "Wynonna Earp" and "Workin' Moms," and these are such different roles for each of you. How has it been sharing such different dynamics?
A) It's great! It's so great. She was so welcoming when I came to her set and he show. She's just so lovely. It's funny, when we're on "Workin' Moms" as opposed to when we are on "Wynonna Earp," I only see her as the characters when we're shooting. Between "action" and "cut" I don't see Kat. I just see her characters and they are so, so, so different. Even though we are working together and really working together all ear, other than when we are hanging out it doesn't feel like we are working together. I feel like I'm working with different characters. She's just so lovely to be around and just so hospitable in Calgary. We all got to go out for her birthday together and spend time together. It was really nice.
Q) We saw some funny bloopers from you, including the shit balls comment, what are some of the other fun bloopers we may expect and what was your favorite?
A) The weird thing is I don't even know. I was shocked when I saw that video because she is so quiet when she [Allison Baker] comes on set and does those behind the scenes. She blends in and then she shoots things. She uses what she wants. I didn't know she caught that until I saw that. I was like, "I remember that!" It was a nice little trip down memory lane for me. So, I don't know what she has in her weirdo closest that she can pull out. I do so many stupid things while I'm working so I'm not paying attention. I'm sure she has a ton of stuff on everybody too since we're all getting along and goofing off and having fun. I'm sure she has a ton of material. She's amazing at what she does for that show and she really works her ass off. I don't know how she is everywhere that she is all the time.
Q) Syfy network shows and the genre itself have this innate ability to instantly provide this immersive feeling when you watch them. What do you really attribute this to?
A) I don't know what that is. I've never done sci-fi before so I didn't know about Comic Cons. I had heard people talking about them, but I didn't know the extent of them. People were like, "Get ready for the Earpers," and I was like, "What does that even mean?" Sci-fi fans in general, it's such a specific genre and the people who love it love I don't know what it is. I don't know if it is the fantasy element. This genre is doing so much now that it's just like a hybrid of comedy, drama and sci-fi. It's showing all of those things in the same fabric. I wonder if that's the thing that is drawing everybody in because it does appeal to so many things and so many people. I don't know what it is. It's fun! They can do some really beautiful things. They can be riskier with certain shots. They have a director Paulo Barzman on the first season and I think he really set the aesthetic tone for this show and how stunning some of those shots are. They are just beautiful. I would read things in the script and be like, "I have no idea how they are going to shoot this," and get to set…He's just effortlessly artistic. He's just an incredibly dynamic man. He's directed several episodes of "Wynonna Earp."
Q) What have you taken away from your experiences being a part of this series?
A) I was honestly just so grateful. I was at my dream job doing "Workin' Moms." It's been a career highlight of mine and then it came to an end and I was like every other actor – unemployed for one or two months wondering what I was going to do. This came along and the whole year combined between "Workin' Moms" and Wynonna has been just such a gift for me (I know I keep saying it). And for my family, for two young kids to see their mom doing a job she loves is a really special thing. I just got really lucky this year with two shows with casts, showrunners, directors and people I got to work with. Both sets were filled with people who love the show and wanted to be there and were collaborative. Now, I'm bragging because I just had a really great year.