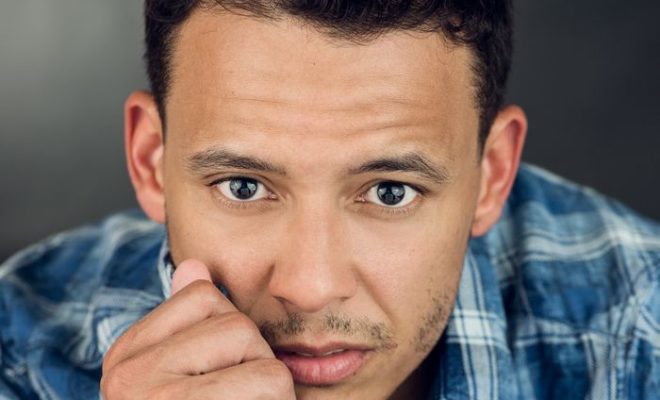 Interviews
Demetrius Stear – The Domicile
By
|
By: Jamie Steinberg
Q) What are the recent projects that you are working on?
A) I have a film set for release in October for Cleopatra Entertainment called Halloween Pussy Trap Kill Kill. It's a fun film that I starred alongside Richard Grieco, Sara Malakul Lane and Dave Mustaine is a part of it as well. I'm also developing a comic book written by Chuck Dixon called GOMERS.
Q) Please tell us the premise for The Domicile and about your character David.
A) The Domicile is a film about a once successful playwright who is looking to regain his stardom. In the process, his wife dies and he seeks revenge for Russell's (Steve Richard Harris) affair. David is Russell's friend and apprentice, who is living vicariously through Russell's infidelity.
Q) What made you want to be a part of the film?
A) I'm a big fan of haunting stories. Jared [Cohn] laid his vision out and I had always wanted to be a part of a haunting story. As a young kid I was always fascinated with ghost hunting. I thought it would be fun to do a film like this.
Q) What did you find challenging about the role?
A) I was both actor/producer on the film. It had its challenges wearing both hats, but everything worked out fine.
Q) What advice did writer/director Jared Cohn provide you during filming that you took to heart while shooting?
A) Let's have fun!
Q) What were some of your most memorable moments from filming The Domicile?
A) Our power going out in the entire house on Day 2. It was quite chilling to be honest. The house itself is very old, dating back to the early 1900's. We had to get electric department to help with getting the power back on for filming.
Q) You frequently work in the horror/dramatic field. What is it about this genre that fascinates you?
A) I've always been a fan of horror. John Carpenter was a big influence on me. There is so much you can do with the imagination in horror and I like that.
Q) What do you think it is about The Domicile that will make it a fast fan favorite?
A) I think it has an old school feel to it. We used a lot of the old school gags, which was fun. Indie film spirit to the max.
Q) What role or film haven't you done that you would most like to take on in the future?
A) Anything crime drama related.
Q) Is there someone you would love to collaborate with on a film or television project?
A) Denzel Washington, Michael Mann, John Carpenter. Working with any of these legends would be a dream come true.
Q) You are a part of social media. Do you enjoy the instant fan feedback you receive to your roles?
A) Absolutely, I love interacting with fans and supporters.
Q) What would you like to say to everyone who is a fan and supporter of you and your work?
A) Thank you for the support, and we have only just begun.