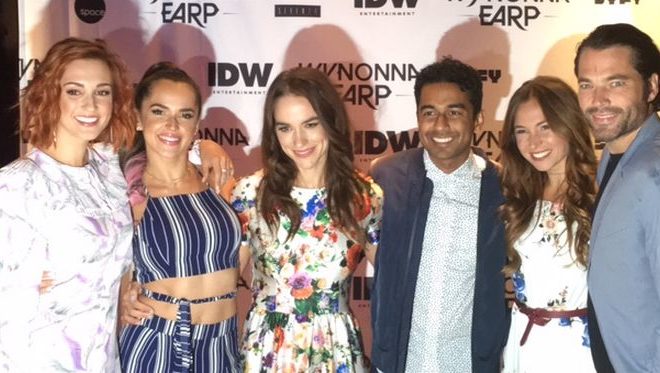 Dened Rey
Interviews
Dominique Provost-Chalkley & Katherine Barrell – Wynonna Earp – SDCC 2017
By
|
By: Brittany Dailey
Q) What can you tease is in store the second half of Season Two?
Katherine: I think definitely with addition of our new Earp baby things are just going to get a lot more dangerous. I think there is a sense amongst all the characters that the stakes got so high so quickly. So, now there is a sense of when you're carrying for yourself and you're a grownup that's one thing. When you're carrying for the safety of an unborn child it's different. So, I feel like the last final half of the second season just got super high stakes, super dangerous and everyone is on hyper – hyper alert.
Dominique: You think you've seen a lot already, but we're halfway through the season. The second half is going to be more and more and more.
Q) What was it like for Waverly to get to tell Wynonna at the end of the episode, "Guess what? I might not be an Earp."
Dominique: I feel like it's been a long time coming. We get a lot of time to pass and then that conversation with Bobo really struck a huge chord in here. One thing I admire about Waverly is that when other people are in need and they need Waverly to be supportive she puts her stuff aside. That's the most admirable thing. Also, as a supporter of Waverly, I'm like, "No, you also need to address the things that are important to you." So, I'm so proud of her for finally telling her big sister and address it.
Q) The "WayHaught" relationship has had a rough go this season with the goo possession and Black Badge.
Kat I think it's been tough because it is a new relationship and it's very often that you get that amount of stressers on a new relationship so I think it's kind of showing the strength of their bond and how great they are for each other since they seem to be pushing through all these really big roadblocks.
Dominique: They always come back together. They go through obstacles, but they always come back together.
Q) What was it like having Nicole and Wynonna have more bonding time?
Katherine: It's so few and far between but I really love working with Melanie [Scrofano] so much. As you have seen she is an incredible actor. I get nervous because I admire her so much. I make sure I'm super prepared. I love the relationship between Nicole and Wynonna because there is this sisterly protection that Wynonna has and they both care for the same person – which is Waverly. So, it's really fun to see that dynamic play out. Wynonna wants Waverly to be happy, but she's also like, "You're my sister and I want to protect you." I love it! I think it's such a fun dynamic.
Dominique: And SO real! People who have siblings understand no one is ever going to be good enough for your sibling. It's a hard dynamic.
Q) What kind of aunt is Waverly going to be?
Dominique: The best, obviously! Auntie Waverly! Just that phrase makes me go giddy. I think Waverly – this is the last thing she was expecting. The last thing everyone expected. I think she'll start knitting by next week. [laughs] She gets angry about Nicole being at a strip bar, imagine a baby.
Q) What was it like having to play double roles this season as "Gooverly" and Waverly? Was it easy on you?
Dominique: I feel so fortunate that I was given so much more this year. It really, really has pushed me. Last year I was doing two to three days max where as this year I was there every single day. It's a very different skill to be able to maintain that stamina. So, not having that time made me feel out of my comfort zone. But I did my best.
Katherine: Dominique is so multi-talented. I love seeing her getting to play to her strength. It's amazing to see her as a performer. It's one thing to see her as an actor, but now you guys get to see her sing and dance you get to see how multifaceted a performer is.
Dominique: I honestly don't think any other show would have done this. It's Emily Andras who said, "I love you guys as people. Let me incorporate things that you feel confident doing or your strengths to show the Earpers to show how much you can do." She's very special.
Katherine: It's fun! In the first season they are writing characters that they don't know who is going to play them. Now, it's Season Two you can feel them writing for certain people.
Dominique: Like Kat last night in the bar. Her comedy timing is so good. And it takes a while to discover those strengths. They put Kat in a very funny scene and it worked.
Q) Fans loved getting to see you cheerleading. Was that in your background?
Dominique: Well, it all crosses over. I was the dancer. It's basically just dancing with pompoms in your hand, if we're honest. Choreography has never been a problem. I went away with a little video and practiced in my bedroom. I amended the choreography a little bit. I remember asking the director, "Is this going to be okay?" He was like, "it's perfect."
Q) What has the fan reaction been like in terms of the transition from Season One to Season Two?
Dominique: It really has gone up so drastically. The amount of people who have watched the show feels like it has doubled. It feels that way. It's becoming more and more alike a family.
Katherine: Including Netflix, it has exposed the show to so many more people who may not have seen it otherwise, which is awesome. It's really nice we're reaching this new audience.