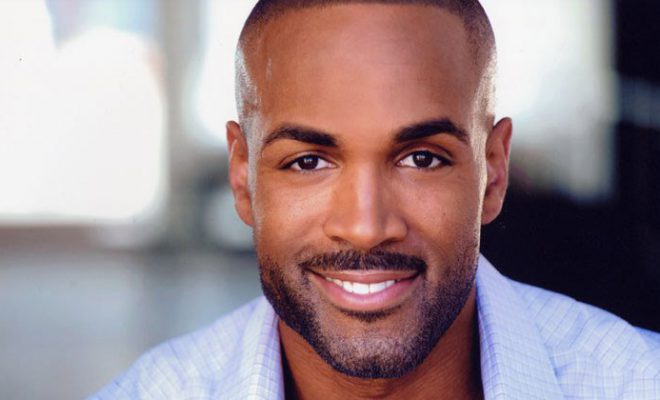 Interviews
Donnell Turner – General Hospital
By
|
By: Stacy Miller
Q) Did you watch "General Hospital" prior to being cast?
A)   Yes, I watched it about thirty years ago with Luke and Laura. My grandma watched it, she called it her "story." So, I got caught up myself. My brothers and I watched Luke and Laura, Robert Scorpio and Anna so that was really fun for us. I used to look at Anthony Geary playing Luke Spencer and I used to think, "I want to be the black Luke Spencer." So, it's beyond words that I'm here now getting to play a similar character.
Q)   How would you describe your character Curtis?
A)   Is he a good bad guy or a bad good guy?  He is the anti-villain, anti-superhero. He's just right in the middle. He's actually a really good dude who knows the law. He's former DEA, former Baltimore PD. And he had a drug problem back in the day, which he kicked but it was enough to get him off the force. Now he's doing PI work and he's not afraid to color outside the lines a little bit. But he's a guy who's interested in truth and that's the bottom line.
Q)   I love Curtis' friendship with Hayden (Rebecca Budig).
A)   I know a lot of the fans may have wanted it to get romantic. And I remember thinking that, "I hope the writers don't go there because I really like it the way it is." Big brother, it's okay. It's okay to have a platonic, loving caring relationship that doesn't go below the belt. And I'm really glad that the writers kept it there and that Curtis and Hayden check in with each other every now and then. It's a really good touch by the writers.
Q)   What do you think of Curtis working with Jason?
A)     In bold print with an exclamation – I love it! It works. I've had someone saying Butch Cassidy and The Sundance Kid. We've joked Lethal Weapon, but not the television series of course [laughs]. There's just this chemistry, it just fits. And Billy [Miller] plays it so great. In fact, in the dumpster scene the camera cuts to him smiling watching Curtis go through it and there's just like this child-like enjoyment as he's watching Curtis. [laughs] I thought that was a cute moment, it was really fun seeing the finished product.
Q)   Did you guys improv any of those lines?
A)     I always improv. We did another take where Jason goes, "Don't forget your sippy cups." And I thought that was hilarious. So, we did a couple of takes where we just improv and we didn't know which one they would use. On soaps we don't do a lot of takes. We did about three different ways. When they hired me they said, "Tell our story." So, I always throw in my isms. Little cultural isms, what would Curtis say right now? And not always the way it's written. I wouldn't say "I'm going to bolt." I would say, "I'm going to peace out." And so, I love the confidence the writers have in me to allow me to do this. Especially with a new character that was not planned.
Q)   Is there any character on "General Hospital" you'd wish Curtis shared scenes with?
A)   For a past character, I'd love if my character and Anthony Geary's Luke would somehow cross paths. And present, Sonny Corinthos. Who wouldn't? I love what Sonny's doing. I'm working with his guy so that would be neat. I would also love to share a scene with Finola Hughes. I screen tested with her. She was amazing! I could not believe that I was looking at her in the face because I watched her growing up. I would love for Curtis and Anna Devane to share screen time as well.
Q)   Do you think there is any chance Curtis and Valerie will get back together?
A)     You know, Curtis has tried and she was pretty adamant so that's more of a writer's question. Curtis is my baby, mine and Frank Valentini. There was no plan for Curtis, they were creating him on the fly. And now that we have a year's work of who and how Curtis is, he's a lot like Donnell. What I told Frank was, "Let's be careful with how we portray Curtis." And one of the thoughts was that Curtis doesn't chase someone who doesn't want him. So, whether the writers go with that, that's a different story. I don't know where the writers will take it. The scripts are written pretty much six months in advance. It's all the writers. I would love it if Curtis got back with Valerie (Brytni Sarpy) because I personally am not interested in this guy sleeping with everybody in Port Charles. I wanted Curtis and Valerie to be like Jesse and Angie on "All My Children." When we did that scavenger hunt, that turned out so well and we had so much fun, it was a cute moment with us with the little high five. I thought they were going to take that a go somewhere. Then, the characters made love and that was a beautiful moment that turned. So, I'd like Curtis to remain single for a while unless he and Valerie found some way back to each other.
Q)   Viewers know that Curtis and Jordan share a past. How would you describe their relationship and do you see a romance developing between them?
A)     The relationship is combustible. Heat can be good. It can keep you warm, but it can also burn you. Both parties should proceed with caution. [laughs] I feel like yes they have a past, fans like how we go about it. Let's hope the writers keep it interesting. There's either hate or romance and nothing in between. I would like to find out what's in between. I would like it to be realistic.
Q)     You showed great comedic skill in a recent scene with Billy Miller. Any interest in incorporating more comedy in your acting?
A)     A lot of the scripts are written seriously, but if I can find the humor and it works in the scene, I'll do it. I've had several sitcoms that I've been on from "The Mindy Project" to "Anger Management" so comedic acting is something I'm interested in and I've done. I think that if you're just trying to look sexy as you say your lines that might be a bad way to have soap opera viewed and I always like to bring something else. I don't just want to be the guy to take off my shirt or raise my eyebrow.
In the early part of my career, I did a lot of the shirt off thing, a lot of the cheating boyfriend player thing. You have to be careful or you will get into that type casting. So for me, I'm like to think handsome guy with comedy chops. And it's not as easy as some people may think. There's actually rhythms and techniques.
Q)     How have you found the social media response to be to you and your character Curtis?
A)     The love has been wonderful. I am so thank you, so grateful. It's validation that you're doing your craft in a manner that's pleasing to the people you're doing it for. My soul is satisfied because I'm doing what I love and I'm getting love for it. I just got back from Clearwater, Florida for this event with William DeVry, Ryan Paevey and myself. You fly to these events and people shower you with love. You love to act and you get paid for it, it's just a blessing.
Q)     Do you have any future aspirations of working behind the camera?
A)     Absolutely. I ultimately want to direct. As an actor you are for lack of a better term, "a meat puppet." Laugh when they say laugh, look this way when you're told. As a direct, you get a vision and as long as you have the resources, you can take what's in your head and make it a reality. I was blessed with the privilege to co-direct and co-associate produce my first film. It's actually a 5.9 million dollar film. It was in editing, now it's in post. It's called Around the Bend. The name is still up in the air, I might change it. I play myself a struggling actor named Donnell Turner with a group of friends. And then we go into fantasy land and I play two other characters. So, that's exciting and fun. It's something I've always wanted to do. That's me cutting my teeth as a director along with my manager Addison Witt, a brilliant director/producer. God willing there will be more. I've had a lot of scripts in my lap. Directing is fun and I'd love to do more of it.
Q)   How has your celebrity status helped with any causes you're involved with?
A)     It has given me more of a platform, it's given me a louder voice. Whereas I used to write a check for a cause I believe in, now I get to lend my voice. I get to speak on it and remind people that autism is an epidemic whether they call it that or not and we need to learn more about it. There are a lot of families dealing with that and there needs to be understanding because the person standing next to you could be on the spectrum and that need to be treated no differently than how you'd treat others. The No More Campaign, I'm a Keynote Speaker January 12-13. Speaking out on No More Domestic Violence, No More Sexual Assault. This is something near and dear to my heart. I'm pleased to be the male voice for this.