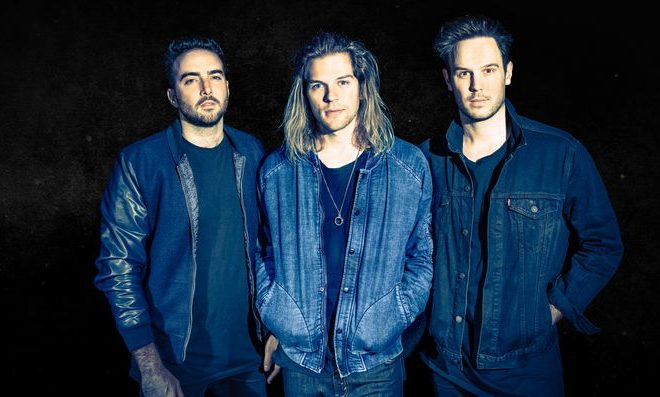 Interviews
Drawing North – Stay
By
|
By: Jamie Steinberg
Q) How would you describe your sound?
A) Our sound is alternative/electronic production mixed with organic elements and pop inspired melodies.
Q) Who are some of your musical influences?
A) Anyone from Michael Jackson to the Spice Girls! We love all kinds of artists. Some key songwriters would be Max Martin, Ryan Tedder and Chris Martin.
Q) How did the band get their name?
A) It came from a play on words with Drew's full name initially (Drew Southwell), but we decided it meant something to us in the sense that we wanted to venture north to America and pursue music at the mothership.
Q) Talk about the story behind your upcoming single "Stay."
A) We wanted to write something that captured the feeling of elation between two people. The freeing moment of enjoying a music festival with someone new who you're infatuated by or maybe it's a quite night with someone close to you. The times when you're with someone special and you don't want the moment to end.
Q) What is your song writing process? Do you need music before you can create lyrics?
A) We usually create music first and then write melodies and lyrics on top of that. Some other cases we've written lyrics first though. It depends on how we're feeling when we write!
Q) How much of hand do you have in the production of your music?
A) We play a large part in production. Drew co-produced this new EP with a great producer from Australia called Andy Mak and we had essentially completed all the songs including production. Then, Andy helped us drive it home by adding some elements and refining the sound to bring it to life.
Q) What can fans expect from a live Drawing North performance?
A) We aim to put on a big and energetic live show. You can expect lots of movement and then some quiet moments, but overall it's large and a lot of fun.
Q) Will there be an EP or full album coming in the near future?
A) We currently have an EP ready to roll. We're going to release some singles and then decide whether we want to make that into an entire album or just keep it as is. But there will definitely be some form of collection of music coming out.
Q) You frequently cover songs from other artists like "Shape of You" by Ed Sheeran. How do you decide on the tracks you'll take on?
A) We often try to cover songs that are blowing up at the time. "Shape Of You" was a no brainer because of how big it was and it was a lot of fun to do.
Q) Who would you most like to collaborate with on a song in the future?
A) We'd love to collaborate with someone like The Weeknd or maybe Alessia Cara. Someone current and exciting in the music world would be cool.
Q) You are a part of social media. Why is that such an important way for you to connect with your fans?
A) Everything is so easily accessible and creating a relationship with fans through social media has really helped us mold our fanbase and also create friends with people all over the world. It's an amazing way to connect and stay in touch with people that appreciate what we do.
Q) What would you like to say to everyone who is a fan and supporter of you and your work?
A) Thank you so much for sticking with us. We really hope you enjoy our new batch of songs and we can't wait to meet more of you at future shows!