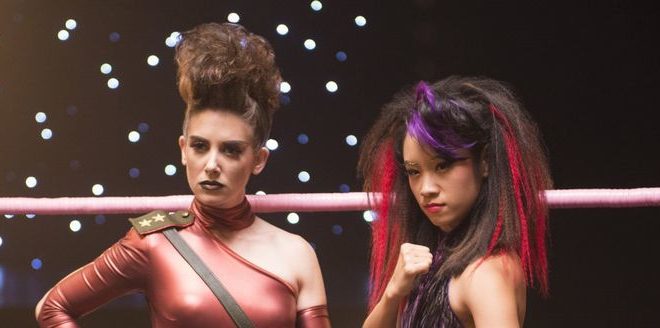 Interviews
Ellen Wong – GLOW
By
|
By: Jamie Steinberg
Q) What are the recent projects that you are working on?
A) I currently wrapped on a small recurring part for the series "Condor." It is a remake of the 1975 film Three Days of the Condor.
Q) How was your character Jenny Chey on "GLOW" originally described to you?
A) When I auditioned, Jenny was described as a valley girl, resigned to play all of GLOW's Asian stereotypes. After I got the role, I watched the 80s film Valley Girl and bought a bunch of out of print books about Val speak. But once we started filming, the role changed. The creators Liz [Flahive] and Carly [Mensch] are so caring and open-minded because they made time to meet with each of us about our characters. This meant there was still a lot of room for our characters to evolve. Eventually, Jenny Chey became a transplant from Cambodia who wants nothing more than to be as American as possible. She's obsessed with pop-culture and now…women's wrestling!
Q) What made you want to be a part of the series?

A) When I got the call to audition for this show, Jen Euston, our awesome casting director, sent a bunch of reference links to the original "GLOW." That's when I spiraled into an obsession and love for the series. As soon as I watched the links of the fun raps and matches from the original series, I was hooked. Plus, I had to do a wrestling promotion as part of my self-tape audition. Getting to play "Fortune Cookie" for that one moment was enough for me to know that I needed to be part of this series. It was the most fun I've ever had on any audition!
Q) Were you familiar with the original show "GLOW" before joining the series?
A) No, I wasn't really familiar with the series. But a couple months before my audition, I was excitedly congratulating Sascha Rothchild because she was hired to be one of the writers for the show. I worked with Sascha before on "The Carrie Diaries" and we became friends from that. So, I knew that "GLOW" was a show about ladies wrestling in the 80s, but that was it. It wasn't until my audition that I really found out what "GLOW" was all about!
Q) How did you prepare for the role?
A) We had four weeks of wrestling training with the legendary Chavo Guerro and Shauna Duggins. The first day of training was when I met all the girls and immediately we were saying, "Hello, nice to meet you," and then putting each other in headlocks. The training was the best icebreaker. It became such an amazing bonding experience for all of us because we were all learning together from the ground up. The support and encouragement was amazing and I think a crucial part in developing our chemistry and bond, which is what the show is about too. We all really experienced the specialness of female friendship and how empowering it can be. I hope everyone can feel it through the screen! For me, it was a huge piece in preparing for my role because I started finding my character through my training and time spent with all the beautiful ladies.
Q) Jenny is another physical challenging role. What draws you to these kinds of parts?
A) To be honest, I don't intentionally seek out physically challenging roles, but I definitely do welcome them. These roles keep me even more grounded in my body so I love it when I get to incorporate the physical aspect. Plus, I really love martial arts movies! I'd shot a lot of fights before, but never wrestling. This was definitely a unique experience. I learned that wrestling is like a dance between you and your partner. You have to trust and rely on one other to make each other look good and to pull off the moves. Wrestling taught me to slow down, and to listen, which made be a better teammate.
Q) Was there anything you added to the role that wasn't originally scripted for you?
A) The creators Liz and Carly and the writers were so amazing on this show because they really listened to each of us and wanted to make sure we were all on the same page about our characters. For me, I felt it would be important and interesting for Jenny to be from Cambodia. That's actually where my parents are from and the aftermath of the killing fields really played a huge part in my own upbringing. A lot of the times, I am sent an "Asian" character where you don't really get to go deeper into backstory. It has always been a struggle for me to break out of being a stereotype. I am always looking for roles that allow me to play with the many dimensions of a unique "Asian" character. When I found out that everyone was into Jenny being from Cambodia, I was over the moon. Plus, this show is about stereotypes! The beauty of this show is we get to play off the stereotypes and critique them through humor and through the crazy world of wrestling!
Q) What were some of your most memorable moments from filming "GLOW?"
A) We called our trailer area "Glow Alley" because all our trailers faced one another, creating a little alleyway. The moments there were so memorable, because all our doors would be open and we'd just laugh, sing, dance and talk the whole time on our breaks.
Q) What would you like to say to everyone who is a fan and supporter of you and your work?
A) I'd love to thank them all so much for their support. It means the world to me! I hope everyone can find strength in dreaming big and getting to do what they love…always.