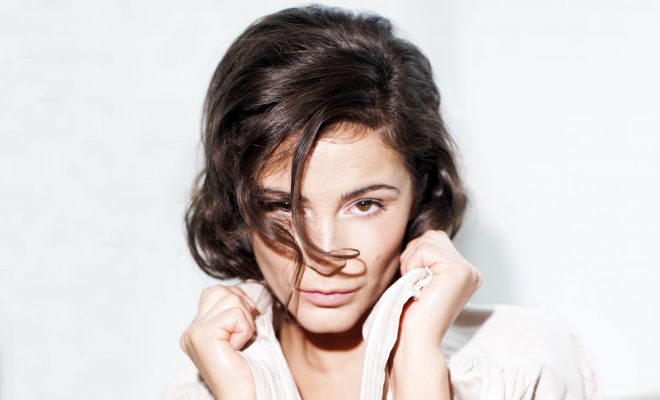 Farrah Aviva
Interviews
Elysia Rotaru – Arrow
By
|
By: Lisa Steinberg
Q) What are the recent projects that you are working on?
A) I just wrapped on a horror-action-neo-noir film called Residue. I think it is going to be coming out next year. I was in "Arrow" Season Four and then I'm just doing a bunch of voiceover work, which has been my focus for the last two years.
Q) You mentioned starring in Residue. Please tell us about your character.
A) She is the caretaker of this environment where the lead (James Clayton) resides in. Circumstances happen with the lead character, who is a detective, and there are some creepy horror psychedelic things that go on. My character is his love interest and confidant in a way. It just gets creepier and crazier. There is blood, guts and weirdness involved. I play a character named Monica who is a landlord and love interest of the lead. She gets taken on kind of a whirlwind when those things happen.
Q) What made you want to be a part of the film?
A) I have been in touch with one of the producers, Blaine Anderson, for a while. We wanted to work together on a project for quite a few years. In the past, there wasn't anything suited for me. Things didn't line up, but this one did. They asked me in for the audition and it went well. It was also the script. I feel like the other projects they had done were interesting, but I love horror. So, to have this happen in the way that it did was perfect for me.
Q) You didn't start out as an actress. What made you change career paths?
A) I was always performing. My parents had me in piano since a young age and I did competitive piano up until age nineteen. I've always been on a stage, but I never really thought I would have the title of "actor" as my career path. I always did it as a hobby, just as an outlet for the creative beast. At university, when I was starting to figure things out I thought I'd do Psychology because I love helping people. Halfway through my university career, I had this epiphany moment where I decided I didn't want to be stuck in an office pushing papers. At the same time, I was taking theater so I was going to do a double major or for sure a minor. But I went to the Dean's office after a class and switched majors. Even then, though, I didn't think it was a career. When you are in school, it is rare you talk about the business side when you are in an art. We never really had these classes where when you are done it tells you how to get involved in the business. So, I graduated university and I auditioned for some plays here and there. I didn't want to relocate so I was just working as a waitress and at a medical clinic. Then in 2007-2008, I worked as a medical receptionist and a guy came in and gave me his brother's business card for an acting agency. It all just kind of took off from there and I never really looked back from there.
Q) Talk about your audition for "Arrow" and if your character evolved from that.
A) I went in with fake audition sides, ones not a part of the actual script. The character was pretty much built off the character that the fans would know from the original "Green Arrow" comic. She was a mother, fighter and protector. The process for the audition was interesting. I just kind of negated what I would usually do and made different choices that still felt authentic and also honest for the character. Then, I didn't really hear anything back for a few days and then my agent called to say I had gotten the part. I didn't really know how big the character would be and I think she didn't either. But it was fun and I was very stoked.
Q) What was it like for you joining the cast?
A) I got to set and met Stephen Amell right away. I was so excited and so happy to see a lot of familiar faces in the crew. And I think that just made it wonderful and it felt so damn good to be there. I knew the Director of Photography, First AD and Second AD from working as a reoccurring star on "Hellcats." Everyone was super welcoming.
Q) What was the chemistry like working with Stephen Amell?
A) He's cool. He's a really interesting fellow. I was always intrigued about what makes the guy tick. I still don't know! He's a really interesting guy and has so much going on. He has a family, owns a coffee company, he owns a vineyard and he has a movie coming out this summer. He was doing WWE stuff. When I was with him, it was always easy. Our time to really develop our chemistry off screen was futile because we'd pop out after work and have to bypass the weather that was coming at us. So, when we were working in character a lot of that development with our relationship just developed as we were working. We'd sit down and chat in between takes. But for me, most of the time because I was in such a heightened state of emotion with this character it was hard for me to pop in and out. I couldn't be like, "Hey, let's chat! Let's hang out!" and then go back to needing to cry. So, there were a few times we would grab a beer after set and that was great. I'd get a chance to sit and talk with him and be like, "Starting to understand what makes you tick." Even then, it was just a few occasions. It was just a luxury of time. It is probably a different thing being Emily [Bett Rickards] or Willa [Holland] who are there almost every day or every week with him. I'm pretty good at amalgamating myself with other people and blending in with an ensemble. This was interesting though because it was just me and him most of the time. He's cool, supportive and knows what he is doing. He knows his character so well and I really learned a lot by working alongside of him.
Q) The show is known for a lot of strong female characters. Taiana falls into that category. How does it feel to you to portray such a strong, diverse female character?
A) Honestly, I'm getting goosebumps now because it is something that hasn't sunk in just yet. But it feels so damn good! It's so great! I'm so, so fortunately, grateful and blessed that I was allowed to take her into the direction that she evolved into. A lot of it came from one of the directors on the show that is also the stunt coordinator on the show, James [Bamford]. I remember he was directing me one day and he said, "I Just want her to stop crying! The woman is going to be strong in this one!" I was like, "YES!" I really wanted that for her, but you almost need to make sure that the writing and the storyline can support that so you aren't being told to do something off the mark. That was such a great feeling. It was so liberating and fun. As an actor, for me, I didn't really (until those moments in the episodes after) really love playing women like this. Maybe it is something I have more clarity on and a more definite vision for. So, it's been cool and I love hearing the fans ask what is going to happen to her. It's so cool and so exciting. It's invigorating!
Q) Is there anything else you can tease is in store for Taiana?
A) The stuff that is going on with Taiana towards the end of the season is going to be amazeballs. I really hope the fans are reading and tuning in stay tuned. They are going to love it! #Amazeballs! It's going to be great! I'm excited for my mom because she's such a fan of "Arrow" and always watches. She texts me after, too. I'm going to do a voice for an animated series shortly. Residue comes out next year. So, be sure you keep your eyes open and ears to the ground for! I'm producing and starting to do that on a short film with my production partner. It's pretty exciting.