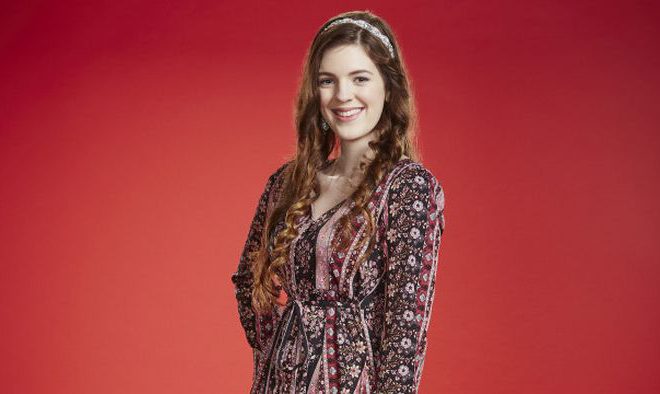 Interviews
Emily Keener – The Voice
Q) With the great reception you got from the judges and standing ovation, were you surprised and shocked that you were voted off?
Emily Keener:   Yes, yes I was shocked, honestly. After that performance, I really thought I'd be hanging around for a couple more weeks. And now that it's all over and done with, I'm kind of at peace with it. It was a shock that Owen was in the bottom two with me as well. He's so incredible and he's just such an authentic soul and I'm so incredibly happy for him. I'm just sad that I was put in that position because it's obviously a very stressful thing. So yes, I was a little shocked but I'm just glad that I was able to go out on a positive note. Everything I did on the show was exactly what I wanted to do, and that's a lot more than I lot of people I think can say. So I'm grateful for that.
Q) I was just wondering what would you say was your favorite part of being on The Voice?
Emily Keener: My favorite part of being on The Voice I think was just the relationship I was able to cultivate with Pharrell, specifically. He just amazed me in so many ways. Every time I went into rehearsal with him, every time I had a conversation with him, I was struck by how genuine and kind he is. And I just have a very deep appreciation for all the love and support that he gave me on the show. He stood by my side the whole time and that means the world to me. I mean, what other 17-year old gets to say that? He was just a great friend and a great guiding force in my life the whole time I was on the show.
Q) We, the media, got a little bio on you and in the bio it talked a little bit about how you struggle with depression, like many, many people. And I was wondering how that influences your music and how you hope for it to influence your music in the future?
Emily Keener:  Depression has affected me in a lot of ways. And I'm happy to say that I'm kind of out of the woods at this point in my life. But I mean, that's not to say I won't be back in the woods at some point. So it's just something that individually you have to learn how to handle. Everybody's experience with it is different. And for my own personal experience, song writing has helped me so much with it. It's allowed me to sort out my feelings in so many ways and it's one of the only ways I truly know how to communicate with the world. So it influenced my journey in a lot of ways and I'm grateful for it. And I think it tends to enrich my art.
Q) Now last night you sang Blue Eyes Crying in the Rain for your instant save performance. Why did you choose that song for the instant save?
Emily Keener:  I chose that song because I just really wanted to hammer it into people's heads that I don't do this to be popular. I could've gone with a more modern choice, and that may have been a better strategy in the long run if continuing on the show was my ultimate goal. But really, my ultimate goal on the show was to just show people who I am and to stick to my guns. And I chose that song because it's got a very special place in my heart. My dad played it a lot for me when I was little. And actually the guitar that I was playing it on last night was my dad's guitar and it kind of transitioned into my own guitar and I've played it at basically every single one of my shows. So to be able to go out on that note was really, really poignant and it was a good feeling.
Q)  I really really liked that album you made with The Womacks last year. I was wondering, you're still a junior in high school? What's the game plan moving forward in terms of a musical career?
Emily Keener:   Yes. I'm still so young. But honestly as soon as I get home I' back to the grindstone, you know — writing songs, recording as much as I can. I'm planning to have a new record — a really intense new record — out very soon. And this year is going to be a busy one. I want to play shows. I want to be touring and I want to make this – it's going to be the biggest year yet. And it's only up from here, so I'm just really excited for everyone to hear the new music and to see what happens in my life.
Q) And how do you think your time on The Voice will affect the music you make from this point forward?
Emily Keener:  I think my time on The Voice has instilled a lot of confidence in me as a performer, specifically. Just the sheer terror of performing in front of millions and millions of people every week just is enough to really hammer some conscious into your head, so I think going forward I'll be a lot more centered in my live performances and I'll have a better understanding of how people will respond to what I do on stage. So that's invaluable information. And just watching all the workings behind the scenes has helped me garner some insight into the industry in general and I think that it's nothing but helpful to a budding young artist. So I feel like I'm leaving the show with many more tools in my arsenal than what I began with.
Q) What was the best piece of advice that Pharrell gave you?
Emily Keener: The best piece of advice I think was when he told me to keep doing exactly what I'm doing. And by that, he meant to not feel pressured or swayed by all of the others stuff that was going on around me at the time. I believe he said that to me right after my knockout performance, which was a very crazy night for me. To go up against Shalyah was very intimidating and the fact that he picked me over her just so both of us could continue on the show, that was really awesome and then surprising. So he just really wanted to prove a point with me I think, that you know, he cared about who I am as an artist and because of that, he showed me that he wanted me to care about who I am as an artist and to not compromise and all of the craziness that goes on around the artist. So that's the most important thing he showed me.
Q) Pharrell really put you over last night trying to get the voters to vote for you. What was the last thing that Pharrell told you before you left on your plane to go home?
Emily Keener: It wasn't so much what he said to me as just the way he looked at me. He looked me right in the eye and just – when he looks you in the eye, it's almost like you can hear what he's saying to you without him even having to speak. The amount of love and support that he's given me throughout this journey has been stunning. And I'm just grateful for the time that we had together. I'm so grateful.  And I'm sad to go, but I'm also really proud of the work that I did on the show with Pharrell and I'm glad that I was able to do the things that I wanted to do week after week. I never compromised on my musical tastes and I never made a decision based on other people. It was always about the music and what I felt would touch people truly. It wasn't about popularity for me. So not moving forward on the show, it's not disheartening at all. It's only exciting because now I get to go home and do the things that I want to do.
Q) If you were going to go back and tell yourself something while you were going through this experience, like whisper in your own year a message that you could take with you through the rest of it, what would you tell yourself?
Emily Keener:  I would tell myself not to be nervous or stressed out because it's not worth it. In the beginning I definitely was because going into this kind of environment, it's just terrifying. I mean, there's millions and millions of people watching you and judging you and like just, you know, keeping an eye on your every move. And there was some negativity floating around but – I mean, it was mostly positive but you always get the naysayers. I wish I could've gone back and told myself not to be nervous or stressed because it's not nay of my business what other people think of me. It's just my job to create art. So that's one thing that I will keep in mind as I go forward from here is that it's not about popularity. It's just about the music and the authenticity. That's what it's about.
Q) I was wondering if you could tell us what was the most challenging part of being on The Voice?
Emily Keener: The most challenging part is probably the anticipation of and the performances themselves. It was just really nerve-wracking. I did struggle with nerves a lot and I think that can be heard in a couple spots in my performances. It was just a really intense thing to go through. So that was difficult in the moment. But I feel like I kept getting stronger week after week, so no regrets on that front (forest). But yes, the nerves and just like the stress of the process was probably the most difficult part for me.
Q) I was wondering if you could take us back and tell us how you wound up auditioning for The Voice in the first place?
Emily Keener:  Well, it was kind of funny how it all happened — and I can't get into any specifics. I'm not really allowed to talk about it. But the opportunity and I just kind of stumbled upon each other. And I never watched the show before I was approached and asked to audition. So it was definitely kind of a spur of the moment decision. I had always told myself that I would never do anything like this, because I didn't feel like it was me or that it would be beneficial. But I was definitely proved wrong by this entire experience. There's been nothing but positive things that I've gained and I'm glad I ended up deciding to do it.
Q) And what would you say your favorite performance was and why?
Emily Keener:   It's probably a toss-up between Still Crazy After All These Years and Lilac Wine just because I think those were a couple of the most emotionally charged performances for me. I was really sick, and I'm still dealing with that sickness now, so they were also a couple of the most difficult performances. And I think they're more special to me because of that, because I had to push harder for them and I had to really trust in order to let those performances come out, because I didn't know what was going to happen on the stage. So it ended up being really different than anything that I expected them to be, and I'm really happy with the way they turned out.
*CONFERENCE CALL*