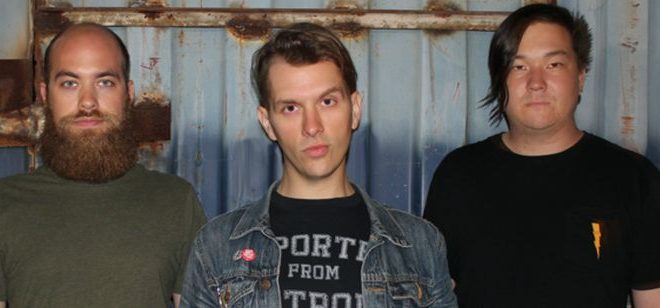 Interviews
Filmspeed – Hexadecimal
By
|
By: Jamie Steinberg
Q) How would you describe your sound?
A) Always the tough questions right off the bat. [laughs] Talking genres is so 2000's, right?  So, it's difficult to just put it all in one or two baskets. It's a three-piece rock band, that much we know for sure, whether it's punk, straight rock 'n' roll, Indie, blues, soul, grunge or pop, we don't have that answer. A lot of comparisons we've been getting are in the vein of Cage The Elephant / The Black Keys  / Supertramp.  We like all those bands so, we're always eager to hear more suggestions from listeners.
Q) Who are some of your musical influences?
A) As a unit, there's definitely common threads; we all love The Beatles, The Stones, Zepp, Bowie, Who, Elvis, MJ, Prince, Radiohead and quite a few others.  Individually is where it really starts to curveball, but we'll keep it concise.
Craig: Stevie Wonder, Butch Walker, AC/DC, Marvin Gaye, Elvis Costello, Carole King, Muse, Bob Dylan.
Nick: Run The Jewels, Dr. John, Less Than Jake, NOFX, RHCP, Hendrix, Tower of Power, MuteMath.
Oliver: Blink 182, RX Bandits, The Mars Volta, Rufio, QOTSA, Ellegarden, Stravinsky, Debussy.
Q) Talk about the story behind your new song "I Feel Alright."
Craig: Between family health issues, legal troubles, the endless financial struggle and the everyday anxiety of being a musician, it's always tough to identify which one is causing the insomnia on any particular evening.  At the height of some of this chaos, I was out and about, gigging with the boys and bumped in to a buddy I hadn't seen in a while.  Catching me right after a set is like kicking the door open during an orgy, neither side of it is prepared.  What you'll get is an out of breath, sweaty, full of piss and bourbon, wide-eyed maniac.  Now, standard question when you see someone is, "How ARE you?!" And although standard replies are widely varied, my instinctual answer was, "Ya know?  I feel alright.  I feel better than I should."
Q) What do you think it is about the song that fans connect to?
A) Everyone has good and bad days, but we are told over and over again to just put on a smiley face.  Everyone goes through shit, but there are some who like a good vice or two to lean on while they ride out the storm.  This is like hearing the sirens and making sure you're stocked up on only things that will make you forget about it.
Q) How does the video for the track play into the message behind it?
A) The video is basically a party with our friends. It's us, them, a lot of drinking, a lot of noise and a lot of folks forgetting their problems.  It speaks to who we are as a band as well.  When everything comes crashing down in this life, we decide to turn up the volume and party. It was actually filmed at one of our closest friend's houses and no shot glasses were harmed in the making of this video.
Q) How did your album Hexadecimal get its name?
A) We all sat down and discussed what this album meant to us individually. One big thing all three members of the band are fascinated with is the concept of time.  Whether it be we don't have enough of it, we wasted it, this is our time, etc, etc…
We were clicking around some researching rabbit holes and stumbled upon the early forms of clocking systems.  As it turns out there's different ways to measure years, all the way down to seconds.  It begs the question who decided on this one? Sixty? What's that about?  A Hexadecimal system is just a different way of calculating the passage of time.
Even though it's been three years since the last record, so much more happened in that small amount of time. So, we'd like people to know that our perception of the clock isn't everything.
Q) Which songs did you fight the hardest for to keep on the album?
A) Some of our closest friends have some of the most diverse taste in music. I guess that's why we like them. So, what we did with this album is democratically ranked the favorites.  We told everyone in our listening circle to listen to all nineteen potential songs and rank them in order of favorite to least. At the end of it, we had a pretty clear idea of what everyone's tastes were.  From there we rearranged the pieces until the whole record felt correct.
Craig: "Love Me Like Tomorrow" was my one and only definite pick, ready to debate and filibuster if I was alone in the fight.  Although, I do feel like I could have made a strong case for any of the rest that did not make the cut! [laughs]
Nick:  I actually fought the hardest for our secret track. It's a song that is like a locomotive in my mind and so heavy. So much so that it really doesn't fit our vision for this album. In the end, I knew it wasn't going to make the album cut, but I felt it's something that a certain type of person is going to fall in love with.
Q) What is your song writing process? Do you need music before you can create lyrics?
Craig: Not necessarily.  Every song kind of has its own origin or inspiration and a lot of them write themselves for the most part.  If it's a phrase that won't leave my brain, I'll be forced to put some chords behind it.  Other times, it could be just stumbling upon something cool with an instrument.  I won't call it a "song idea" until it proves itself to be one. (I wish that was easier to explain! [laughs])  From there, the standard process is a natural one – break the idea down, whatever we do have, into sections (verses, chorus, etc.) and then start hammering out the edges until we have a fine samurai blade.  This is where the idea really turns in to a full-on jam.  Once we've got the basic layout of the new song, we get to make all the individual parts our own.  It's always a jam session until it's ready to go the stage or studio.  Pre-studio we'll always review and, more often than not, make some creative writing changes in the lyrical content to make sure the song message is clear.
Q) How much of hand do you have in the production of your music?
A) We ARE the production of our music! [laughs] We write, record, edit, mix and master all of our music at this point in time.  Although we'd kill for the "Rick Rubin" budget type of album, somehow we tripped in to an amazing collection of friends that don't mind us making noise in their studios.  On the upside, these records sound the way you'll hear them in the live show.  The downside?  No Rick Rubin.
Q) What can fans expect from a live Filmspeed performance?
A) It's honestly what this group is all about, we leave it all on the stage.  Our shows are packed with energy, love and a maybe just a little crowd participation. We don't care if it's a field of 10,000 strong or if it's a coffeeshop that fits about eight to ten, our mission is clear – to get you all worked up.
Q) What songs off your album do you most enjoy performing live?
Craig: Gut response says "I Feel Alright" vs. "Love Me Like Tomorrow."  Don't know if those songs could be any more different, but that's exactly why there's two.  A non-stop, take 'em to church-style, protest party against a massive, key-changing ballad.  I can't pick favorite kids, everyone knows that! [laughs]
Nick: Currently I would have to go with "Anywhere But Here." It's just got this sudden start that carries throughout the rest of the song. It's hard to not get your blood pumping on stage with that song. I must say that we haven't played half of the songs live yet and there are a couple bangers in there that I look forward to.
Oliver: As it stands right now?  Probably between "The Rule of 3's" or "Anywhere But Here."
Q) How do you plan to celebrate the album's release on October 13th?
A) Party!  Seriously, we're having our album release show that same night.  It's gonna off the rails too. We've got peeps flying in from Detroit and parts unknown just to help celebrate.  If you find yourself in the Orange County, CA area on Friday the 13th of October, we would advise you don't skip this one. Immediately after?  I think we all plan on starting the next album! [laughs]  As crazy as it may seem, we wouldn't mind a nice bottle of whiskey and some acoustic guitars in the round.
Q) What do you hope listeners take away from listening to Hexidecimal as a whole?
A) We hope that people actually listen the whole way through.  Too many talking heads out there claim that "rock music," or at least as we know it, is not only dead, but the concept of the album is equally deceased.  Here's the thing though, albums will still have singles.  Singles are exactly what you need in the modern "streaming" game.  We're totally cool with that and, in fact, sounds like a lot less time and effort. [laughs] All three of us are straight nerds for the love of music though so we want to put out things that get us excited.  So, what about the peeps who still love digging in to a project?  Or the people who will put on a record and start their forty-five minute commute back home?  Not everything has to be bubble gum pop or heavy crushing riffs. Ultimately, this is a band of musicians, so we don't want to just release four minutes of "music-content" at a time. We want to invite listeners to escape for a bit.  Music isn't tailored to please everyone's individual ears, but life experiences are shared. It could be through a single lyric or the whole shebang, we hope listeners find something that speaks to them. If we're talking in terms of overall album message, I think there's a distinct choice of your takeaway; "Courage under pressure." and "Here's a middle finger, y'all can keep the change."  One is fairly uplifting for those who need a pick me up, the other is a banner for all our stubborn jerks out there.
Q) Where are some of your favorite places to perform and what makes those locations so significant to you?
A) Obviously for Nick and Craig, the Detroit area is an extra special stop since family and friends still live there. But in general, our favorite place to play is somewhere with a genuine crowd and stage.  We feel right at home in LA, Boston or Des Moines so long as the folks are there for a party.
Q) What album/band are you currently listening to and why do you dig them? 
Craig: I haven't been enthralled with a whole record lately, but digging around to be reminded of some great work is one of my favorite things to do.  This week, I've been absorbing Death From Above 1979, early records (pre-David Foster) from The Tubes, and the unbelievable song catalog from The Bee Gees.  Last week I was on a Whitney Houston/ Iggy and The Stooges/ Ray LaMontagne kick.
Nick: I'm listening to Run the Jewels 3 right now. I have a soft spot for hip hop and these guys just bring the heat.  From the beats, to production, to the words, it makes a perfect record for me.  Like, there might be one song on that album that I skip and it's because I've heard it too much.
Oliver: I've been listening to 93.5 KDAY (Los Angeles station; 90's hip-hop) like all the time for the past couple weeks.  It's a nice change of pace from the same 20 songs they play on rock radio. Always tryna' broaden my horizons.
Q) You are a part of social media. Why is that such an important way for you to connect with your fans?
A) [laughs] Social media is the number one thing bands should be focusing on outside of their music.  These days people don't just go to a show because it's at the local concert venue. Folks would rather just check their phones, computers or tablets and wait until their favorite band is back in town. And guess what!?  They only know about the upcoming show because they follow the band on…social media! As an emerging act, it's vitally important to connect to your audience, they're the reason you play music outside of your garage.  Thankfully, there's at least a thousand ways to keep everyone updated and we do get feedback!  Everything from fans venting about their latest troubles to sending us addresses and booking contacts for the spots they'd like us to come through and play at. Simply put, if you aren't putting at least 50% of your energy into social media, get with the times my friends. You are losing the battle of the dinosaurs.
Q) What would you like to say to everyone who is a fan and supporter of you and your work?
A) A sincere "Thank You." This project has beginnings that start just a little bit below ground level so to be able to release music that we have poured 110% passion in to is very satisfying and incredibly humbling.  We don't make music with the intent of keeping it to ourselves so please don't keep us a secret, spread the noise!