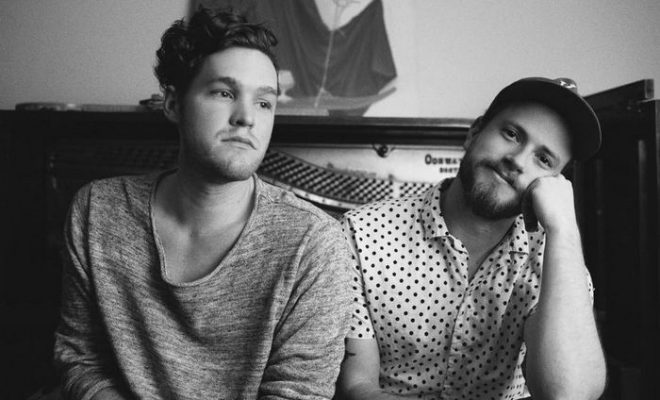 Features
Flagship Is On the Horizon
By
|
By: Lindsay Flanagan
Hailing from Charlotte, North Carolina, Drake Margolnick and Michael Finster make up the band Flagship. Formed in 2011, they were voted "Best Local Band" by Charlotte Magazine in 2013 after having released their full-length album, Flagship that followed 2012's EP, Blackbush. In March of this year they are releasing their newest LP, The Electric Man, spearheaded by the single "Mexican Jackpot." The single is receiving airplay by the likes of Kansas City's X105.1 where it won the station's AltCtrlDelete crown after having gone up against songs by Cold War Kids, Temples and even Depeche Mode. Additionally, "Jackpot" was on AltNation's Advanced Placement for two weeks in January. Haven't heard of Flagship yet? The reports above are evidence that this little band is going places and you better not miss the boat.
One reason you may not have heard about Flagship is because, like many bands who want to maintain more control over their music, they are signed to a smaller label – Bright Antenna Records which is a subsidiary of Warner Brothers. But just because they are on a smaller label doesn't mean they don't have a huge sound—and it definitely doesn't mean they don't have great potential. Bright Antenna represents popular bands from The Wombats to Mona and Flagship's music is more than ready to set sail.
The band has played at festivals like SXSW and has toured with their label mates The Wombats. They've also gone on the road with A Silent Film, Terraplane Sun and Good Old War. They state their inspirations comes from bands like U2, Coldplay, The National, Radiohead and even Michael Jackson. In an interview, Finster stated, "We all grew up listening to an assortment of music. We can be inspired by anything we find from anywhere! We love finding inspiration in every form."
And that inspiration is working for them. After releasing "Mexican Jackpot," the band dropped the next single "The Ladder" from the upcoming album. Longtime fans will appreciate that the song was first released on Margolnick's solo EP back in 2010, a year before Flagship was formed. In fact, the band is actually a conglomeration of different music acts. Finster was playing with Matt Padgett and Grant Harding in another project when they met Margolnick. They connected immediately and began making music together, officially forming Flagship in 2011. Christopher Comfort joined the band in 2012 and they released Blackbush and Flagship. After the album's release though, the group became a two-man piece rather than five-man. Comfort left the group to pursue other interests although he still plays with Margolnick and Finster on occasion and may join them on their next tour. Padgett left to get married and start a family. Speaking about the former members, Finster assured that "there is absolutely zero bad blood…Keeping a band together for a long time can be very hard—keeping everyone's life hopes on the same page can be very difficult. Being in a band isn't the easiest, most consistent life."
But Finster and Margolnick have stuck it out because as Finster says, "In our hearts, we just really love to make music." Together they wrote and recorded the EP Faded in 2015. The chemistry between them is apparent not only in the music, but on stage as well. Perhaps in addition to friends and musical collaborators, they share another type of bond. Neither claim to be exactly religious (although they both grew up playing music in church), but their music has been compared to a spiritual experience – one that uplifts and inspires the listener. In an interview in 2014, Finster said when he plays music, he feels that he's "connecting to something else. Some people want to say that's God or a high of some sort. That's why I play – the feeling I get when I do it." Additionally, Magolnick, in the same interview said, "I'd love if our music helps people. If it's uplifting, I'm happy about that. I'd like to achieve that, but it's not intentional. I want to be hopeful, and that comes out."
After the release of Faded in 2015, they set out on the road. During the tour, they lost someone who meant a lot to them both. Former band member Grant Harding, who had left the band before the EP and tour, sadly passed away. "The Electric Man"—the song, not the album, was written about him. According to Finster, "Grant was an insane, hilarious, genius person that was the funniest person you could ever meet probably, but also very sensitive and very deep and very thoughtful." Finster and Harding had started playing music together when they were fourteen years old. "Everything I learned about music, Grant and I learned together…There's something in me, I know, that changed once he passed away…A little piece of us went with him in a way. At least for me."
Flagship had to leave the tour and miss a show to go home and take care of what they needed to after their friend's passing. They then finished the tour and went to work writing the new record. Although the rest of the songs on the album aren't necessarily about Harding, Finster explains that they "were writing this album and making this music right at the time we were feeling all these things, so there's that element of that time that is in the music even if it's not specifically speaking words about it. It just made sense to name the album after him anyways, even if it wasn't about him. It's just something we wanted to do. He was just an electric person. He just had this ability to draw anyone in. That's him. He's The Electric Man. It was just very fitting to name it because of the time in our lives, and hopefully bring a little honor to his memory."
They finished writing and recording The Electric Man in early 2016, but due to industry-related issues they were unable to release it until this year. Being outside the music industry sometimes it might be hard to see or understand why there are delays. Finster explained that it basically came down to them not having managers and the label couldn't release the record until management was in place. Flagship shopped around for representation and finally connected with some managers in the summer. Finster explained, "If you ask any music business person, they'll tell you that if you're an indie band like us and you're not Beyonce or somebody huge, you don't want to put out any albums in December. Something about them getting lost and the holiday hubbub and then winter and stuff. They want to put out albums either in October or March. So, we had the album done, but the managers came on in the summer and they didn't feel that we had enough time to put a plan together for an October release so they said let's just push in March."
The album is now a highly-anticipated release for not only fans, but for the band as well. But Finster and Margolnick didn't just sit around while they were waiting for all the pieces to come together for a successful release. Making music is what they love to do so while The Electric Man was with the managers and label, Finster and Margolnick worked on separate solo projects. They also shot the videos for the first three songs of the record, all of which were directed by Michael Polish (who just happens to be the husband of the famous and beautiful Kate Bosworth). The video for "Mexican Jackpot" is out now and "The Ladder" will be coming out soon. Finster says that the third video, for the song "Midnight," could possibly be out before the full album release in March. In speaking about working with Polish, Finster says, "We're actually all really good friends now, which is awesome. They're really great people. It was a really great experience. There's nothing better in the creative world, to me, than if you work with someone and then afterwards you truly feel like they're your friend. There is something really cool about that – rather than just you worked with them and you got along, but then you just kinda part ways. We became good friends through the process, which is what I'm saying.  You kind of walk into these things with a little bit of intimidation and how's this going to be and then after about an hour of feeling that, you're with another creative and you're having a great time and all of the sudden it's really fun."
Flagship has a few shows scheduled for the year, but they are hoping to add more this spring. Until then, you can get The Electric Man in March and connect with them on the web and on social media.
Website: https://www.flagshipofficial.com
Facebook: https://www.facebook.com/flagship/
Twitter: https://twitter.com/FlagshipOffcl
Instagram https://www.instagram.com/flagship/
Track Listing for The Electric Man
Mexican Jackpot
Midnight
The Ladder
Burn It Up
100 Lives
In the Rain
China Star Man
Hurricane
The Electric Man
Faded
It'll All Work Out
Philadelphia Babe (Bonus Track)
Pocket Full of Matches (Bonus Track)
Tour Dates
February 23: Hollywood at the Troubadour
March 3: Popscene Festival
May 13: Shaky Knees Festival