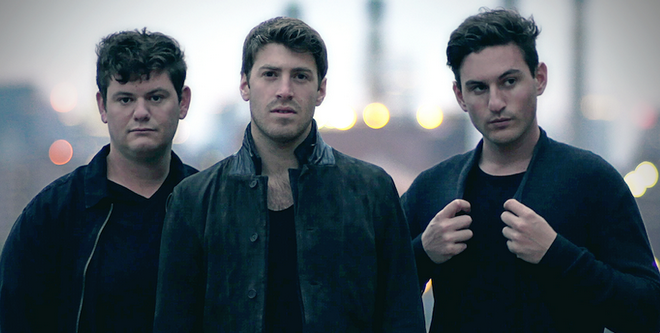 Interviews
FOXTRAX – Grey Morning
By
|
By: Lindsay Flanagan
Q: You guys have only been together since 2015, form the band after you all graduated from college. Is that where you met? 
A) Well, Jon and Jared are actually brothers so they go way back! I grew up in the same town as them so we all knew each other, but weirdly we never played music together until we graduated from school!
Q: Were you all studying music or something completely different? 
A) We all studied weird and mostly useless things to our music career, but I'm pretty sure we all cut a lot of class to play music! I used to skip and go to the university piano practice rooms and just lock myself down there for hours. It's really where I honed a lot of my skills!
Q: How would you describe your unique sound? 
A) Our sound is like how a PB & J with the crusts cut off tastes!
Q: Who are some of your musical inspirations? 
A) We love the Beatles probably the most. They have the best melodies and the best and most creative pop songs really. Sonically we really dig bands like U2 and Coldplay. That big sound totally makes us wet ourselves!
Q: Who did you grow up listening to? 
A) Loved the classic singer songwriters as a kid and also tons of old soul. So, a heavy diet of Bob Dylan, Simon & Garfunkel, Sam Cooke, Otis Redding and basically anything Motown or bluesy.
Q: You first recorded The Cabin EP with Reed Black of Vinegar Hill Studios after returning from a writing sojourn to a cabin (and your EP is aptly  named, by the way) in North Carolina. How did you connect with Mr. Black? 
A) Reed is one of the best bros ever! Super silly, sweet and inviting. I think Reed made us feel at home and he's also a beast behind the board. It amazing how well he knows his studio. He knows exactly where to put every mic to make it sound awesome!
Q: You left your native New York for Los Angeles. What inspired the move? 
A) Windfall really. The opportunity to move to LA came up out of nowhere one day. Jon and Jared's uncle offered to put us up and we didn't think twice. I think we grew a little tired of New York and wanted a change. Anywhere probably would have worked, but then the opportunity to move to LA came and we jumped on it!
Q: Before you left New York, you released The Cabin EP to a sold-out release show at the Mercury Lounge. Can you tell us how it felt to have your hometown fans support that release? 
A) That was one of the first shows that we played where we all kind of said, "Wow, this is really happening isn't it!" It felt amazing to have that much support from the hometown crowd!
Q: While in LA, The Cabin EP was re-produced and engineered, correct? How did you connect with producer Ben Roulston? 
A) Ben is a "leg" (short for legend). Amazing ear for sound. He is so good at making sounds pleasing to the ear. That was probably his biggest contribution to the record.
Q: Can you tell us a little bit about your recent tour with Barns Courtney? 
A) Touring with Barns was insanely dope! He is such a silly dude and it was so fun to be on the road with him. It was our first proper North American Tour so we were so happy that it turned out to be wild and crazy. It definitely defied our expectations going into it.
Q: Speaking of tours, can you tell us who your dream tour mate would be? 
A) I think we'd all love to go on tour with Coldplay. Their live show is just tremendous and I can't even imagine how much we would learn from them.
Q: Will you be touring again soon? 
A) Yes, we will! We just announced a tour in November in support of our upcoming EP, which we are so freaking pumped about. These shows are going to be pretty next level stuff, so we can't wait!
Q: You just released your new single, "Grey Morning." On your social media channels, you said you'd been "waiting to release a song like this [your] whole lives." What sets "Grey Morning" apart from your other songs? 
A) I think this particular song is really mature. We've always tried to integrate that hip hop kind of rhythm and production into our tracks, but we always fell short. Finally, it all seemed to click on this one and we are so hyped about it!
Q: The single comes from your new EP, Nothing Lasts Forever. I read that you're planning on releasing one song from that three-song EP every six weeks. This seems to be more common these days—EPs versus full albums with songs released in various time-spans. Do you find that this type of release keeps fans interested and engaged in your music longer than the "old" way of releasing a single or two before the full album? Or is this release set-up used simply because we are digitally able to access music faster and easier? Sorry for the convoluted and multi-tiered question, but I come from the days where I waited in line at a CD store for a midnight album release, so I'm interested in an artist's take on this way of releasing music.
A) I think this is a great question, actually. So, I think that music listeners today have a really short attention span. I don't really know a lot of people that sit down and listen to full albums anymore. With this strategy, we kind of felt like these songs were really strong and we wanted to give them all a chance to be heard!
Q: I'm also extremely interested in the cover art for the "Grey Morning" single. A half-stag, half-human carrying a briefcase and zeppelins flying over skyscrapers…? Can you shed a little light on it? 
A) So, this piece was created by a great artist called "Kavan the Kid."  His work really speaks to us and he is doing the art for this whole EP. This particular image was really intriguing to us as well. The stag human is going to work, but he feels trapped by his 9-5 existence. We thought that it was a really powerful shot and that really captured the energy of the song.
Q: What message or theme do you hope to send, or for your listeners to take away, from your music? 
A) I hope our listeners feel really inspired by our music. I hope that they put on our songs when they need to think about life and evaluate where they are at. I have always done that with my favorite artists so I would love people to feel that connection with us!
ALL QUESTIONS ANSWERED BY LEAD SINGER BEN SCHNEID