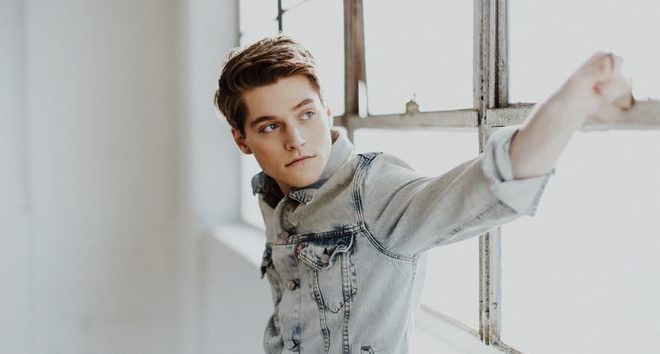 Logan Cole
Interviews
Froy Gutierrez – A Cowgirl's Story
By
|
By: Lisa Steinberg
Q) What does it mean for you being a part of the "Teen Wolf" legacy?
A) I haven't had the chance to wrap my head around that yet! "Teen Wolf" was such a quintessential show for my friends during my adolescence so the fact that I am now a part of that is still jarring to me. The work, to me, was all about Nolan – so if anything, I'm thrilled to see Nolan join the legacy of "Teen Wolf." He's something different on the show so I couldn't be happier that he's joining the ranks of "Teen Wolf" characters.
Q) What can you tease about what fans can see and expect from your character in the second half of the series finale of "Teen Wolf?"
A) Nolan is a bit out of left field. His hands are cold, his heart is gold and his head is tender. He may not be the kind of person most of us would want to hang out with so I am happy to see such an alienated archetype on a such a world-sized show.
Q) Is there a moment you are most looking forward to seeing or finding out fans reaction about?
A) There are so many moments in 6B, I honestly could not pick! This season an odyssey of epic proportions and the ride continues to get bumpier with each episode. Nolan's development, in particular, is decisively drawn from point A to point B – and that transition is something I'm looking forward to everyone seeing!
Q) What have you taken away from your experiences working on "Teen Wolf?"
A) "Teen Wolf" has taught me so many things, but the biggest takeaway was that acting is doing. The more you do, the more you learn. Work doesn't beget work – good work begets work. "Teen Wolf" opened the lid on my head to daydreaming, to patience and to all kinds of late nights spent working.
Q) "One Day at A Time" has gotten so much support and embrace, what does he hope that fans hold on to from watching season one and what would he like to see from season two?
A) As funny and warm as "One Day At A Time" is, I sincerely hope that the viewers take something more from the show than just a show – that maybe some loving perspective was gained or a foreign struggle became familiar. The show allows us to explore prejudice in many facets through the vessel of an innocuous sitcom. I hope season two continues to brightly touch on the political and controversial, especially given the turbulent time we're all experiencing.
Q) What can you tell us about the premise for the film A Cowgirl's Story and what made you want to be a part of it?
A) A Cowgirl's Story made its way onto my computer screen as a script while I was on holiday. I remember the script being touching, true and loving. The film follows Dusty Rhodes (Bailee Madison) taking a positive approach to her estrangement at a new school. After nearly every character tackles a hardship, they find some solace in Dusty's equestrian drill team. The script is decisively family oriented, yet it dealt with some sharp subjects and ugly truths. That duality was very intriguing to me!
Q) What was the original breakdown of the character you were given and did it evolve or change before filming began?
A) The original breakdown was of a kind and honest boy, pressured day his father to run the family business. Throughout the film's shoot, Jason became more internally troubled as we discussed his character. The final product will show the same kind and honest character, just painted with some darker shades.
Q) Where do you connect with your character?
A) Jason is a sensitive, delicate cowboy who tries very hard in life – maybe too hard. I can definitely relate to that duality of vulnerability and work ethic so there was quite a lot in common between the two of us!
Q) What was the most challenging aspect of the film?
A) As someone with zero experience with horses, I would say that dealing with the animals was the most difficult aspect! Jason is a person who has spent his entire life with horses – so I had to make my scenes with the gentle beasts as seamless as possible.
Q) You get to work with Bailee Madison and Chloe Lukasiak, what's one of your favorite memories of being on set with them?
A) The two of those girls were the heart and soul of the film. Bailee brought such a warm work ethic to the set while Chloe showered everyone in kindness. My favorite memory with the two of them has to be the night that we went to a diner after what felt like the longest work day. We got some milkshakes, spoke about our dreams and talked deeply in the late hour. They brought such a family feeling to a professional set.
Q) When you weren't filming, what did you enjoy doing in your down time?
A) When the cameras weren't rolling, I spent up most of my time exploring the ranch. It was such a foreign place for me so I wanted to get as familiar as possible with the grounds and animals!
Q) What kind of guidance did director give you while filming?
A) Timothy Armstrong was the director and writer of the film so every direction was meticulously aware of the script! He appreciated the shape that Jason had taken; this headstrong, delicate cowboy we created along with Bailee. Timothy was gentle with his guidance and allowed plenty of artistic liberty, so I had some elbow room to paint Jason with some of my own strokes.
Q) What are some of the prevalent themes throughout the film?
A) The film's themes are light in delivery, but heavy in significance. I don't want to give too much away, but ultimately the film features themes of inclusivity. Each character faces a unique hardship and as the community surrounding Dusty Rhodes grows throughout the film, we see how friendship, family and community can strengthen us when we are at our lowest.
Q) Quite often the setting in films can feel like a character in itself, how does the backdrop of the film lend to this?
A) Definitely! For Jason, the setting of his family's ranch was like a third parent. He was reared by the ranch, taught by the ranch, estranged from the lights of the big city that I'm familiar with. A lot of the work was daydreaming of the differences between city me and rural me. What am I like without the background noise of traffic? The performance venues? What does Jason do for fun? The setting was most of the work.
Q) What's your latest guilty pleasure, are you into any book, sport, music group or activity?
A) I may be obsessed with "Mr. Robot." Last week I finished watching the series for a second time! I just find the show to be so well executed, from the script to the cinematography. Now that I've been working for a little while, I've become hyper aware of the process involved for TV shows so the complex nuances portrayed in the show continue to stun me.