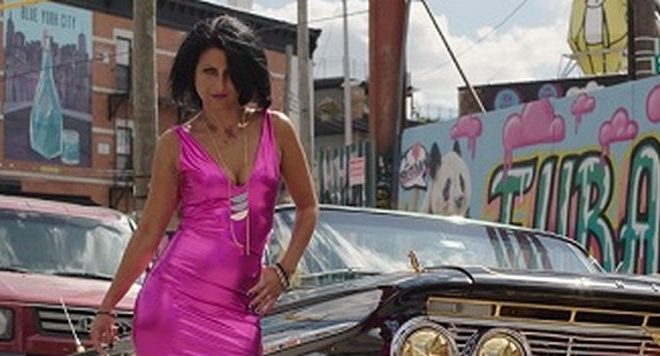 Interviews
Gina Cutillo – Brand New Start
By
|
By: Jamie Steinberg
Q) How would you describe your sound?
A) That's always an interesting question that the industry expects you to describe in one sentence. So, if I'm answering quickly, I say "Commercial Pop/Rock music with catchy choruses." Then, I'll say I'm a twist between "Lady Gaga and Katy Perry with some Cobra Starship." Sometimes I say my sound is something people usually want to move around to and sing along with. Ultimately, it is Pop/Rock with some dance influence.
Q) Who are some of your musical influences?
A) I have a few…but these are the originals: Madonna, Michael Jackson, Nirvana, PJ Harvey, The Supremes, Motown Music, blues, Tina Turner (from when I was a small child through the influence of my Mom). Then, Lady Gaga and Ellie Goulding.  I continue to be influenced by true music, so it's ongoing.
Q) Talk about the story behind your new song "Brand New Start." 
A) Well, it all started during last year's presidential campaign – the divisiveness of the whole thing. People fighting, families breaking up and everyone going against each other. It was so disturbing and upsetting. I have a big, wonderful family and this was pulling some of them apart. I was perplexed, too. I still love my family even though some may not share my views, so why is this happening? Why were some fighting so badly? I knew why and couldn't change that so I do what I think I do best – I wrote a song of hope, change and positivity.  I don't want to argue the sides – why my value or opinion on this issue is better than yours or I'm right and you're wrong. We all have our own experiences of life and our different opinions reflect that. It can't be changed. All of the fighting is wasted energy. I wanted a "Brand New Start." So, the opening line just came out "We are open, we have broken hearts and we're searching for a brand new start." Of course, the song has some other personal meanings, but that is where the original idea formed. And the idea is universal for anything in life.
Q) What happened to the bride in the "Brand New Start" video after the shoot?
A) She went on to her honeymoon and is living her life with her brand new groom! She loved the video.
Q) What do you think it is about the song that fans connect to? 
A) It's the universal message of the hope we have inside and that real idea that we all can have a brand new start at any point. We are all hurting right now as a society. All the political divide, the awful shootings and sexual harassment coming to the forefront. The song's message of coming together is something we need so desperately right now. Love each other so we can start over and work together, we are better together. It also resonates with relationships too. Sometimes you just need a brand new start. The message of "hopeful" is what everyone is connecting to.
Q) How does the video for the track play into the message behind it?
A) It played bigger than Max Skaff (director) and I could have dreamed of. We planned the idea of bringing different people, who didn't know each other, together on the street to sing the song. We had no idea it would be brought to a whole other level by a real bridal party being on the street we were shooting on. How perfect.  It was truly a new start for a bride and groom. We are truly better together and can start a new at any time.
Q) What is your song writing process?
A) It differs each time.
Q) Do you need music before you can create lyrics?
A) I don't need music to create lyrics. I just wrote a song called "Christina." All of the lyrics came first and then I wrote the music. A lot of the time I'm writing the music first. Whether it's strumming something on my guitar or playing around on my keyboard with a synth sound and sometimes I create the beat first and write a vocal melody around it. I don't like to make myself write music. I'm either inspired with in the first fifteen minutes or I stop. Most of my songs come to me pretty quickly. Once it gets going I can spend a full day creating every piece from soup to nuts.
Q) How much of hand do you have in the production of your music?  
A) I write all of my songs. I create demo versions at home on pro-tools then hand them off to my longtime producer David Caggiano. In the beginning, the demos were pretty simple – guitar/vocal.  As time went on, the demos became more intricate. They would have guitars, synths, vocals, harmonies, some drum beats, etc. Now all the new tracks are chock full. The pupil learning from her professor. David turned my career around. After I released my first album, he pushed me to find the different styles of my voice.  It was hard to hear at the time, but he told me if I wanted to do pop I would need to get better.  So, I did and as I grew as a writer I learned a lot from him (some others too) and started creating more production on my demos, which didn't mean he had it any easier. I still wanted him to add his production value as well and he has always delivered.
Here's a quick, fun story for my Billboard song "Keep On." David is ultimately a rock producer and some of my recent songs started getting some dance influence/EDM sounds, like "In Time," "In Another" and "The Inside." When I sent "Keep On," it had tons of production, but I didn't add any EDM-influenced drum rolls or a drop. So, he listens to the demo and loved the track, calls me and says, "Wow Gina! This is just great, the production," etc. and joked about me not needing his production additions anymore.  This was clearly a joke because, fast forward, besides recording and engineering the whole track, David re-builds the whole middle into this climatic, amazing EDM-inspired production that swells into the guitar solo. Synchronicity at its best. So, to answer your question, I have a lot of hand in the production of my music now, but I have had a lot of help and learning along the way.
Q) What can fans expect from a live Gina Cutillo performance?
A) Performing is one of my favorite things. Expect a great time. Expect to watch because I'm always bouncing around somewhere and, if you don't watch, it might be on your head. [laughs] It's a very energetic live show. Fun, sexy and interactive. I love getting the audience to sing, clap, etc.
Q) We saw you performing on The Warped Tour. What did you take away from your experience?
A) So much. It was an unbelievable experience. The biggest part I took away was that the body is capable of a lot! That tour is amazing and grueling with daily performances in a different city only and only two days off in the whole month. I also spent a lot of time around great artists like Katy Perry, Paramore, Gym Class Heroes, The Academy Is and more. It was an advanced rock-and-roll high school class. I had these great experiences with all these artists and people, which inspired me to write my third album The Lover. That album is what started my success in licensing songs for movies and TV, etc.
Q) Can fans expect an EP or album in the near future?
A) I've been releasing this album as singles. I'm thinking of putting together an EP, but all my singles I've released have at least two songs on them. I am missing the album idea so maybe soon. But now I have two songs mastered and ready to follow up with.
Q) Where are some of your favorite places to perform and what makes those locations so significant to you?
A) On the Warped Tour, Texas was amazing. That audience gave us so much love it was bombastic. I love Philly, NYC, Chicago. The Jersey Pride Festival was amazing, too. What a fun crowd. I like big audiences. The more people giving their energy, the better.
Q) Who would you most like to collaborate with on a song in the future?
A) Artist: Lady Gaga, Producer: Mark Ronson
Q) What album/band are you currently listening to and why do you dig them?
A) That changes daily. I just had Ike and Tina on two days ago, Adele's album "25" on yesterday, Gaga's last week. Been digging the new tracks by Lorde. Always love me some Nicki Minaj, too. Rihanna is queen! I dig well-written songs. Been listening to some older stuff too.
Q) You are a part of social media. Why is that such an important way for you to connect with your fans? 
A) It's not just important, it's the way of the world. It's almost becoming the only way. We have become a society of "reality" so fans want that access. I have some personal areas off limits. We need a little mystery, but I know how happy it makes my fans to see what I'm up to.  The more interest they have in you, the more they want to be a part of your success and bring you to the highest place. Back in the day, the way I showed Madonna my appreciation by buying her CD. Now, fans can share, interact and be a part of it all. You become part of their family. Because of social media I've been able to perform for fans I would never get to. Touring is becoming the new CD, nice to have, but not necessary for an artist.  But that's a whole other discussion.
Q) What would you like to say to everyone who is a fan and supporter of you and your work?
A) Thank you! Truly and sincerely, I thank you from the bottom of my heart.