Richard Doran
News
Gortimer Gibbon's Life On Normal Street" Holds Special Screening
By
|
Cast of Amazon's "Gortimer Gibbon's Life On Normal Street" Holds Special Screening for El Nido Family Centers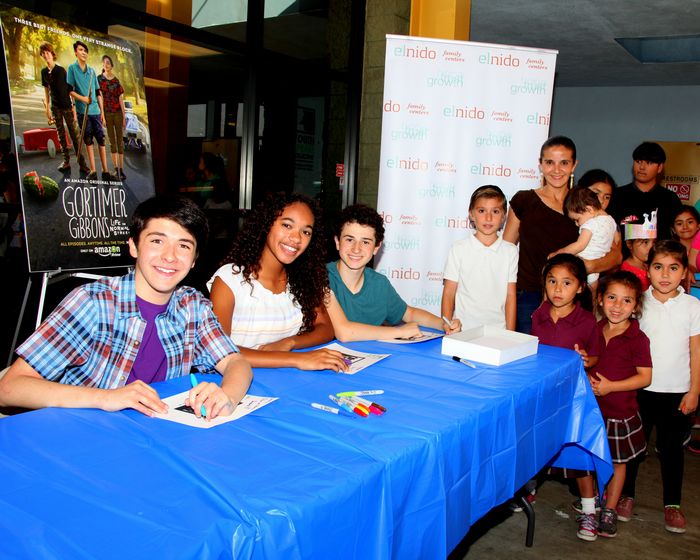 Sloane Morgan Siegel, Chandler Kinney and David Bloom from the Amazon series "Gortimer Gibbon's Life on Normal Street" held a special screening Tuesday for El Nido Family Center in Pacoima, CA. The trio were joined by Amazon Studios Senior Production Manager Ken Lipman, Co-Executive Producer and writer Laurie Parres, and set costumer Daisy Sylbert-Torres.
"We're here to support the great things that El Nido is doing and show the kids that it is possible to achieve your dreams whether that's acting or something else. We showed an episode of our show and answered questions about the acting process. Hopefully we inspired them to do what they love." –David Bloom
While filming season 2 of the series, the cast was inspired to start a service project and made 160 blankets for underprivileged children. The show's crew, parents and team at Amazon joined in and together they put together Gortimer tote bags that included one of the blankets, a pair of fun socks, games and candy.
"Today we brought kids at El Nido blankets and bags with socks and all kinds of fun stuff! We made so many blankets while filming this last season. It was an important project for us and it was really cool to be able to give them to these kids." – Chandler Kinney
The cast screened one of their favorite episodes, "Mystery of the Blood Moon" and answered fan questions. Following the screening they took pictures with the children visiting the center, signed autographs and handed out the Gortimer tote bags. At the end of the event the cast had handed out 75 tote bags with the blankets they had made.
"It's really important to all of us to be able to give back. We're all in acting for multiple reasons and one of those main reasons is to entertain and to put smiles on people's faces and that's what we did today. We put smiles on people's faces and that is all I ever want to do." – Sloane Morgan Siegel
Fans can look forward to new episodes of "Gortimer Gibbon's Life on Normal Street" when the series returns this summer! Follow the cast on social media for updates.
El Nido's families are dealing with gang activities, domestic violence, child abuse and school dropout.  This event not only gave students a fun gift to walk away with, but showed a glimpse into the world of digital TV production and how they might consider it as a career path. You can learn more about El Nido Family Centers and at www.elnidofamilycenters.org