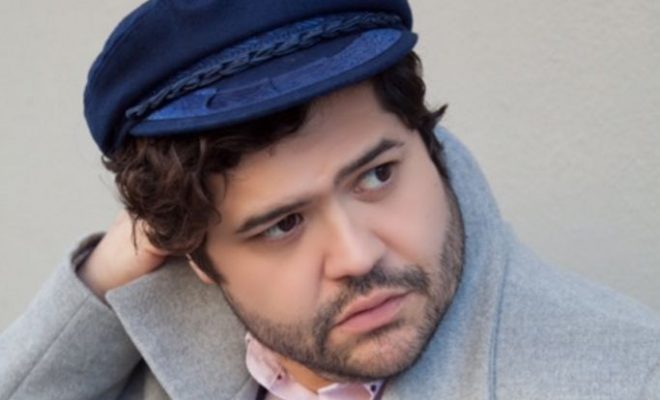 Photo Marc Blackwell/Grooming Laura Young
Interviews
Harvey Guillen – The Magicians
By
|
By: Lisa Steinberg
Q) "The Magicians" feels so immersive that it is easy to get lost in the series.
A) I'm always amazed at what they get to do with the special effects and the magic. Sticking to the authenticity of the books as well as being awesome. It's kind of surreal because when you're acting in the scene you don't necessarily know what the effects are going to look like. It's kind of waiting to the day of the show. They spend so much time on detail because lighting is so important for it to work. As an actor, it's just so exciting to see how they do all of those special effects.
Q) It kind of makes Fillory another character.
A) The city itself becomes part of the cast list You can't live in that world without Fillory and you can't live in Fillory without that magic. So, it all comes together perfectly. It's interesting to see how a book comes to life and how it takes so many hands. It takes a village to put all of the pieces together.
Q) Talk about the costumes and how they transform you and breath life to the character.
A) For me, going to Fillory and becoming Benedict was so cool to work with the costume designer. It was such cool designs that made you feel a part of the royal court and more regal. It's a great job! They have done a great job to get everything together. I'm just amazed at how they get everything done. We have an amazing costume designer who brings these characters to life.
Q) How was Benedict originally described to you compared to who we see on screen?
A) When I first saw the breakdown for Benedict, I was actually shooting Status Update in Vancouver. It was kind of a last minute thing I got the information for. I got the actual breakdown and I said I would go in. I had heard of "The Magicians" and it was very relevant to what was happening in Vancouver – like the shooting schedule. The audition was the next day and I hadn't read the books so I wasn't familiar with the character. I went to the audition the next day and I knew they had producers in LA. So, they were looking everywhere for these characters. I went in and did my best to who I thought the character was from the audition, which was he is a royal map maker, part of the Pickwick family, very matter of fact, studious and on point basically. I went in and did it my way and walked away. I usually try to go in for auditions, walk away and then whatever happens – happens. The next day they said I got it. I started to film on Monday. I was wrapping the film on Friday and then I was going to fly home. I got to go back home for 48 hours and then had to fly back to Vancouver to shoot as Benedict.
Q) Did not reading the books help or hinder your performance?
A) Well, when I got to set my friend Ashley Holiday said, "You didn't read the books? I read the books and they are so great!" She knew exactly who I was playing and asked her to tell me a little bit about him. She said, "But I don't want to tell you everything! I won't tell you everything!" I got to set and on the first day everyone was super excited. They were like, "Oh, you're playing Benedict! So tragic!" I was like, "What?!" They said, "You read the book and know Benedict's story…" I was like, "Well, of course…but if I hadn't what would you tell somebody about him?" They told me I had to read the books. After that episode my friend Ashley sent me the books as a birthday gift. So, by the time I got home they were waiting for me. I read the books so now I get to know the trilogy. In the last book something happens, but the cool thing is I was shocked to find out the storyline of what happens to Benedict. What we're doing with the episodes (I was talking with one of the writers) we try to stick to the books as close as possible, but they will take some liberties. So, who knows? I know for a fat we're still in Fillory and haven't gone on a voyage yet. So, Benedict is still there. I was worried it was a one episode thing, but they said it was reoccurring and I thought, "Oh great!" After reading the book, I realized there is so much story. We have barely scratched the surface for book one and a little bit of two. There is still so much storyline in front of us that we could have the Benedict storyline could run its course for the next four seasons. Who knows?
Q) The social media interaction between fans and cast has been wonderful!
A) They are really great about it. I happen to go on Twitter and the fandom was amazing the way they responded to the introduction of Benedict. The fanbase for the Magicians is very close-knit so having them welcome me was a really cool feeling.
Q) Who have you gotten the closest to with the cast?
A) So far, I've taken a liking to everyone. Everyone is super nice. The ones I have been hanging out with the most are Hale [Appleman] and Summer [Bishil] by selfish means because I love their characters so much I want to be around Margo. [laughs] I just met Summer over the summer and she is not like Margo, which is funny because a part of me was hoping that she was like Margo. But she really isn't! Summer is so sweet and carefree and Margo is more structured with a little bit of snarky in her comments and in some ways bitchy – which I love. So, that's why I was secretly wishing she was like Margo. It's funny to see Summer and then see her as Margo because Summer is an amazing actor that she makes it seem like she is so much like her character. You realize that's just really good acting. You get two for the price of one with Summer – you get this amazing character that she plays and then you get this sweet Summer that is just genuine and organic to her.
Q) Who have you not filmed with that you'd like to shoot a scene with or want more scenes with?
A) So far, I really haven't had a scene with Margo, which is funny since we were just talking about how great Summer is. I would love to have a scene with Margo. At one point, they must interact at the royal court. I haven't really had scenes with Quentin (Jason Ralph), so that would be interesting. I've had scenes with Penny (Arjun Gupta), for sure, and Hale obviously (the first episode). There is always the possibility of having scenes with anyone and I would love to have scenes with Margo and Quentin. Also, we have Brittany Curran who plays Fen. There are so many characters that I would love to work with like the other Pickwicks and I have a scene with Trevor Einhorn coming up who plays Josh. I'm just excited for all the combinations and possibilities for the future.
Q) What can you tease in store for Benedict this season?
A) The thing is now in Fillory anything can happen. That's the thing the viewers should know – they are going to stick to that and definitely not disappoint when it comes to that. As the season goes by, with Benedict you'll maybe see not just the work side but he will let down his guard and see his party side – if you will. [laughs]
Q) What we love about you is all of your diverse work – from "Haters Back Off,"
"The Magicians" and "The Thundermans. What do enjoy most about having such a diverse fanbase?
A) I pride myself in having a career where I am not just held to a certain type of actor – like the short round funny guy. So, I kind of pride myself in seeking roles that are diverse where there are different fanbases. It goes to show you that you're not meant to play just one type as an actor. Actors embody and bring people to life so if you just reform every day as yourself what is the point of having a career and being an actor? I do take pride in having a diverse fanbase. I went to the Women's March this year in downtown LA and I was walking through Little Tokyo when a kid who couldn't have been more than four years old who was holding her mother's hand walked by, looked up and said "Hi Harvey!" Not Blobbin. Not a character name. She knew my name! I said, "Hi sweetheart!" My friend asked me if that happens a lot and I said, "Whenever it does happen I know what she saw." Like if it was a six-year-old, I would know what show she saw. If it is a twelve-year-old to twenty-one year old or even older than that they either saw "Haters Back Off" or "The Magicians." So, I know the fanbase or the demographic of people who are drawn to me from what avenue. And I appreciate it because I get to play in all the realms like with broad comedy on Nickelodeon and I love to do theater. I get to Syfy with "The Magicians" and dry comedy and outrageous circumstances with "Haters Back Off." So, every series I'm lucky to be a part of is so cool because it is its own world. I get to leave and comeback so it's like being in your own world.
Q) You do a lot of behind the camera work too. Do you have anything upcoming?
A) I'm working on a couple pieces and a couple show pieces. I'm diving more into writing and producing the last couple of years which I'm excited about. Along with my writing partner Jamie Holt who helped produce Lady Gaga's "Til It Happens To You" and worked with Kathryn Hardwick. We come up with great ideas. I work on my sketch show that is "Hollywood Harvey" that talks about what happened in Hollywood, going on auditions and living in LA. Some of the stories I could tell you that you wouldn't believe. I thought, "You can't make that up so why not write that down!" So, I've been shooting that and working on a film idea for a teenage thriller that we just shot this past weekend. There is a great cast with a lot of newcomers that you will be hearing about in the future. I'm excited to work with new ideas and new talent. I don't want to put on the actor hat all the time because different hats go with different names.