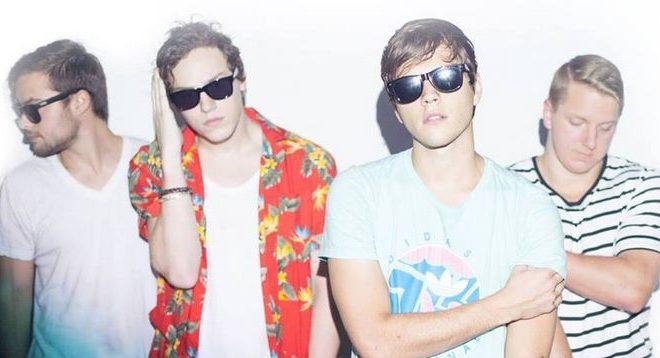 Features
His Dream of Lions – Pseudo Star
By
|
By: Robert Warren
His Dream of Lions is a band sure to engage an audience with sounds similar to fun., COIN and Colony House. In the quite novel music video of "Love Me Like I`m Sick," the band is flipping through pages of Earning Hemmingway, where the band formulated their name. Because of the band's thrill to chase their dreams, they looked at Ernest Hemingway`s novel The Old Man and The Sea where the central character has an ambitious spirit and good moral intentions behind reoccurring dreams to formulate their name. Engaging with creative style with new kinds of sounds of synths and drums His Dream of Lions is made up of a four person band of young rockers: Seth Coggeshall on guitar and vocals, Colby Witko on keys and vocals, Nick Jones on guitar and vocals and Justin Mason on bass. His Dream of Lions has a real pop/rock style to them with a new taste of engaging and pleasingly delightful vocals for the audience.
In a quite captivating listen, "Love Me Like I'm Sick" brings sunglasses to the bar in the new music video. With old-school style and new age taste the band has just announced that they are set to be releasing a new EP on February 16, 2018 titled Pseudo Star and "Love Me Like I am Sick" is the single available for listen now in their new music video and also on Spotify. "Pseudo Star is funny, yet serious. It can at times be epic, and other times intimate," Seth Coggeshall, lead singer said. "Pseudo Star is about that feeling. It captures that feeling not only with the subject matter of the songs, but also in the tonal extremes the record sits in between."
If there is something evident about this EP it is the abundance of crafted thought behind it. Even just looking at the music video for "Love Me Like I'm Sick," it is something that portrays a beautiful homage to the glam rock bands out there like Queen by the dress and placement of the band on the Singer box television. There are killer sounds that the band offers with wonderful vocals.
Pseudo Star is an EP that captures what the feeling uncertainty is all about by being funny yet serious, empowering yet doubtful and epic yet intimate. The band captures the indecision of feelings, the skepticism of emotions and wavering feelings in songs beautifully crafted in this new EP, which was engineered, mixed and mastered by Ben Green at Ivakota Studios. This EP is something soon to be excited for in the music marketplace with five quality songs delivered in the band's quality tastes. If you haven`t checked out some of the band's older material such as "New Romantics" or "He Was a Gentleman," you should. However, this EP is definitely jumping to the next level here. It is amazing what the band has put together and it is a do not miss EP for 2018.
The new EP, which becomes available in February, will also be featuring songs such as "Earth Girls."  "Earth Girls" is a snappy song with light add-ons of flavored guitar hums and sneaky guitar pops that pick it up until it delves into a magical creation of mixed spinning sounds that guide the listener into the captivating song. "Earth Girls" is a song that captivates so much that it is hard for the listener to venture away from it.
It was Spring 2012, when guitarist Nick Jones and singer Seth Coggeshall formed the band after previously knowing each other from the Fairfax, Virginia music scene. After much writing, the band started fully coming together when they decided to add on bassist Justin Mason and keyboardist Cobly Witko. The band then released their EP Part One and EP Part Two in 2013. It was followed by the recording of their self-titled EP, which led them to their first music video for single "Danger Close." The video debuted on Fuse right before their His Dreams of Lions EP released. After venturing through that journey, the band is now set to release their newest EP Pseudo Star.
"We're playing fun rock music that has moments that sound really empowering," Conggreshall said. "However, the lyrics and the sentiments in the songs don't portray a confident or powerful person. Instead I sound unsure, and a little self-deprecating. Despite all this though, the point of Pseudo Star isn't to encourage listeners to revel in self-doubt, or self-pity. It's about effort in the face of uncertainty."
Easing into a slide of sound at the start is single "Killer Trip." With this track, His Dream of Lions does what it does really well and that is stacking sounds to create something beautiful. "Killer Trip," with twinkling mystic skies of sound build upon one another and then the snaps kick in leaving you wanting to tap your foot to the wonderful beats and start you dancing as the song just builds to something truly unique.
Pseudo Star is a five song journey, starting with wanting someone to "Love Me Like I`m Sick" to the "Earth Girls" to the skies of the "Killer Trip" to the "Magic" of the moment and ties that connect it all together in the finale song "Swingin." This EP is a journey. In "Magic," the song is really questioning what to do when the world does not want to love you and finding a way to stay away from the world when maybe it is not so loving.  It is an escape song to look to the sky with when the world is dry. "Magic" is a song to make you wonder where magic exists when it seems people can`t even remember your face or name. It is a song looking for places to see positivity, places to find happiness and places to find something magical. The essence of magic will move people, but with this single "Magic" it is also about finding that when the world can seem unloving. With its very upbeat and mystical style with twinkling beats it is definitely a great listen to look forward on the new EP.
With the lovely build upon itself style that this band really owns well, song "Swingin" is about going out with a mark, leaving a print in the sand and well…going out Swingin." This song is very upbeat and is one about taking chances in the face of uncertainty. "Swingin," while about taking chances, is also a mix of a cold reality of a world that has alcohol, thieves and issues yet somehow is a place where creativity is expressed and dreams come true. It hits on the cold world of warm feelings.
Like the central character from Ernest Hemmingway`s novel The Old Man and The Sea, the band is in ambitious spirits on a thrill ride of chasing their dreams. "It's hard to know where you're heading. And maybe we will always feel like were at the halfway point," Coggeshall said in regards to their upcoming EP Pseudo Star. "Always feel like a Pseudo Star…But Pseudo Stars still shine, and that's more than enough reason to press on."
His Dream of Lions is a fun band that is full of energy with sounds that are definitely unique. You will certainly be looking forward to February when they release their forthcooming EP Pseudo Star. His Dream of Lions may be a band that is very old-school in style, but they are new school in music flavors and have a great way with stacking sounds definitely leads the listener on a journey that will make you want more. His Dream of Lions has a good synergetic blend with a magnetic connection to the audience's ears. In a creative world there are a lot of artists out there pushing to get a listen, but the energy you get from this band is one that you just can`t get somewhere else.
If you haven't yet, check out the music video for their single "Love Me Like I'm Sick" and get ready for the EP release. His Dream of Lions has merchandise available for pre-sale like t-shirts, polos and has their EP available in different bundles on their website. The EP is available for full release on Febuary 16th, 2018 on iTunes.
Watch The Video for "Love Me Like I'm Sick"