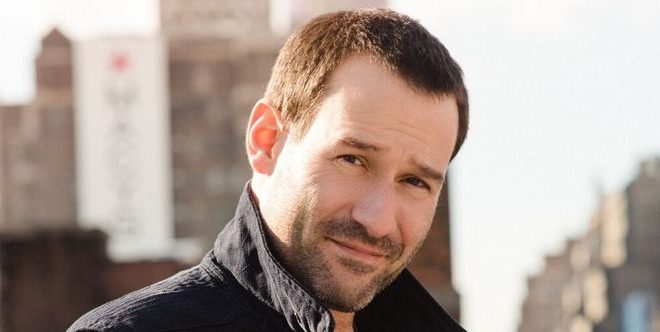 Charlie Roina
Interviews
Ian Kahn – TURN: Washington's Spies
By
|
By: Jamie Steinberg
Q) With filming finished, have you been able to let go of General Washington some?
A) In some ways I think I'm going to carry him with me for the rest of my life. When you live with somebody this long he's sort of right there. And I've learned a lot as a human being from portraying General Washington so long. I will miss it. I do appreciate that I don't have his problems on my shoulders anymore as you are going to see in this season. [laughs] This is tough season. He's going through it this year! When you play a part like this (and I've said this before) you really carry them with you to a certain extent so when you get to the end there is a relief that comes with it as well. There is a sadness, as well, but a gratitude more than anything a bit of relief.
Q) Have you then officially said your goodbyes to him or will you bid him adieu after the finale?
A) That's an interesting question. I think I've said goodbye to him, largely. There is one thing I'm leaving left to do. Other than that, I kind of did say goodbye already. I kind of said goodbye. I'm a little misty thinking about it, but I definitely had the experience…I remember the last day of shooting, putting the costume and wig on for the last time and sort of just going, "Gosh, that's it." But mostly gratitude. Gratitude is the most important thing you can have I think as a human being because it makes everything better. It makes you feel good because there is a lot to feel good about. My gratitude is to General Washington for what he did for our country and for being able to portray him all these years is very true and very full. I guess it is a little sad. Fans send me tweets saying, "Oh, it's so sad that it's over." I get that, I do. But let's be so grateful with how much we got! There are forty hours of television that is going to live forever; that audiences are going to enjoy over the course of the next eight weeks. But then new fans every single day are going to put on "Turn" on Netflix or some other streaming platform and dive into this world. So, that's something I'm just grateful for. Gratitude goes a long way. It's changed my life fundamentally in every way – from being an actor struggling to get his head above water at times to being someone who is lucky enough to play a significant role in a major series on one of the best networks on television. I'm not looking at what we didn't get. I'm looking at what we got.
Q) Did you keep any souvenirs from the set?
A) Nobody has asked me this! They gave me the full costume: the cape, hat and wig. They gave me the wig…They gave me the sword belt and the boots. My cape is in my closet and I have the whole thing. It's really cool! I have the wig on a wig stand in my office so every once in a while if I'm having a glass of wine with my wife at the end of the night I l can look over at the back of his head. I feel like I have a little General Washington with me in my everyday life. Between Season Two and Season Three my wife said, "When you come home after being away all this time you are going to buy us a house." So, we found this really reasonably priced house on a hill over-looking Van Cortlandt Park. As the owner is driving away and handing me the keys, he looks at me and says, "Oh this is really funny. I forgot to tell you this, but this spot on your land you can't touch because the Bronx Historical Society has put it aside as a historical site." He said, "It's really funny. George Washington stood over there and watched his troops drill in Van Cortlandt Park." I said to him, "You know I play George Washington," and he said, "Yeah!" I said, "You never mentioned this. I would have paid more the house!" You can still see the park, but I walk down my steps to near the garbage cans (which is the spot where it is) and think, "General." So, I feel like I get the opportunity to commune with him all the time.
Q) Are there any moments that stand out for you this season that you are looking forward to fans getting to see?
A) I would say the Battle of Yorktown. It's going to be amazing for the audience to watch, but for me [personally] the work I got to do this season with Lilli Birdsell (who plays Martha Washington) is some of my favorite stuff I've ever done on the show. It really shows the personal side of George Washington. You actually get to see inside his house when he's not wearing his uniform. He's in his nightgown talking to his wife about the problems that he has got. You see this is just a guy who is going through so much stuff. Being able to work with Lilli, who the producers were smart enough to cast as Martha Washington, was a wonderful choice. She's as wonderful a human being as she is an actor. Just getting to work with her was a real pleasure and a genuine highlight for me.
Q) What would Washington think of our current political climate? I know you did a Huffington Post piece last season on the topic. Any plans to write a new piece?
A) Yeah, I think it could possibly happen. I think that General Washington would be greatly concerned by the climate of our country right now. I can say that without setting off too many alarm bells. We were talking earlier about gratitude and I think it would behoove us as a country to remember the sacrifices made to get us this country and not to take things for granted.
Q) Because of our current political climate, why do you think "Turn" is such an important series to air?
A) Great question. I think for audiences who are living through almost what is a breaking a part of our country, to see how hard it was to win this country and build a country, we might look at things a little more care and respect and appreciation. That appreciation (as we said earlier talking about gratitude) can only be helpful in every way. Start looking at ourselves as Americans as brothers. Even if we disagree, we're all family members. We are all Americans and that is something very important to remember in these very challenging times. Watching this reminds us of the idealism we once had for our country.
Q) What have you taken away from your time playing George Washington?
A) Well, I'll tell you. That's a really good question. I appreciate that question. I think I'm a stronger person myself. I think I was going through a revolution inside myself through playing this part. I, like every other person, have struggled with insecurities and failures – just like George Washington did. I almost feel like his journey maturates in some way. I'm certainly wiser by taking on his personality for so long. One of the best things about General Washington was that he was very mindful of thinking before he spoke. When I was a younger man I wasn't so great at that. I was more passionate. I was more quick to respond. If I thought there was a problem, I was going to reach out, take care of it and scream about it. Now, I'm learning that discretion is often a wise choice because from almost a disappointed place was Washington lived within at almost all times. You can make wiser choices. You can make choices that don't necessarily feel good at the moment, but are better choices in the long term. That's a more successful strategy for living. So, I'm grateful that I got to learn so much from this man.
Q) Do you have any regrets from your time on "Turn?"
A) Are there regrets? Let me think about that. No. I have no regrets. I have no regrets with "Turn." Whenever anyone talks about regrets, if you are pleased with where your life is in the moment then you have realized everything that happened in your life before led you to this spot. So, yeah, I've made mistakes. I've done things that probably weren't wise, but they got me to the place where I am today and I'm pretty happy with where I am today.
Q) Is there a moment you would have liked to have seen for George Washington that we won't get to see portrayed?
A) Yeah. This is Spoiler Alert stuff. Yeah, sure. There was so much to be covered. The show is essentially about The Culper Spy Ring and there are so many rich wonderful characters with fantastic actors that we all needed our time to tell our stories. Overall I'm satisfied with what I got to do.
Q) Are you satisfied with where we leave General George Washington on "Turn?"
A) Yes. I am deeply satisfied. The whole experience was like going out with my wife for a night on the town. We went to a bar and had a drink. Then, we went to a restaurant and had a full meal. We even had dessert. And then we went to see a really cool show. It was just a full positive experience of life that I am deeply satisfied.