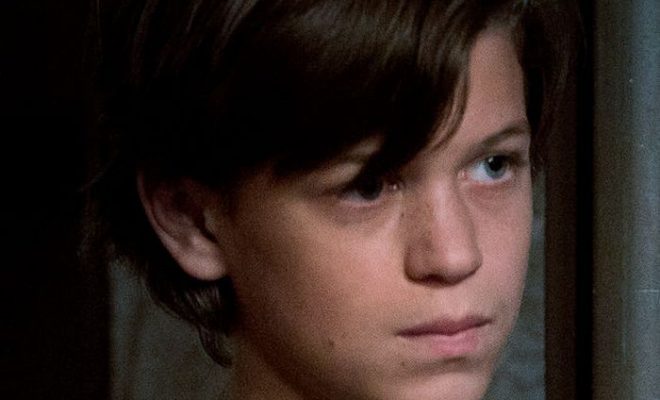 Interviews
Jacob Buster – Colony
By
|
By: Kelly Kearney
Q) You play Charlie Sullivan in the USA drama "Colony." Tell the fans a little about the show and how your character fits in.
Jacob: Well, "Colony" is about a nation divided and just like the nation, my family is also divided. We see Charlie, in the second season, after being gone for a year and not seeing his family and all he's gone through. Can he come back and be a normal kid again? So, that's kind of Charlie's journey.
Q) What was the audition process like for "Colony?"
Jacob: Most of the times, I usually audition at home and then fly in and audition again. Luckily, I got this one on the first audition I did.
Q) What's something that drew you to this character? Are there any similarities between Jacob and Charlie?
 Jacob: Well, just like Charlie, I also love my family and love sports. I basically can't relate to a lot of things with Charlie, thankfully, because I'm not in the middle of an invasion or separated from my family.
Q) Your parents on "Colony" are veteran actors Josh Holloway and Sarah Wayne Callies. Have you learned anything about your craft from working alongside of them?
Jacob: Yes, they did. Whenever they have a scene, I like to go watch them because they are amazing actors and I have learned so much from just watching them and their acting process. I've learned a lot like with Josh. He's very funny and so I've learned some jokes and timing and with Sarah. She's just such a really great actress. I just learn a lot from watching them about acting.
Q) In the beginning of Season Two we got to see a little bit about Charlie before the invasion. What challenges will Charlie face for the reminder of the Season Two?
Jacob: So, Charlie, just like the rest of the Sullivan family, has to learn how to trust. Just like his Mom and Dad have to learn to trust each other and work together, Charlie has to learn to trust everyone again after being tortured and kept from his family for over a year. So, his path is sort of, can he learn to trust everyone after all of that?
Q) Charlie has been separated from his family, does he want to be reunited or is it more complicated than that?
Jacob: Charlie wants to be reunited with his family, but it's more complicated than that with everything that's happened there. He's just been hurt so much and he wants to go back home, to his life and family, but at the same time he doesn't know how. He knows more than his parents thought he did and you can't go back to the way things were before the invasion.
Q) It seems like dystopian style sci-fi dramas are very popular right now. What is it about "Colony" that sets it apart from the rest?
Jacob: The thing that sets it apart from others is the fact that my mom, [Sarah Wayne Callies], is in the resistance. The question becomes at what point, while fighting for a cause, do you become the people you are fighting against?
Q) You recently starred in a holiday film called The Christmas Project, tell the fans what that's about and where they can find it.
Jacob: The film is on Netflix and DVD and it's about a family that does this thing every year called elving, which is basically secret Santa. So, they have to Secret Santa these bullies who have been bullying them their entire life. They basically have to learn to love their enemies. It was a fun movie with a great holiday message.
Q) You've acted in all kinds of film and television genres, from family films to the show "Suits." What's something you haven't done, but would love to do in the future?
Jacob: Recently I've been really wanting to do voiceover work and see how much fun that is. I also want to maybe do a superhero movie. I think it would be a lot of fun to fly.
Q) Do you have any advice for young actors looking to get into the business?
Jacob: Do great work wherever you are. Even if it's a school play and you think it's no big deal, still do your best because you can still get noticed. There are no small parts, so always do your best.
Q) Besides your busy acting schedule, what do you like to do in your free time?
Jacob: I play competitive soccer, middle and right wing, and have since I was seven years old. Music is one of my favorite ways to pass the time. I don't really know how to play the piano, but I have learned a few songs just by ear. About two years ago I took piano lessons and I'm thinking about staring back up again.
Q) Besides "Colony," are there any other projects you are working on that the fans can look out for?
Jacob: Just "Colony" for right now, but I am going out to California soon to film for pilot season.
Watch Colony on USA Network every Thursday at 10pm ET/PT