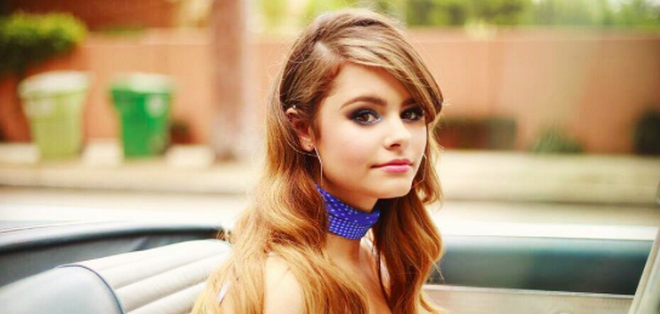 Interviews
Jacquie Lee – California Dreaming
By
|
By: Jamie Steinberg
Q) How would you describe your sound?
A) My sound is influenced by the music I listen to. I LOVE old soul music. I also love hip hop, pop and jazz. I feel like my sound is a fusion of all those sounds. "California Dreaming" is soulful when it hits the hook and the next single (you will hear soon) is more hip-hop. Ultimately my voice, writing style and the sounds I like tie everything together and give it a cohesive vibe.
Q) Who are some of your musical influences?
A) I love Amy Winehouse. She has influenced me as a writer and vocalist big time. Chance the rapper is another big influence of mine, especially being an independent artist.
Q) Talk about the story behind your new song "California Dreaming."
A) Prior to moving to California and leaving everything that was comfortable, I had never really had time to be alone and focus on myself, being signed to a label at sixteen years old and not having people around who believed in me as a writer and creator.  In most peoples' eyes I was just a singer.  I felt like I had no control over my music or the direction of my career.  I knew I needed a change so I dropped everything and moved to California.  I had built up an idea of what I thought it would be like before I had even gotten on the plane.  After being here for just a few weeks I started writing this song when I realized how many things I had envisioned about life in CA were all just smoke and mirrors.  I was also anxious, lost and felt very isolated. That's when I wrote the most, including "California Dreaming."  One thing I took away from writing the song was the importance of remembering that everyone has their own form of struggle and pain on their personal journeys. WE ALL should believe in ourselves enough to chase whatever or whoever WE are passionate about and don't let the darker side of things make you give up.
Q) What do you think it is about the song that fans connect to?
A) I think that everyone deals with an "expectation meets reality" moment at one point in life where they were either let down or something wasn't all it was built up to be. We're all human, we all feel sad or anxious or lost sometimes and that's ok.
Q) What is your song writing process? Do you need music before you can create lyrics?
A) I write a lot in journals. It helps me stay sane to just get it all out in writing. I wouldn't say I need music to create lyrics. I usually know what I want to write about. In the end it all depends on how I'm feeling once I hit the studio and what I'm inspired to share at that moment.
Q) How much of hand do you have in the production of your music?
A) I'm always looking for different sounds to sample and record on my iPhone, from rain hitting an uber to echoey drunken conversations of girls at clubs bitchin' about dudes. I work closely with all of the producers involved in my project to make sure the sound and direction end up matching the vision I have. For this project, I worked a lot with a really talented producer who goes by the name of Sint. It was a pleasure working alongside of him because he kills at creating soul/R&B music but takes a creative approach every time. The process with him has been great. He gives me space to write about what I want to write about and he always gives his honest input after.
Q) What can fans expect from a live Jacquie Lee performance?
A) An experience. Live performing is where I can connect the most with people. I can take them on the journey with me through my music and just have a good time and bring them all together.
Q) We saw you on Season 5 of "The Voice" on Team Christina. Have you kept in touch with your former mentor?
A) Yes…she's got mah back. We've had some laughs together.
Q) What piece of advice did she give you during the show that you have taken with you during your music career?
A) To write everything down. She gave me my first journal in her trailer during the season finale of the show and every lyrics from all of my songs on this project stemmed from my journals.
Q) Where are some of your favorite places to perform and what makes those locations so significant to you?
A) Count Basie theater in red bank NJ. I grew up performing there. It will always have a special place in my heart. Also, Marymoor Park in Washington because it was the last time all of us on "The Voice" Tour could be together on stage. We became a family that summer. The last show and saying goodbye was hard.
Q) Will there be an EP or full album coming in the near future?
A) Keep an eye out for an EP! [wink]
Q) Who would you most like to collaborate with on a song in the future?
A collaboration with A$AP Rocky would be dope.
Q) What album/band are you currently listening to and why do you dig them? 
A) I've been listening to a lot of SZA's album cntrl lately. I love the sound and tone of her voice & I can relate to a lot of her lyrics. Unique production with r&b vocals. It's got a vibe.
Q) You are a part of social media. Why is that such an important way for you to connect with your fans?
A) I want to be real throughout the process of creating and in turn put content out that lets people in to a more personal side of my life. It also allows me to connect to people all over the world. Hopefully talking about my personal insecurities/difficulties I've faced throughout my journey so far can help someone else in some way or let them know that they aren't alone in it.
Q) What would you like to say to everyone who is a fan and supporter of you and your work?
A) Thank you for the love. It's mutual. Also, no matter how many times life kicks you in the ass (and all the highs and lows I'm sure you will experience) you are not the only one. Focus on things you love. Hopefully my music can be that for you. <3