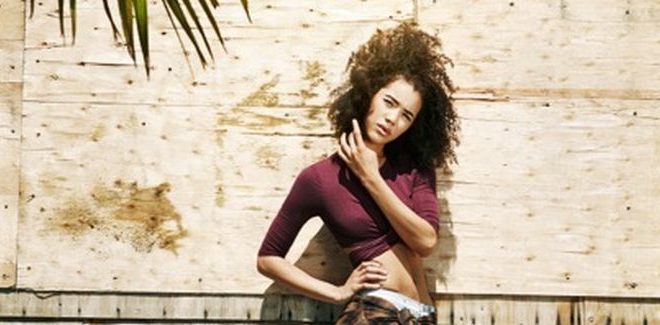 Interviews
Jasmin Savoy Brown – The Leftovers
By
|
By: Paige Zinaman
Q) What are some of the recent projects you are working on?
Jasmin: Right now,"The Leftovers" is airing on HBO and coming out this Summer on July 10th is a TNT Drama "Will." I'm also shooting "Love" the Netflix and Judd Apatow series.
Q) What can you tell us about this season of "The Leftovers" and what are some challenges your character, Evie will face?
Jasmin: Oh I can't tell you much. [laughs] This season is very emotional and healing I'd say. It's just like the other seasons in that you don't know what's going to happen. But I can promise that people will be satisfied even if they are unsatisfied with the way "The Leftovers" leaves people. They will be satisfied on a deeper level.
Q) What are some of the best moments while working on "The Leftovers"?
Jasmin: Oh man. Meeting Regina King was incredible because as a kid I very much looked up to her and found her to be inspiring as a role model. Working with her in Season Two Episode 10 during the bridge scene was incredible and just to share time with her and work with her is amazing. Just seeing everyone work all these people are phenomenal actors and people and to get to be around them all the time I learned so much about being an actor and being a better person.
Q) With such a large cast is there someone you haven't worked with on the cast that you'd most like to have shared a scene with and why?
Jasmin: Oh yeah, Ann Dowd because I think she's a powerhouse and such a phenomenal actor and an incredible person. She was part of the reason I wanted to be on the show in the first place was watching her scenes with Amy Brenneman. So, if I ever have the chance to work with Ann Dowd I will have to make it happen.
Q) What are some of the things you've learned from working with your costars Justin Theroux and Regina King?
Jasmin: Well, for one they've taught me to just have fun, to keep it light. Both of them more so Justin, but between takes even if they are super serious or heavy they are having a good time they don't carry that with them and I think it's important. But, of course, it depends on the day and the scenes. I know on some days when Justin has a ton of emotional stuff he would be totally be fine and between takes he would be joking around and having a good time. I think that's really interesting and a good reminder to have fun while working.
Q) What do you think it is about the series that continues to make it such a fan favorite?
Jasmin: I think it…There's so many reasons, but I think it's just so truthful. Like obviously these things haven't happened and hopefully never will, but the way they have written that people deal with it is just it's so true. Humans are so juxtaposed and who we are. One minute we are crying and screaming then the next minute we are laughing so hard and to depict that, honestly, I think is what people like. They see a reflection of themselves and it's comforting and scary at the same time.
Q) You will be in the new TNT Drama "Will," what can you tell us about the series?
Jasmin: It's based on the earlier life of William Shakespeare after he's arrived in London. I play Emilia Bassano who was believed to be the "Dark Lady" of William Shakespeare's sonnets.
Q) What can you tease about your character Emilia and how she ties into the series?
Jasmin: I don't know how much I can say, Emilia, who was a real person. She and Will become very good friends. She inspires a lot of his work and it's very beautiful to see their friendship unfold and see these two people who share a love for art and writing and how they become partners in crime.
Q) You're currently studying acting and voice, how do you juggle that along with working on the different shows you're doing?
Jasmin: It's not hard for me I think because I've always been doing it even as a kid. I was taking acting and voice lessons and I doubled it with school. It's such a part of who I am that I'm not happy or thriving if I'm not in study. So, I really make a priority of it to make sure my personal life revolves around work and study. And I enjoy it so I think that's why I do it is because I love it.
Q) You're very passionate about Peace Over Violence what can you tell us about this charity and how you were drawn to it?
Jasmin: What I love about Peace Over Violence is that they base all their services from a place of love, support and giving back to the community and giving back to people who have had things taken from them. And it could be as simple as listening to a very difficult conversation or making someone laugh. Of course, everything that they deal with survivors of trauma, battered women and survivors of abuse even dealing with heavy things the way they go about it is from a place of love and community and bringing joy back I think that's really beautiful and important.
Q) You're a student of ASL, what caused you to study ASL?
Jasmin: I had to do ASL in Season Two of "The Leftovers" I really haven't been studying in quite a while, but it was really fun and a beautiful language to learn and a beautiful community of people.
Q) What is something you'd like to tell your supporters and fans?
Jasmin: Thank you! Thank you for supporting me and watching as my career blossoms. I hope that you can do things you love and just be yourself and have a good time and love everyone.