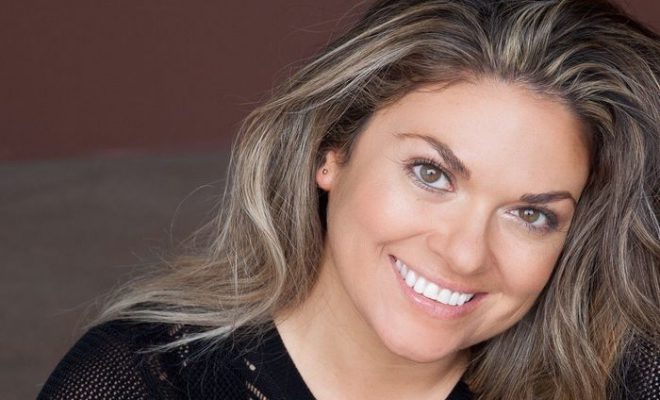 Interviews
Jennifer Cetrone – RILEY
By
|
By: Jamie Steinberg
Q) What are the recent projects that you have been working on?
A) In the recent past and the current moment, I'm really focused on doing anything I can to promote "RILEY" and grow the audience. I think the character of Riley and the series are super relevant right now and I can't wait for the show to premiere. Hopefully, it will promote conversations and laughter while reminding our audience that everyone experiences failure in this life, but it is how you get back up that counts.
Q) How was the series originally described to you?
A) "RILEY" was actually co-created by our fantastic writer Tracey Maye and myself and it is based on a tremendous short film script that Tracey had pitched to me, which was the foundation of the series. What I really saw when I saw her film script was the potential for a hilarious TV show. So, together she and I spent the summer of 2015 (when she initially pitched the short to me) to further develop the story and the series. Now, a full season of thirteen episodes is currently written. Tracey and I are working on some rewrites for episodes that haven't been shot to perfect them and ensure we are telling the most compelling, grounded and funny story possible.
Q) Tracey and you formulated this series. Was there something then that you added to the character Riley that wasn't originally there in the writing?
A) I just want to clarify; Tracey gets all the credit for writing it. I just had a hand in creating it. She is the writer. Since I did co-create it with her, the character of Riley originally in its first short film iteration was not a former teen pop star. I can't remember what she was, but she wasn't a former teen pop star. Since I started acting professionally at the age of thirteen and also performed professionally as a singer when I was younger, there is great synergy between me personally and Riley. So, Tracey and I were excited to incorporate my singing into later episodes, which should be a lot of fun. I'm really looking forward to that.
Q) You have great comedic timing. Is it something that has come naturally to you or is it something you have had to work at?
A) Thank you so much for saying that! It means a lot to me. I'd have to say that I believe great comedic timing is partially inherent. There is a component to comedic timing where it is something you either have or don't have, but in the same breath I still think studying is critical. Studying with great teachers is so important and also getting to play off other great talent as I did with our tremendously funny ensemble cast of "Riley." It only ups the ante and makes you better. I love to laugh and to make others laugh.
Q) What have you noticed the difference is between filming a web series as opposed to working in TV or film?
A) I would say that one of the most challenging component of this project was shooting something that aimed to have great production quality, but we were on such a shoestring budget. So, we were all working (cast and crew) with a very indie spirit and all hands were on deck to create the best content possible. It was definitely a challenge that seemed to bring a new set of hiccups nearly every day it seemed – some in pre and post production as well.
Q) What have been some of your most memorable moments from filming "RILEY?"
A) Honestly, some of my fondest memories are with my associate producer on the series. Her name is Kara Michelotti. She has continued to work so tirelessly and has been such an integral component to the series' success and experience – albeit behind the scenes. She and I have had so many challenging moments on this journey both on set and off. To look back on all the obstacles, we have been able to overcome to where we are at this moment is so truly rewarding and brings a smile to my face for the gratitude I have for her.
Q) What do you think it is about "RILEY" that will make it a fast fan favorite?
A) The series opens and we meet Riley who has endured a publically humiliating downfall and subsequent nervous breakdown. So, we meet her after that has happened and she is now working for an online telephone psychic hotline, which is certainly not her dream or where she thought she would be in her life. Then, there are some potential love interests and plenty of quirky characters in her post famous life. With the support of a tremendously funny ensemble cast, I think the audience will begin to question if her flatlined career can be resurrected. Riley is quite jaded when we meet her so perhaps she can begin to open her heart to the possibility of love again. Then, basically I think Riley's journey is as unpredictably uplifting as it is funny. The audience goes on this journey with this universal theme of failure, comebacks and redemption. I think that will really speak to our audience. We get to laugh through this, but we also get to really open up the conversation about how everyone experiences failure. Even though this is set with a former teen popstar, it is applicable to everyone's life. Maybe life in a certain moment isn't living up to the picture in our head.
Q) You are a part of social media. Are you looking forward to the instant fan feedback you are going to be receiving to the series?
A) Absolutely! I'm so excited! Our official trailer has dropped and the pilot will premiere on January 19th. I'm proud of the marketing we've already done. We have developed quite a following on Twitter, but we still have a long way to go. We're on Instagram, Facebook, Twitter and YouTube and we have done some behind the scenes interviews and things before we even started shooting that have performed well. Our fans are so excited and so hyped for it to launch. The feedback is going to be instantaneous and I hope it lives up to their expectations, which I think it will. I just can't wait to hear the feedback!
Q) You have your own production company From The Ground Up. How do you decide on the projects that you'll take on?
A) It was founded in 2007 and our mission statement was at its inception just as important to me as it is today. That is that From The Ground Up is devoted to producing purposeful and visionary collaborative works and we are committed to projects that foster growth, improve communication and understanding. We strive to thoughtfully inspire and support global conversations and positive development. So, I really feel like "RILEY" is the perfect fit into that portfolio. It runs the gambit – it can be a dark comedy series like "RILEY" or dramatic works. Whatever we focus on producing, we work hard to ensure it falls in line with that statement.
Q) Where will people be able to watch "RILEY?"
A) They will be able to view it on our YouTube channel youtube.com/rileytheseries and then they can also continue to stay tuned for all the latest developments with the series on our social media accounts – rileytheseries across all platforms.
Q) Is there anything else you want to be sure fans know about the series or your character?
A) Everyone falls down, but the win is how we pick ourselves back up. I'm really hopeful that fans will invest in this journey of Riley because she needs to realize that life is a marathon and not a sprint. She is learning that as she goes on and to keep fighting the good fight and never give up. There is plenty of success to go around and adversity will make us stronger. That is rally the message that lies within Riley and her character, although she doesn't always handle it with grace and that's when a lot of the funny moments. But she is trying to find her way just like we all are.
Q) What would you like to say to everyone who is a fan and supporter of you and your work?
A) Thank you a million times over! My ultimate goal as an actress and producer is to create good work that I'm proud of and, hopefully, plays a small part in helping people develop a deeper experience of each other and our own humanity. It sounds a little cheesy, but it's all true. I'm so glad if I've touched my fans' lives in some small way.