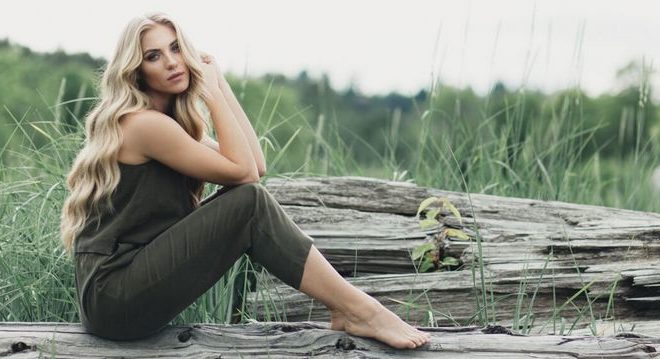 Interviews
Jessica Sipos – Chesapeake Shores
By
|
By: Lisa Steinberg
Q) We have gotten to see you in so many SyFy shows recently, what is it about these shows and the genre that have this instantly immersive feeling for the viewer when you watch them?
A) The sci-fi genre gives everything viewers are looking for in a show. Excitement, intrigue, heroes and villains, an escape into new worlds. The industry as a whole has progressed so much in the last decade and sci-fi has been the genre to most benefit from it. New technology, bigger budgets, talented artists on all fronts all contribute to creating these amazing worlds that we could never have imaged seeing on television a decade ago. Being able to step into those worlds and be a part of it is a dream come true.
Q) We recently got to see you in "Wynonna Earp," what was the most challenging aspect of filming your guest starring role?
A) The most challenging aspect was definitely the weather. It was -28 when we shot outside and neither Michael [Eklund] or I could feel our faces or move our mouths very well. Nothing makes snappy dialog drag quite like frostbite! Huge shout-out to the crew who had to tough out the conditions much longer than those of us who could retreat back to the warm-up tent.
Q) We loved seeing you teamed up with Michael Eklund, pre Bobo, what was your favorite moment from working with him?
A) Michael is a dear friend of mine and an incredibly talented actor so the entire process was wonderful. My favorite moments were really just getting to see his process on set and learning from him. It was also fun getting to work together in a bit of a period piece with old fashioned attire. The novelty of being in a western with him almost made up for the time spent lacing up my corset.
Q) What did you know about the character and of Constance Clootie and her breakdown before taking on the role?
A) The audition was actually sent to me under an alias name so I didn't know she was the young Constance until later on. What I did know was she was manipulative, sadistic and a powerful witch, which are all very fun traits to play. I have a lot of respect for Rayisa Kondracki and the character she created in the previous season. So, it was amazing to get the opportunity to have my own take on what a younger Constance might have been like.
Q) We are also getting to see you in this season of "Chesapeake Shores," what kind of drama and fun can you tease?
A) Yes, season two of "Chesapeake Shores!" Well, my character Sarah is a firefighter, a hang-with-the-guys kind of girl and she finds herself getting in a little bit over her head with one of the O'Briens…You'll have to keep watching to find out who. [wink]
Q) What makes the show so amazing is that the setting itself often feels like a character in itself. How does that hold true this season as well?
A) Absolutely, the location of the show really is a character in itself. The environment we get to shoot in definitely lends itself to the feel of the show and how the actors play out. It's such a beautiful setting with so many unique characteristics that it makes it easy to get lost in the world of "Chesapeake Shores."
Q) Hallmark Channel shows tend to have this great innate balance of heart and humor, how does this season of "Chesapeake Shores" hold true to that?
A) I think my character really gets a chance to explore both sides of that coin in this season. They do such a great job creating well rounded characters who can put a smile on your face with some quick wit one minute and really tug on their heart strings the next. Smiles and tears, there's definitely the potential for plenty of both this season.
Q) Is there anyone you didn't have many scenes with, or any at all, on "Chesapeake" that you wished you had gotten to work with?
A) I would've loved to have more scenes with Treat, he's such a fun guy. During my time there I really looked up to him and I really cherished the opportunity to learn from such an experienced artist. He also tells the most hilarious stories, I could listen to them for days.
Q) What have you taken and carried with you from all of these diverse and dynamic strong characters that you have played?
A) Owning your power and going after what you want. I've definitely carried that with me from every strong and empowered female I've played. None of them have been afraid to go after what they want. It's a pretty special quality that has been a common thread in all the characters I've played.
Q) Is there anything that you would like to say to fans for their support?
A) Of course, my gratitude is forever with the fans. Your support is so encouraging and such a blessing. A very special part of what we get to do is connect with all of you through our work. So, thank you!