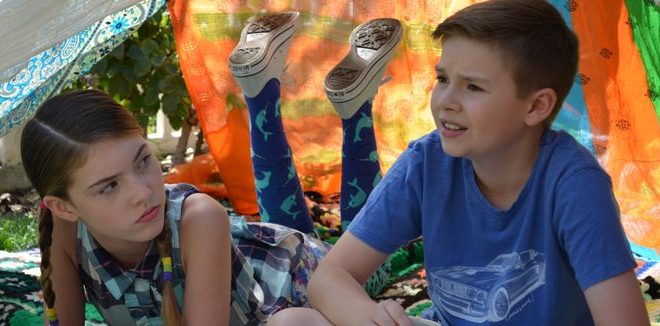 Interviews
Jet Jurgensmeyer – Cupid's Proxy
By
|
By: Robert Warren
Q) You've done a lot of work for someone so young like "CSI: Crime Scene Investigation," "Hot in Cleveland," "Grey's Anatomy" and an actor in several movies such as Redemption Road, The Little Rascals Save the Day and American Sniper. Do you have a favorite project you've worked on? 
A) I really have a lot of fun on all of the projects I work on. I would have to say that when I get to work with other kids, it's a lot of fun like in Little Rascals, Adventures in Babysitting, Legends of the Hidden Temple and Cupid's Proxy. I have been really lucky to make good friends and everyone makes sure all of us kids have fun while we are working.
Q) Can you tell us about your experience acting for television and your experience acting for for film? Are there any differences that you noticed? 
A) Usually, when you are doing a guest role on a TV series you are there about a week. When you are working on a movie you can be there from eight to ten weeks. You end up getting really close to the cast and crew and it can make it really hard at the end of the movie to say goodbye to everyone.
Q) Please tell us about your film Cupid's Proxy and about your character Justin.
A) Cupid's Proxy was so much fun! Justin is a kid that plays guitar (like me) and is wanting to set up his Mom with his guitar teacher. He is good friends with his next-door neighbor and ends up helping her write her advice column. He also has another neighbor who likes Justin. So, there is another little love story there as well.
Q) In the movie Cupid`s Proxy, Justin offers a lot of relationship advice, what advice would you offer to someone with a crush?
A) This is really funny coming from me, but I would say be smart about it. If the person is a friend you don't want it to end up being weird if they don't have a crush on you. You still want to be friends. It can definitely be a little weird, but the most important thing is to just be yourself!
Q) Do you see your character Justin similar to you in any of your hobbies like singing, guitar, kenpo karate and riding horses?  On the other hand, where do you consider your character different from you? 
A) Well Justin is trying to set his Mom up because he doesn't have a Dad around. I have both of my parents and they are always with me. So, I guess that is how I wouldn't be like Justin. I am similar to him because I love playing guitar. I have my guitar in my hands all of the time. It's like a video game to me. (I don't have any video games. [wink])
Q) What were some of your favorite moments from filming the movie? 
A) One of the funniest things is when we are at the dinner table and Natalie (played by Carolyn Dodd) sneaks off under the dinner table. It's so funny.
Q) Love is a big topic in Cupid`s Proxy, what are some things you love? 
A) Well, I love my family most of all. I love my horse Pac, acting, dancing, playing the guitar, singing and it's football season. So, I also love watching football.
Q) Is it hard splitting a lot of your time between Tennessee, Missouri and California? 
A) It really isn't too bad. I've always done it so I'm used to it. Sometimes when I am working on a movie and gone for eight to ten weeks I start to get home sick and miss my friends and family. I'm really lucky though that I have some family and friends that come and visit me when I am working.
Q) Do you have any favorite moments while working on Cupid`s Proxy? 
A) I had so much fun because my parents produced the project too and I got to work with them and so many of my friends. It really doesn't seem like work when you are so comfortable with the people you are working with. We all laughed every day and it was just the best time.
Q) What has your experience been like off camera with the cast? 
A) Well the cast is great. I knew Valerie Azlynn, who plays my Mom, from back when we did The Little Rascals Save The Day. I had worked with Carolyn Dodd before as well as Rex Linn. It is always great to get to work with people again. I had met Steve Byrne before and he was really nice. Jackée Harry is just the best! She and I instantly became friends and hit it off. She is so funny. We keep in touch with her and I can't wait to work with her again.
Q) What was the greatest challenge working in Cupid`s Proxy? 
A) I guess probably the hardest thing is working and going to school. You have to get your schooling in and then your work within a certain amount of hours. Sometimes it gets hard to juggle that, but we always seemed to make it work. It can get a little hectic sometimes!
Q) What do you love about your character? 
A) I like that Justin is a normal kid. He plays guitar, messes up sometimes in life (don't we all), but also tries to help other people. Overall, he is a pretty cool guy.
Q) What would you tell someone debating seeing the movie Cupid`s Proxy?
A) Cupid's Proxy is a great movie for the whole family. It is really funny. All of the characters will make you laugh. It will pull on your heart strings too at times, but it will put a smile on your face at the same time.