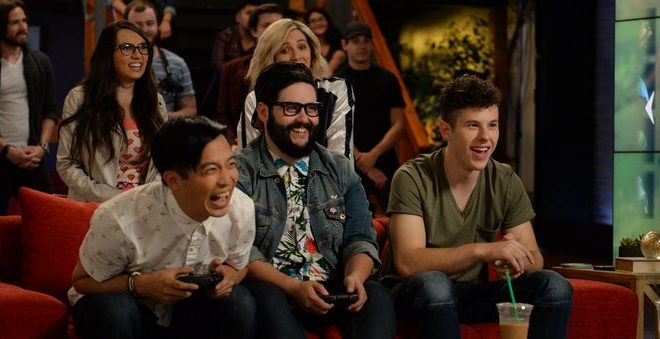 Interviews
Jimmy Wong – Polaris Primetime
By
|
By: Tara Donahue
Q) Your new project, "Polaris Primetime," sounds exciting. Can you tell us a little about it?
A) "Polaris Primetime" is a brand new show on Disney XD's new gaming block – DXP. The show is a combination of video gaming, digital shorts and crazy shenanigans with special guests every episode. I've heard people refer to it as the "SNL" of video gaming and it's actually a pretty great comparison. I host each episode alongside Strawburry17 and we bring in amazing guests each episode from the YouTube, TV and sports world. It's been a surreal experience so far and getting to see so many personalities play video games and joke around is a real treat. There's literally nothing else even close to this on television today and I feel particularly honored to be a part of such a bold new initiative from Disney – the show speaks to my core as a gamer and I think it's a perfect bridge between our worlds.
Q) Feast of Fiction is such a cool idea for a YouTube channel. I'm personally going to have to try out some of these recipes! What inspired you to create it?
A) My brother Freddie and I came up with the idea for Feast of Fiction one day over the kitchen counter when talking about what shows should exist online but don't yet. We grew up reading Redwall, Harry Potter and watching all kinds of sci-fi and fantasy movies so we were already very familiar with the kinds of recipes that the show was going to make. After some brainstorming, I very serendipitously met my future cohost, Ashley, and we were off to the races.
Q) What are some of your favorite recipes you and Ashley have made on the show?
A) Krabby Patties, Princess and the Frog Beignets, The Ultimeatum from Regular Show.
Q) You're often associated with Magic the Gathering through your podcast and other things. How did you get involved in playing?
A) I grew up in Seattle, WA where the game was born and distinctly remember seeing kids playing outside during recess in middle school. I fell in love with the art and started playing immediately. After a year or so, I stopped and only picked up the game again about three years ago when we were discussing it at the office. My good friend, and director of VGHS, Matt Arnold had just picked it up again and asked me if I wanted to play with him. I bought a few booster packs, went to my first pre-release and was hooked again.
Q) With MtG, I've read that your preference is playing in the Commander format. Can you explain what that is?
A) Commander is a multiplayer variant of Magic the Gathering that is typically played with 4-6 players. Each deck is lead by a "Commander," a Legendary Creature with powerful abilities that usually is a good sign of how the rest of the deck works. Normally, decks in Magic are sixty cards and you can have up to four copies of cards (with the exception of basic lands). In Commander, your decks are a hundred cards and it is a singleton format, which means you can only have one copy of each card. Because the games are with multiple players, politics and negotiations are a very important part of the game. Being able to navigate those waters and play well is what attracts me to the game the most.
Q) Can you tell us about your podcast, The Command Zone?
A) The Command Zone is a podcast dedicated to the Commander format. My good friend Josh Lee Kwai and I came up with the idea around the same time that we both got back into the game when we were both working at RocketJump together. The podcast strives to educate and provide the highest quality content for the format. Combined, Josh and I have over twenty years in Los Angeles working in entertainment and have used that experience to help mold and shape our podcast. We've recently branched out into a gameplay series called Game Knights, which is the culmination of three years of podcasting and learning how to deliver a fun and enthralling experience to viewers.
Q) Your character, Ted, on Video Game High School was talented at drift racing games. What kind of games do you prefer?
A) I'm actually a huge Mario Kart fanatic, where drifting is a crucial part of the game. Outside of that, you'll find me playing MOBAs, FPS and the occasional MMO.
Q) Do you prefer console or tabletop games?
A) These days I'm playing more Tabletop games consistently. I'm all about a solid console experience; however, I will dunk hours into the right game when it comes along. Something like The Last of Us or The Legend of Zelda: Breath of the Wild come to mind.
Q) What are some of your favorite games?
A) I grew up playing RPGs on the SNES so my top favorites of all time are Chrono Trigger and Super Mario RPG.
Q) Your interview with Hannah Hart about "Doctor Who's" best episode told us your favorite episode, but the important question remains: which Doctor is your favorite?
A) The first Doctor I saw on TV is still my favorite. David Tennant is an incredible actor with such versatility and range.
Q) What other projects do you have coming up?
A) Currently my production and marketing company Koko Collective is working on an 8-episode video game competition series for the DXP block. We also have some videos coming out that we shot at San Diego Comic-Con. Be on the lookout for them on the DXPOfficial YouTube Channel!
Q) What is a dream project you'd love to be part of?
A) I've always wanted to be in Star Wars in some fashion or form. Who knows if I'll ever get the opportunity!
Q) You're a gamer, chef and musician. Is there anything else you would like to try your hand at in the entertainment industry?
A) Someday I'll get into dance… but not anytime soon.
Q) What would you like to say to everyone who is a fan and supporter of you and your work?
A) Just a big thank you. There have been a lot of ups and downs and projects put on hold during my career so far. I'm not one to break promises so I very much look forward to continuing the progress I've made so far and allowing my successes to fuel further development and growth.