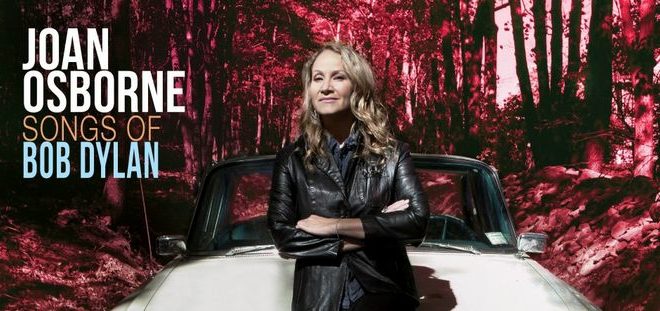 Interviews
Joan Osborne – Songs of Bob Dylan
By: Lisa Steinberg
Q) How would you describe your sound?
A) Even though I work in a lot of different musical genres, I call myself a soul singer because that's the main ingredient of what I can bring as a vocalist, whether it's my song or someone else's.
Q) Who are some of your musical influences?
A) Passionate singers like Etta James, Billie Holiday, Otis Redding, Nusrat Fateh Ali Khan and Jeff Buckley. Writers like Van Morrison, Patti Smith, Bob Dylan, Lucinda Williams and Lou Reed.
Q) What made you want to do a song covering the music of Bob Dylan?
A) For a long time I've been wanting to do something that Ella Fitzgerald did back in the 50s: she released a "songbook series" of albums, each dedicated to a particular writer of the period. I thought it would be cool to update that idea and do my own songbook series. So, when the Café Carlyle asked me to do a residency there, it seemed like the perfect time to test out the idea. We picked Bob Dylan as the first writer partly because he has an incredible number of great songs and we would never run out of possibilities. He's also one of the greatest living writers in America, of any kind. Hence the Nobel prize for literature!
Q) What do you think it is about his music that fans connect to?
A) It's the brilliance of the lyrics, it's the emotional depth of the writing and his singing. He has songs that are biting and cruel, songs that are surreal and funny, songs of outraged nobility, songs of lust, songs that are gentle and delicate and exploding with love.  I often feel like what an actor must feel when they're doing Shakespeare; the material is so rich and has so much depth that it brings out things in me as a singer I didn't know were there, and as a listener, too.
Q) Talk about the process for selecting which songs you would feature on the album.
A) First of all, I chose songs that I have a personal feeling for, either they remind me of someone I know or they put into words and melody something I've felt but didn't know how to express. Then, the other producer/players and I work through these songs to try and find a sweet spot, where the combination of the song and my singing makes things blossom. The final part is arranging and style; can we present this tune in a fresh way that lets listeners understand things about it they haven't before?
Q) Which songs of the album are you most looking forward to performing for an audience?
A) I love doing "High Water" and "Highway 61 Revisited," where the genius lyrics come in torrents – it's like galloping on horseback.  We've started to do "Masters of War" every night in the show and it's become a flashpoint. All of us are living in a very intense part of our country's history and songs that Dylan wrote 60 years ago seem like they are talking about what we're all experiencing now. I also love the tender ballads like "Buckets of Rain."
Q) How much of hand do you have in the production of your music?
A) This time I was co-producer with Jack Petruzzelli and Keith Cotton and we worked together a lot during pre-production to make sure we knew what we wanted to achieve in the studio.  During the process we each stepped up at different moments: Jack especially ran the sessions while Keith had a lot of input on the mixes and I recorded a lot of my vocals alone with assistant engineer Glenn Ianaro.  We were fortunate to have an amazing engineer, Pete Keppler, who has "big ears" and gave us great feedback about the different takes.
Q) You are also a well-known singer-songwriter. What is your song writing process? Do you need music before you can create lyrics?
A) Lately songs have been occurring to me in little chunks, which generally have some lyrics attached. I'll sing these ideas into a recorder and then go to the guitar or piano to try and build a structure around them. I'll use dummy lyrics first to help me find melodies, then work on them later to shape something that hopefully brings out an emotional response or tells a story.  Sometimes I'll get a stand-alone lyric idea and work to develop that before any music happens. I like to put lyrics and music together that don't "match," which can give me unexpectedly poetic moments for a song.
Q) Your song "One of Us" is still so relevant today. What do you think it is about the track that continues to make it such a fan favorite?
A) I think it's a song that asks people to explore their beliefs instead of telling them what to believe and in that way it's an open, inviting landscape. People want to enter.
Q) In this current political climate, what can all artists of entertainment be doing to push boundaries and share in the support of resistance?
A) Great question. Music has a lot to deliver in this moment. It can help us give voice to our passions and ideals. It can revive us when we get depleted (and this can be an exhausting time for so many of us). It can also serve as a rallying point for groups and communities or a way for disparate people to recognize their common humanity: "You may hate my politics, but we both like Gregg Allman or Metallica or Bob Dylan so let's be decent to each other."  I know I have fans from all across the political spectrum and I like that people can sit together and enjoy the music with each other instead of lobbing hateful words across cyberspace.
Q) Where are some of your favorite places to perform and what makes those locations so significant to you?
A) I've been lucky to have played every kind of hall from intimate clubs to stadiums. I always love a beautiful theater like the Beacon in New York, the Chicago Theater, The Alladin in Portland or The Fox in Atlanta. It was a thrill to play The Ryman in Nashville with the Grand Ole Opry. Outdoor festivals like Roskilde in Denmark or New Orleans Jazzfest are a blast.  I sang for the Dalai Lama at his monastery in India and with Pavarotti in a ruined palazzo in Italy. Too many favorites to list.
Q) Who would you most like to collaborate with on a song in the future?
A) I'd love to work with some of the great writer/producers who are around today from Dave Stewart to Danger Mouse or Jack White or Sia Furler.  And I've always wanted to make a big, gay, House record!
Q) What album/band are you currently listening to and why do you dig them?
A) I've been on a Lou Reed/Velvet Underground kick lately, which is inspiring me to write songs for Trigger Hippy, a side project band I'm in with Steve Gorman of The Black Crowes and others. Lou's brash, raw nerve gives me energy shows me the power of something simple and direct.
Q) What would you like to say to everyone who is a fan and supporter of you and your work?
A) I would like to tell them how much I appreciate them coming to the shows and buying the albums for all these years and making it all possible. Without them I'd be working in a bank or something. It's a great privilege to make music for a living and I don't take it for granted.
Pre-order Songs of Bob Dylan
Website:  http://www.joanosborne.com/