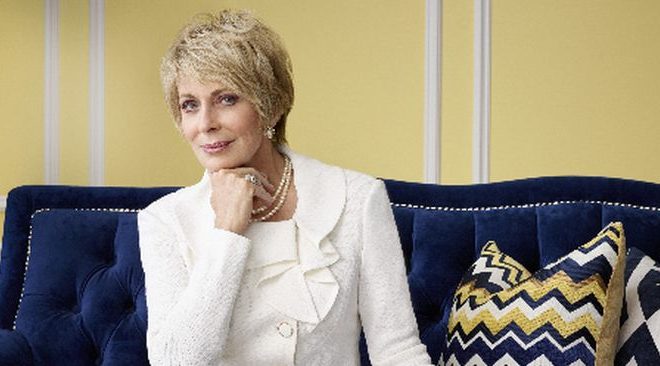 Matthias Clamer/Bravo
Interviews
Joanna Cassidy – Odd Mom Out
By
|
By: Lisa Steinberg
Q) What are the recent projects that you are working on?
A) Since "Odd Mom Out" ended in April, my house. [laughs] My life, my birthday and my friends.
Q) How was Candace Von Weber originally described to you?
A) She was described as an anorexic woman with large breasts. Basically, tits on a stick. Also, she was described as a very cold, rather cruel person. Unless you are doing a horror story, I don't feel that doing a really, really cruel person in comedy, for me, (unless you are doing like Danny Devito) is always to add a little mischievousness.
Q) What have you found challenging about this role?
A) It was challenging in the beginning because I don't really know those upper Eastside ladies. I don't live in New York so I have to understand how they operate. In the end, it doesn't matter how they operate. I'm going to bring a lot of myself to the part anyway. But I know that they are very focused.
Q) What is it like working with writer/creator/star Jill Kargman?
A) It has been a really extraordinary experience. I've never known anyone like Jill before and she is one of the smartest people that I know. Not only is she funny, but she has information just flying from every pore of her body. She is sort of the Edward Scissorhands of the writing world. I don't know anyone that can multitask the way that she does.
Q) What is it about Jill that makes Candace want to torture her?
A) Well, she has married my son and I think she is a very possessive mother-in-law. She wants the right partners for her sons and I think that she feels Jill is not the right partner because she's so different. Therefore, I love torturing her.
Q) Is comedy something that has always come naturally to you or have you had to work at it?
A) My goal originally, before I got to LA, was to really make people laugh. That's something that has been really important to me because I feel it is really important to laugh. In many cases, I have been able to do that. Comedy is much harder than drama.
Q) What have been some of your most memorable moments from filming "Odd Mom Out?"
A) Well, I love to dance and I love to do physical comedy. So, I think that's really been my favorite starting out from the baby welcome party where everyone was coming to welcome Brooke's new baby. Somehow, I just got into drinking and taking pills, just walking along the street there and nearly getting hit by a car. Ending up in the park in the homeless person's lap was just really funny for me. I like it when we get together for our family business. I like it when the whole family is together. It's usually a lot of laughs. This whole show is a send up. It's not real! [laughs] It's just having fun with the ideas of people. It's not real at all.
Q) What do you think it is about the show that has made it such a popular program?
A) Because it is scripted, it is a very smart show. I think that it is also hilarious and the way that the women act – it's kind of like how a lot of the housewives behave. In that sense, it's a real Bravo show. On top of that, it's just really funny. I think because it's so smart. It's really smart and clever.
Q) What is a role love to do that you haven't had a chance to do in your illustrious career?
A) The second Bladerunner is going to be opening in October and I love playing bigger than life characters. I really do. That's very exciting to me. And I like sci-fi. But I also like serious things as well. I would have loved to have had a role like Maggie Smith in "Downton Abbey." I'd like to be on "Game of Thrones." I'd like to work with Tom Hardy!
Q) What would you like to say to everyone who is a fan and supporter of you and your work?
A) I would say God bless you and thank you for continuing to watch me and hover around me with your energy. I hope to be entertaining and bringing new thinking to my audience. I hope I can light up their lives with either laughter or something very exciting.