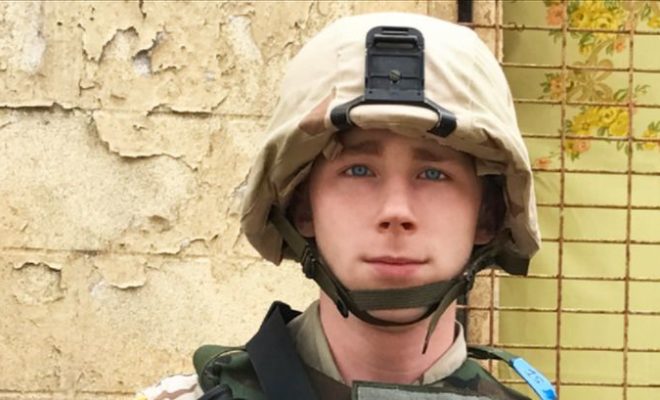 Interviews
Joey Luthman – The Long Road Home
By
|
By: Jamie Steinberg
Q) What are the recent projects that you are working on?
A) I am currently finalizing some scenes in an independent feature film that is coming out soon The Last Champion with Cole Hauser, Peter Onorati, Hallie Todd and Bridger Zadina. I play the role of Ronnie Leadman, a character who evolves in an interesting way.
Recently, I also filmed a guest star role in Netflix's new comedy "Alexa and Katie" with Tiffani Thiessen, Paris Berelc and Emery Kelley that is airing early in 2018. I also just filmed a fun guest star role with TJ Miller on TruTV's "Those Who Can't."
And right now you can see me on "The Long Road Home," which is airing currently every Tuesday at 10:00 PM on the National Geographic Channel.
Q) Please tell us about "The Long Road Home" and your role as Spc. Jonathan Riddell.
"The Long Road Home" is an eight-part mini-series based on Martha Raddatz's book of the same name about "Black Sunday," April 4th, 2004.
I play Spc. Jonathan Riddell, one of nineteen men that were ambushed in a small town in Baghdad called Sadr City.  It was meant to be a routine sewage cleaning mission and the soldiers were not prepared with ammunition and protection for a battle. Sadr City was considered the safest area of the warzone during our war with Iraq. The story follows these young men fighting to survive while the rescuers work their way into the town, through barricades and heavy combative artillery to find them.
They had just arrived in Iraq and even the radios were not set up yet. So, it was not easy to find the ambushed platoon. My character, Riddell, is the youngest one who had not seen combat yet and struggles with the harsh realities and hardships of war and loss that he is suddenly faced with.
Q) What made you want to be a part of the series?
A) I have never been a part of a project that involved the military or portraying heroes and specific true events like this before. My dad and grandpa both served in the Navy before and during the Vietnam War and had shared some of their experiences with me. So, when this project was discussed, I really wanted to be a part of it in some way. And I was also excited to work with the amazing cast that had already joined the project.
When I received the audition and read the amazing script, I knew this would be a very special television series and if they brought me on it would be a great privilege And to have National Geographic and 21st Century Fox spearheading the show meant that it would definitely be a high quality, outstanding production.
Q) What did you find challenging about your role?
A) I found a lot of the role requirements challenging since I've never fired an M16 assault rifle, let alone ANY gun in my life. And I have never been this close to war (acting or not) before. I relate a lot to my character though. We both come from smaller town backgrounds and both of us had never been into battle. These similarities helped me to really be "in the moment" throughout the filming.
Even though it was not actual combat, the special effects and stunt drivers were very realistic with the enactments and often I felt as though I was in an actual life-or-death situation. I was, of course, not in any real danger like the actual soldiers that I truly respect and admire for their courage. It was a tremendous learning experience on many levels. Even the boot camp (which was not nearly as intense as actual military are required to have), the weighted life-vests, training for maneuvers and handling of equipment were quite educational and informative about the actual combat situations that the military must endure.
Q) How familiar were you with this historic event before starting to film?
A) I was only six years old in 2004 and so I knew, not surprisingly, very little about this event before the audition, let alone filming.
When I was on set, after first arriving in Fort Hood, Texas, I read Matthew Fisk's book Black Knights, Dark Days as well as Martha Raddatz's book. His book gave me even more insight into exactly what these nineteen men went through while they awaited their rescues.
It became clear that one of the main reasons for making this project was to inform the public of this turning point in the war and to tell the stories of these soldiers, many who gave their lives that day who people might not know of otherwise.
Q) What was it like for you being the youngest cast member in the series?
A) Since I was used to being one of the youngest, from shows like "Weeds" and many others, I didn't really feel younger most of the time. Everyone was very friendly and it was never an issue unless they went out to an establishment that would card me and, of course, I would have to leave. We all bonded as a great big band of brothers, where age didn't matter. That is,until they wanted to go out to a 21-and-over place. [laughs]
Since I have been working professionally from a very young age, (age five I think) I usually know what is expected professionally and we all have a great time, and stay on schedule and focused.
Q) What were some of your most memorable moments from filming "The Long Road Home?"
A) Given that it was filmed during the "hot" summer time in Texas, it rained almost every night. And not just a little rain, it POURED. This is quite different than Los Angeles, where I live now, and where there is often a drought and not enough rain. About halfway into filming, there was a really bad storm the night before shooting. It created tons of mud all around the set. We had to walk on wooden crates to keep from slipping or stepping a foot deep into brown water! It was definitely different and exciting amongst everything else.
Of course, some of the explosions and special effects were also memorable. It shook you to your core and often felt like an actual bomb had gone off right next to you. Never a dull moment!
Q) What did you take away from working with such well-known actors Kate Bosworth, Noel Fisher and Jason Ritter?
A) It was great to meet them and I was impressed with their focus and very professional attitudes. I really enjoyed working with them and I remain friends with them all, as we stay in touch on social media. They are all incredibly talented actors and actresses and it was great watching and working with them.
But what struck me the most about them was their amiable personalities. They were all extremely nice and friendly. There was never a feeling of one actor being better than another. We treated each other like friends and equals. They even took the time to compliment others for the quality of their work in many difficult and challenging scenes. I was very honored to receive a few compliments and it was encouraging since they have such extensive experience.
Q) You are a part of social media. Do you enjoy the instant fan feedback you receive to your projects?
A) Absolutely! It's amazing how fast people can connect with each other on social media and seeing all the reactions from "The Long Road Home" just moments after it airs is so cool to me. I receive responses from soldiers currently in the Middle East and from some spouses of soldiers who were killed in the 2004 ambush. They are all so positive and appreciative that we are portraying the situation in a realistic way, as they know it to be. I have been really relieved to receive so many thankful and encouraging comments on Twitter and Instagram especially.
I hope more people will continue to reach out. My Twitter handle is @joeyluthman and I am verified with the blue checkmark. On Instagram and on Facebook I am @joeyluthman, verified also.
It really is good to hear from friends and fans and I try to respond as much as I can. I really appreciate the support.
Q) What made you want to be an actor?
A) Initially, my family, especially my three brothers and three sisters. They all did community theater together, in Ohio, years before moving to Los Angeles. Watching them on stage inspired me to perform as well. I was only five years old when I first acted on stage in a professional production and from that moment on I knew this was something I really loved to do.
My older brother Jonathan kind of started it for me. He was nine years old and cast in a very professional production of The Music Man as Winthrop (a role that Ron Howard played when he was little). I was three years old I think and I used to go with my mom to watch all the rehearsals and she tells me I was mesmerized and watched everything intently. I remember really being excited to watch. I would go home and recite all the lines with Jonathan and I even knew Harold Hill's speeches, which I still remember even today. [laughs] Later when I was eight and nine years old, I was cast as Winthrop in several productions of The Music Man. I really liked doing theater and even was Chip in several productions of Beauty and the Beast later.
Later when we moved to LA and I started doing more commercials, film and television, I really found that I was in my element and liked it even more than theater.
Q) What advice would you give someone looking to get started as an actor?
A) You have to love what you do. That goes for anything, whether that's being an actor, musician, writer, etc. You have to love what you do. If you have a passion for acting and YOU truly love it and then absolutely shoot for the stars and go for it!
And try not to get discouraged. I think I did over twenty auditions before I booked something that helped me to get my SAG card and really launched my career. It was "October Road" and I met some of the best young actors, who I still admire and are my friends. Bella Thorne, Remy Thorne, Zach Mills, Alex Biats, Matthew Josten and I were all young ten and eleven year old friends in a wonderful episode called "Stand Alone By Me" where we each played the younger versions of the main cast.  I was "Young Physical Phil." [laughs]. It was a great experience.
I try to think of each audition as "my job." I do my best and I move on. And I don't sit by the phone waiting. Every day I try to keep doing new things and creating my own opportunities, with online vines, videos, web series, writing new films and even cosplay. "Never give up!"
Q) What would you like to say to everyone who is a fan and supporter of you and your work?
A) I have to give a huge thank you to all my fans and supporters. They are my audience that I perform for and the reason I do this and they are such amazing people!
Thank you, all of you for your continued support of my work!  It really makes me feel so good when I hear positive feedback from friends and fans. I really try to be the best and I do believe there are no small parts. I want to be the best at every role, even if it is a small one.  So the feedback really helps! Thank you, thank you!