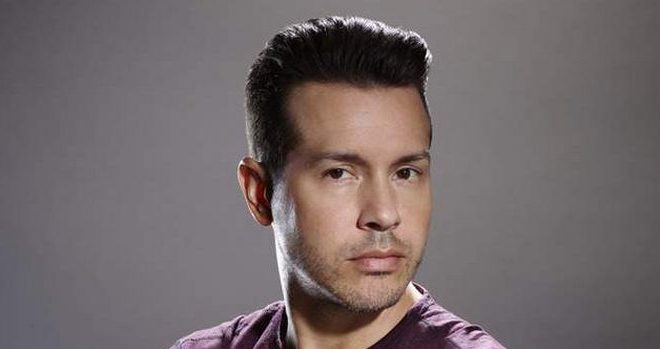 Interviews
Jon Seda – Chicago P.D.
By
|
By: Jamie Steinberg
Q) What are the recent projects that you are working on?
A) One Chicago has been pretty busy for me for the past six years since Antonio started on "Chicago Fire." So, it's pretty much been the thing I've been focused on the most. We get a small hiatus and this past hiatus I helped a friend with a film called Canal Street. I have my own film script that I wrote a while back and am now trying to get off the ground. So, the ultimate goal would be get the budget done, get the right cast and maybe shoot that over the next hiatus.
Q) Have you always wanted to take a more active role in film or is this something that happened to come your way?
A) It's an homage to my former boxing trainer Dominick Bufano. Since it's a boxing themed movie, boxing was a big part of my life. It's what I originally wanted to do. It's something I just wanted to find a way to do in remembrance of Dominic. I was so inspired by the Rocky movies I watched growing up. So, I wanted to do something along those lines that wouldn't be compared to Rocky. So, I made it an homage to my former trainer that is loosely inspired by my true experiences with him.
Q) Would you like to try your hand at anything else in the entertainment industry?
A) I would love to direct this film with the right team. I think it's something I feel passionate to do. Theatre is something that I've funnily talked about with my daughter because she is involved in it and loves musical theater. She actually just booked the lead in The Nutcracker here at the Chopin Theatre. So, she is doing rehearsals and stuff. Theatre is something that I never really dove into because it is a lot of work. From friends of mine who have done work and done plays, you really have to be committed. It's not like TV where if you mess up and flub a line and do it better or redo it. Theatre is right there. It's no stopping and you have to go no matter what happens. I have a lot of respect for it so because of that I never dove in. But I think now in my career, I was just talking about it the other day. I was like, "You know what, I think it's time to start looking at theatre and see what is out there." It's something I might be able to do during hiatus too.
Q) How was your character Antonio Dawson on "Chicago P.D." originally described to you?
A) There was never really a description. When they first offered me the role, Dick Wolf said he was the brother to Gabriela Dawson (Monica Raymond) and he is a detective. So, I think it was pretty much left open for me to bring to it whatever I was going to bring to Antonio. Of course, now, how they write him in the scripts…That's pretty much it – he's the brother of Gabby and he's a detective.
Q) You share a great bond with Monica Raymund who plays your sister. Did you spend much time together initially to develop that bond?
A) We didn't really have time to rehearse and get to know each other. She's just such a pro and such a great person that she makes it so easy for me to walk on set and see her and work with her. She's just so good and she's a joy to work with.
Q) The show has some amazing crossover events. Is there someone you haven't gotten to work with yet on a "One Chicago" that you would like a scene with in the future?
A) After this I'm going over to the "Chicago Fire" set today to work with them. So, I'm doing both. [laughs] It is so great to not only be able to work with one cast of one show, but have the opportunity to work with so many different incredibly talented actors on all the shows. I haven't done a "Chicago Med" yet. I just think the whole cast is incredible and I watch the show. They just make the whole thing look so easy. I finally had a scene with Colin Donnell where he was crossing over on "Chicago Fire." I had a scene with him and it was so cool. He made it look so easy. But you've got Oliver Platt and S. Epatha Merkerson. Epatha and I go way back to Dick Wolf's first crossover when I was on "Homicide" and she was on "Law & Order." I love working with all of them. I take whatever they give me. I have a lot of respected for Epatha and Oliver. So, getting to work with them a little more would be cool too, but I enjoy working with everyone.
Q) This season Antonio is paired with Burgess. Talk about Dawson and Burgess finally becoming partners after all this time.
A) I think it's really cool! Marina [Squercitai] is so good. She brings so much to Burgess! She has an incredible quality of mixing toughness while still being so caring, loyal and sweet. Burgess is probably more up the alley kind of like Antonio. She wants to get the job done and she wants to get it done right. I think that's something that Antonio really respects in her. I think that started back…I think it was the first season where Burgess went undercover as a prostitute I think with Stella Maeve's character – Nadia. The two of them went undercover and what she did in that episode was really incredible. I remember it was absolutely freezing out and she was in this little dress – barely anything on – and she did such an incredible job. I think Antonio at that point – that's when we had our first fist bump and I think from that point Antonio had a new found respect for her. So, I think seeing us work together now is a joy. It's kind of like (dare I say) Batman and Batgirl.
Q) What have been some of your favorite behind the scenes moments from filming this season?
A) There are so many and these guys are all clowns! [laughs] You don't see it a lot on the show, but we laugh so much and make each other laugh so much. These guys – I remember last year where they did a video. Patty [Flueger] and Jesse [Sofer] are always doing stunts and Patty wore a cup and was like, "Go ahead and kick me. I probably won't feel it." He kicked him and oh, he felt it! They recorded it and that video is so funny! There was a time when Jason and I were joking around. We were supposed to open up the door and find the suspect behind there. Jason [Beghe] and I were just hugging each other and then they opened the door and we acted shocked. [laughs] It's just a lot of fun. There is always something going on!
Q) There is a new showrunner Rick Eid and you added Eriq La Salle. How is this season different from the past ones you've been a part of?
A) This season feels really new because of the changes. And not just the changes on the show, but changes in real life across the country and especially here in Chicago. With the perspective on policing and the community interactions and what has been hitting the news a lot. But I think there are a lot of emotions running high on both ends so it is a tough time to be a police officer in the country, let alone Chicago. I think that's something we're really focusing on and trying to show more of that change. You just can't do the same things anymore. This year moves forward, but under a watchful eye, which I think was one of the reasons for Antonio can come back. He's like, "We can be tough. We can be a strong unit but we have to do all the things right – we have to cross our t's and dot our I's." I think he brings that balance to Jason Beghe's character and the team. With Ricky and Eriq La Salle they just bring such quality and such experience that it is just a different perspective. Sometimes it's like you have a racecar and you have been successful with it, but you want to soup it up and bring different mechanics in to give advice on how to restructure the engine or change something around and make it run even smoother or faster or just in a different way. What Ricky and Eriq bring are just a different perspective.
Q) The show is great at highlighting social issues. In what ways can actors and entertainers inspire others to get more active?
A) It's tough because I know in so many ways there are people always around who ask, "Why should I listen to a celebrity?" They have a point. Sometimes I say it. Why would anyone want to hear what I have to say? With that said, when people are in a certain situation and maybe can get a word out and can reach a wider audience quicker/faster. That is a power and I think it is a power that you need to be careful with as well. Don't act in haste. Don't speak in haste. Don't write in haste. Do your best to try to sit back and take a breath. If it is something you are really passionate about, by all means, if you feel like sharing and you feel like putting something out there then do it. But just do it like I said – where you take a breath before you put it out there for people to read since once it is out there it is out there. For those out there on film and TV, I think they can do a lot of good and they did do a lot of good. It's just a fine line of getting what you feel you're passionate about and also understanding that not everyone is going to agree with it. And being okay with that. It's just having a dialogue. I say, "Hey, more power to people doing that." I'm not great at doing that. I'm like 0 to 100, which is why I don't put anything out there. [laughs] I'm either fighting or I'm not. I stay away from it.
Q) Is there anything else you want to be sure viewers know about "Chicago P.D." this season and with Antonio Dawson?
A) In the next episode you'll see Antonio's daughter is living with him. That brings a whole different challenge. I think that down the road it is something they might be playing with some stories for that. There is always the potential for the crossovers. There are things going on with Gabby and Antonio and the family, in regards to their father. They'll see that Brett (Kara Killmer) is always around. So, you never know with Antonio…He's still single and ready to mingle! And looking for a girl to make him jingle! [laughs]
Q) Fans remember you from your amazing work on the film Selena. What was it like for you living with Selena's husband Chris Perez while you were filming?
A) That was a time in my life that I'll never forget. It was just truly incredible. It was a real emotional time. The great thing about it is, despite the truly unfortunate tragedy that happened, was that I can selfishly say I was able to meet Chris. It was an unfortunate way that I got to meet him, but I got to meet him and he's a part of my life now. We're brothers. He came out to Chicago last year to visit me and I brought him to the "Chicago Fire" set. So, he came over my house and he played guitar with myself and my daughter. So, we're still really good friends. It was a tough time. She was an amazing talent and person and still had SO much to share and she was just starting to really take off. The world lost just someone so special. She was in so many hearts. For me, it was just such an honor and I'm so thankful for the time I had.
Q) What do most fans recognize you for – your great work throughout "One Chicago" or some of your other projects?
A) Of course, here in Chicago it's great (which makes me feel good as an actor) because they relate to my character so much that they think that they know me. Like we hang out. People on the street go, "Hey! Antonio! How's it going?" It's just so great to be able to shoot here. Actually, someone came up to me the other day and said, "I loved you in Gladiator!" That was the first one I did, way back. So, it's cool when someone recognizes you and your talent. It just means that you're doing something right.
Q) What would you like to say to everyone who is a fan and supporter of you and your work?
A) I don't have enough words that all mean thank you. I'm so grateful and honored. Without the fans, I don't have a job. So, I'm so thankful to everyone for being loyal. I just try to keep working harder and harder and harder to make sure I'm giving the fans the best of me. Hopefully, they see that because I'm always trying to give the best of me for all the fans.